Advanced Menu Management

v.15
The tool to efficiently hide and show menus for Odoo users, companies, and security groups
---
The tool does not require extra dependencies beside standard Odoo apps.
Current version: 15.0.1.0.3
---
Enterprise
Community
Odoo.sh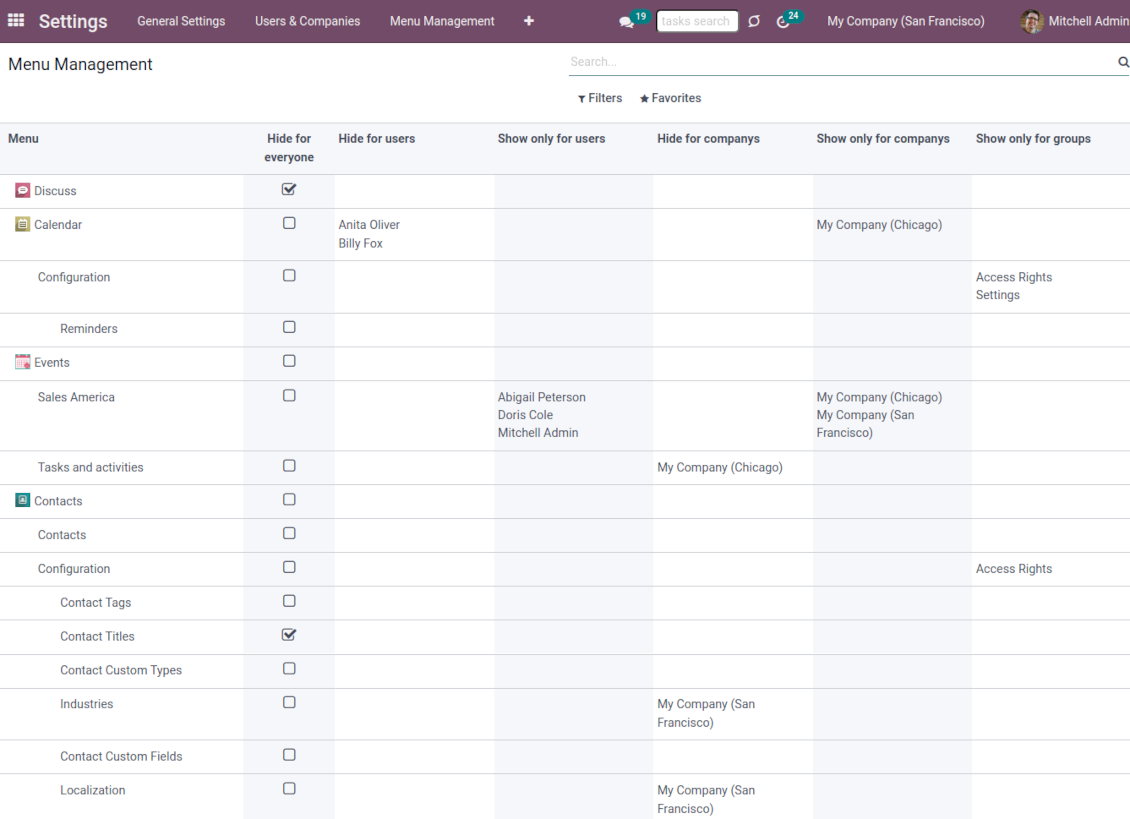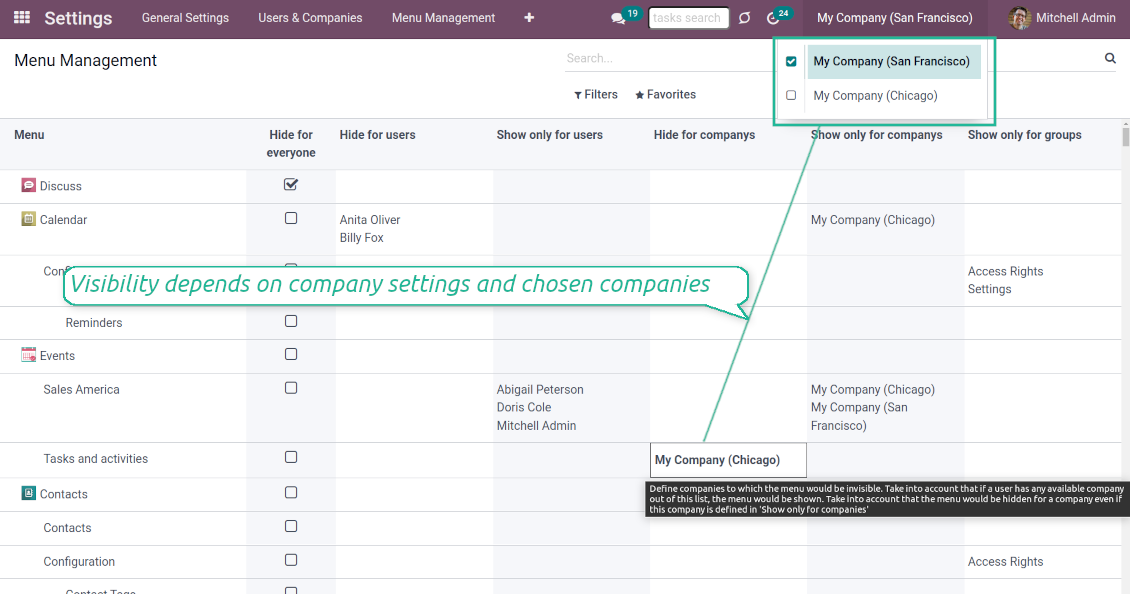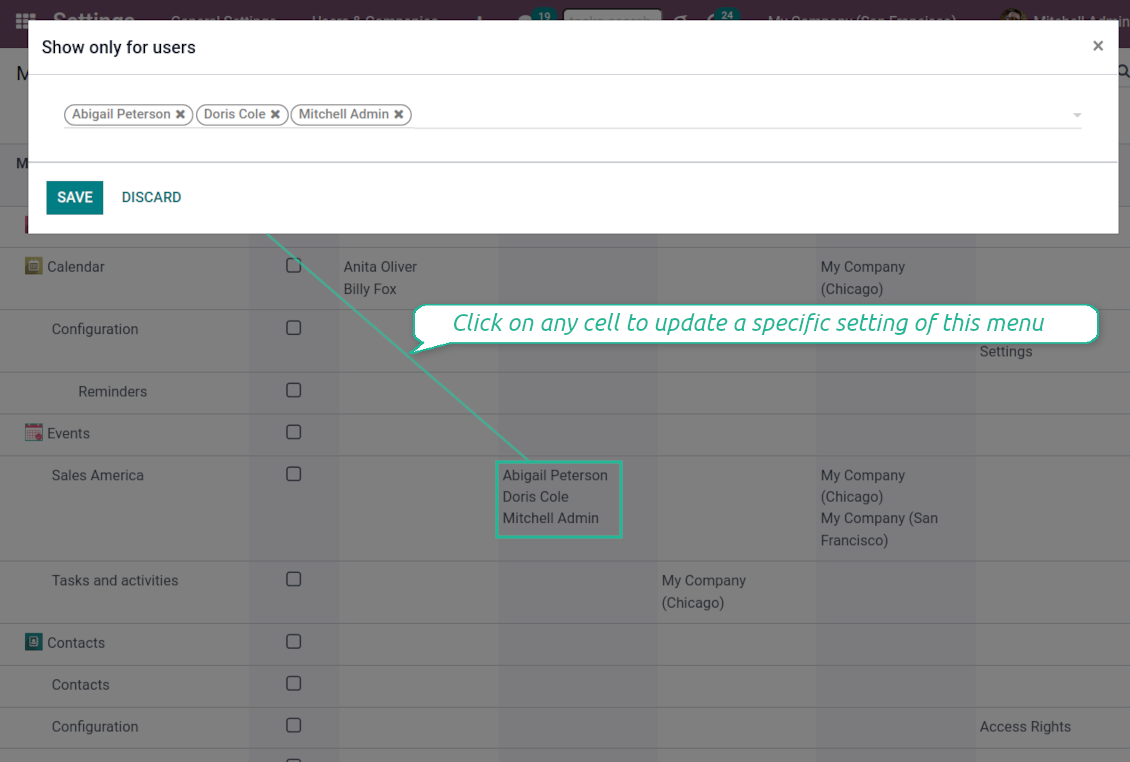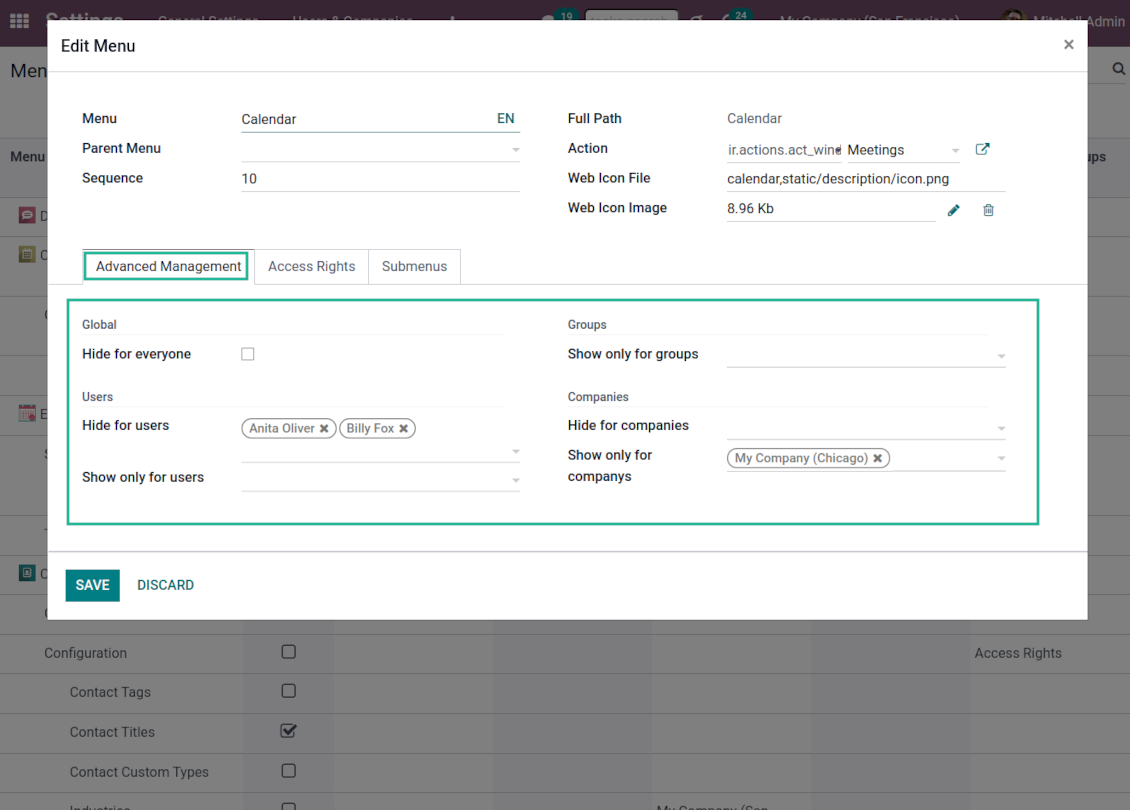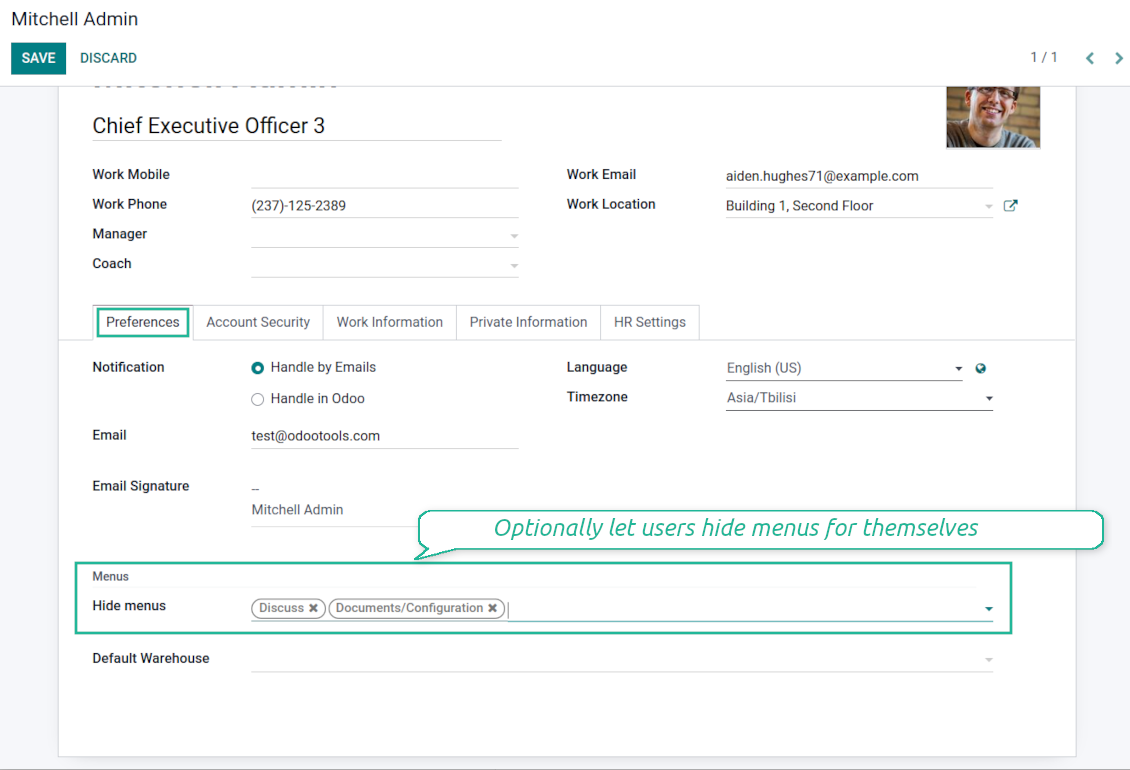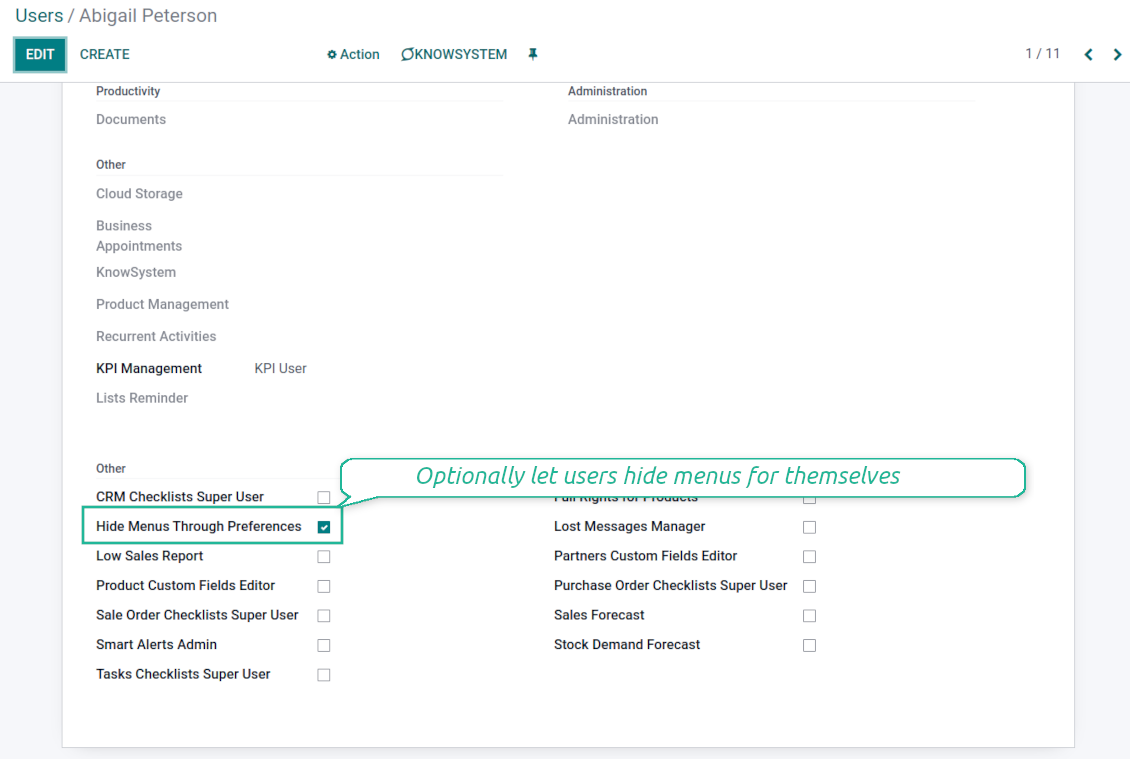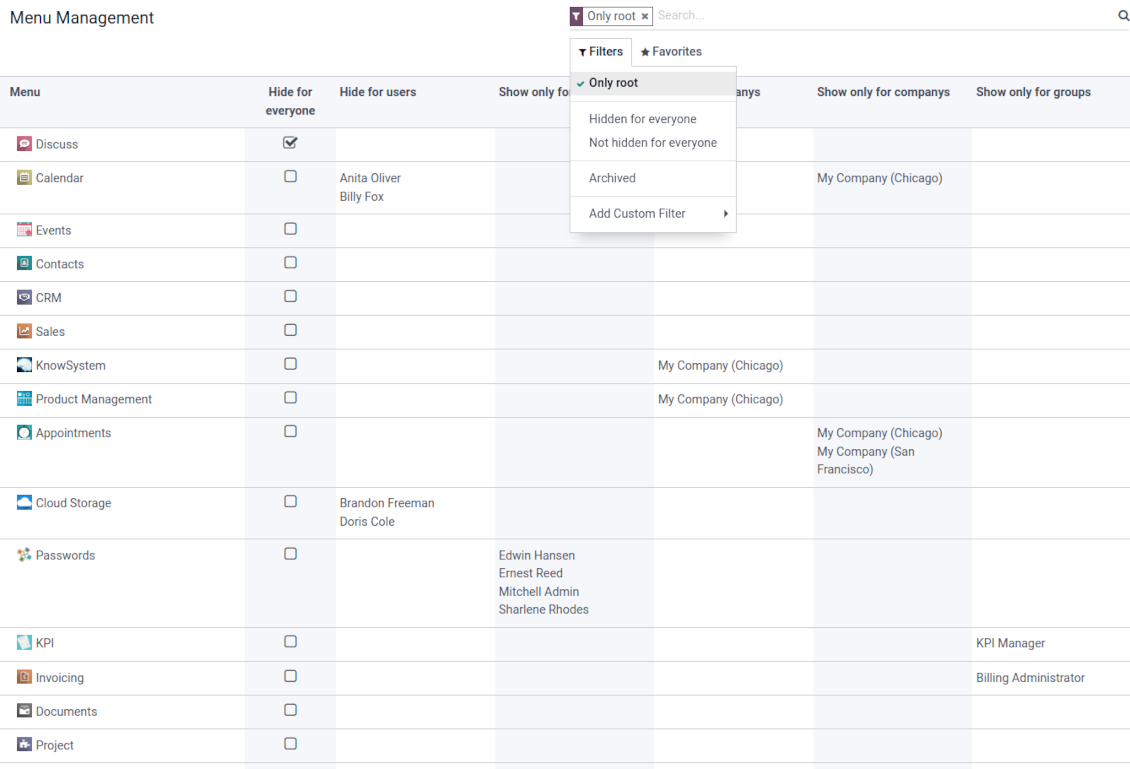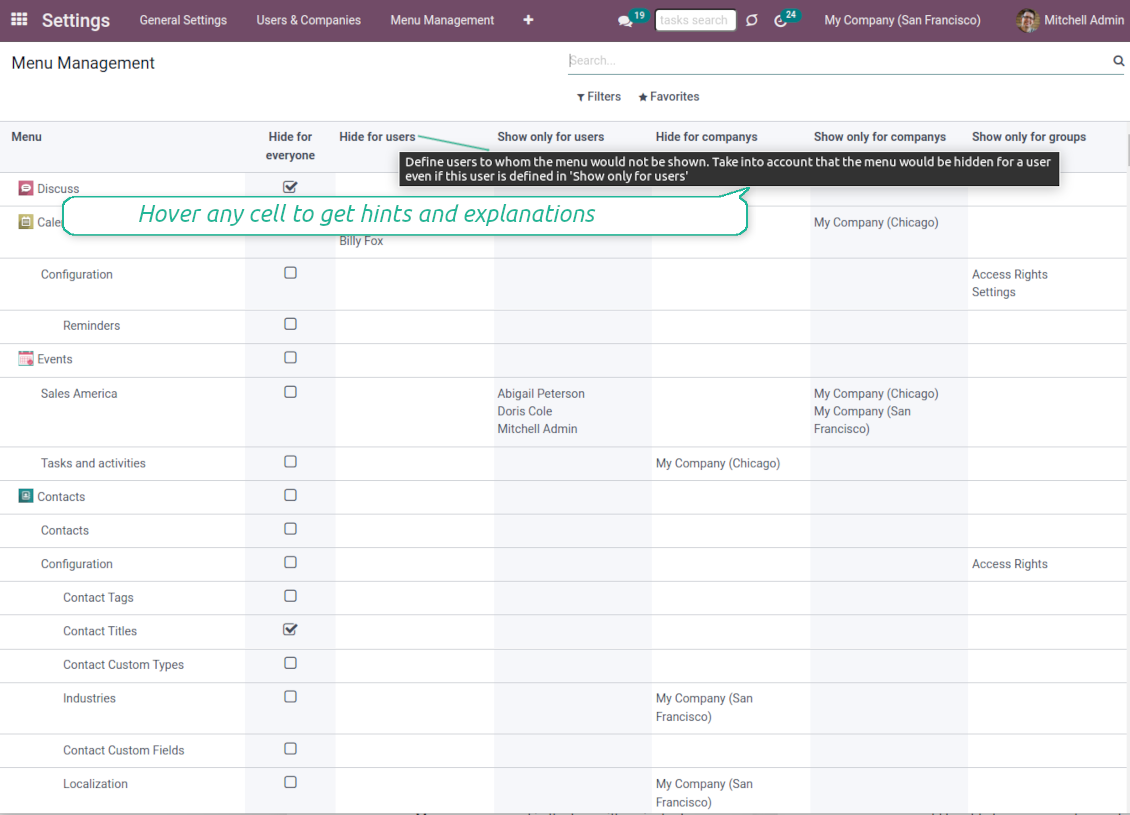 This app lets hide any Odoo menu or submenu for specific users and companies, or, vice versa, to show that for definite users, companies, or access groups.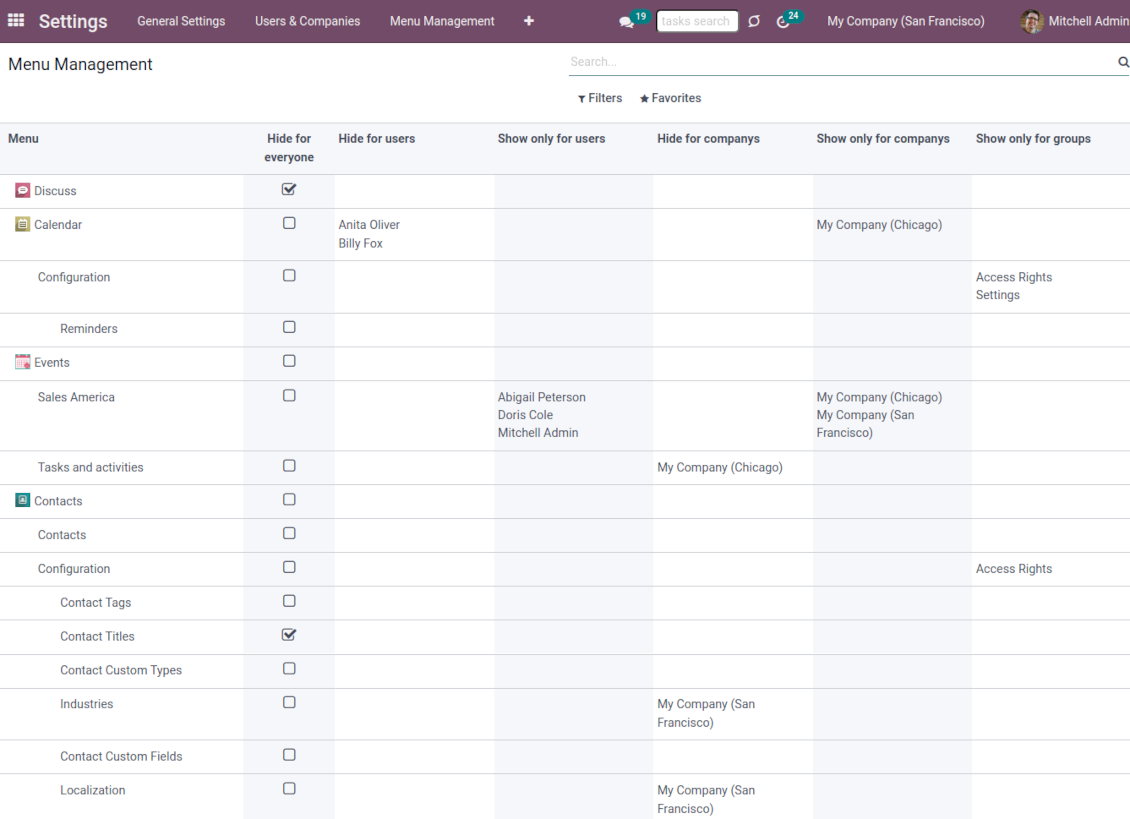 Innovative hierarchical menus view
Comfortably manage access to Odoo menus in the special interface (Settings > Menu Management). Menus are grouped in the tree with an instant overview of all visibility rules and one-click access to update access settings. All options are provided with useful help hints
Hide entries globally
If any menu or submenu is not of use to your business, hide that in a single click. None of the users would be able to access such an entry. Recover visibility for that at any moment
Hide/show menus company-wise
Specify companies for which a specific menu item should become invisible. Then, a user would see that entry only in case he/she selects another company in the multi-company regime switcher.
Vice versa, define companies for which this menu should be shown. For others, it would be hidden
Hide/show menus user-wise
For any menu/submenu, specify Odoo users to whom a menu should be hidden. Then, such users would never see that entry.
Alternatively, define users who may access a particular menu item. For others, this menu becomes invisible
Let users hide menus for themselves
Grant the access right 'Other > Hide Menus Through Preferences' for any user. Such a user would be able to hide any menus for him/herself right through the Odoo preferences
Restrict menus access by user groups
Define user groups that exclusively see a specific menu/submenu. This restriction is cumulated with the Odoo standard menu 'Access rights'. However, in comparison to the latter, the field 'Show only for groups' would not be restored after modules' updates.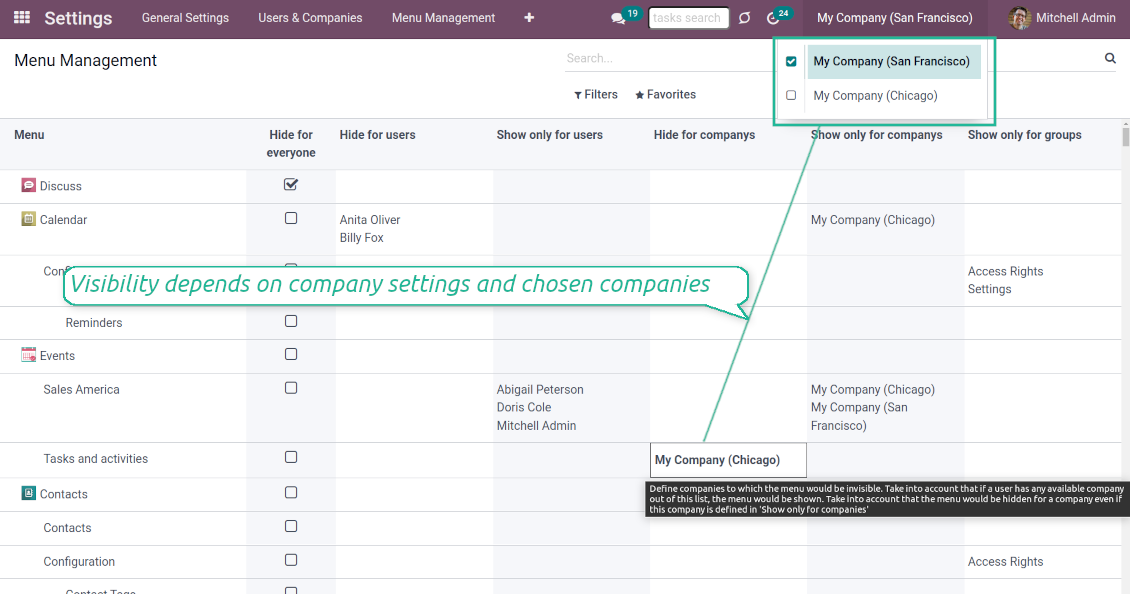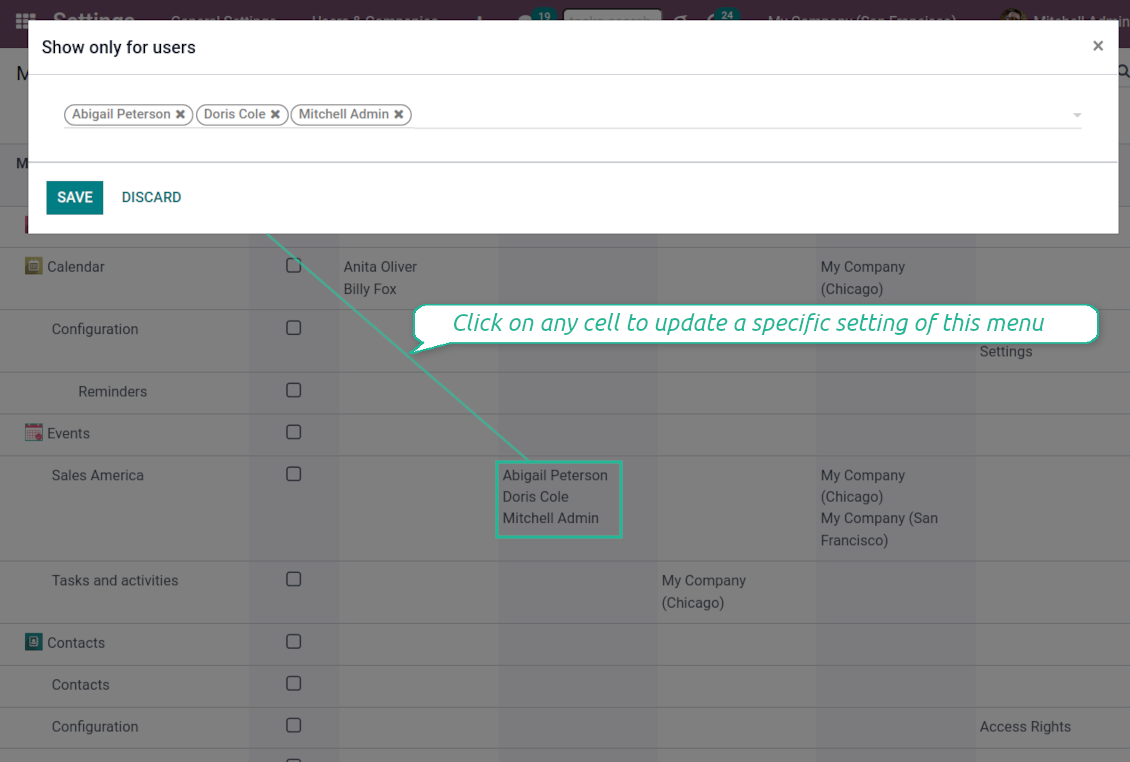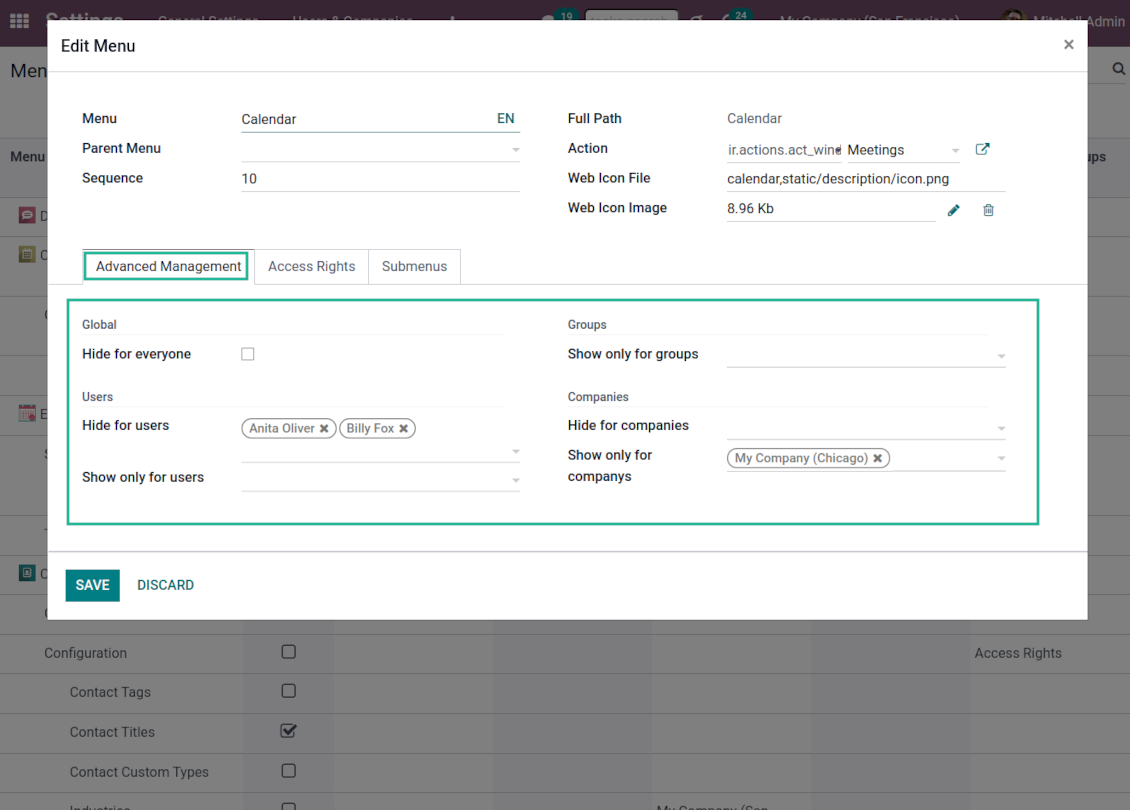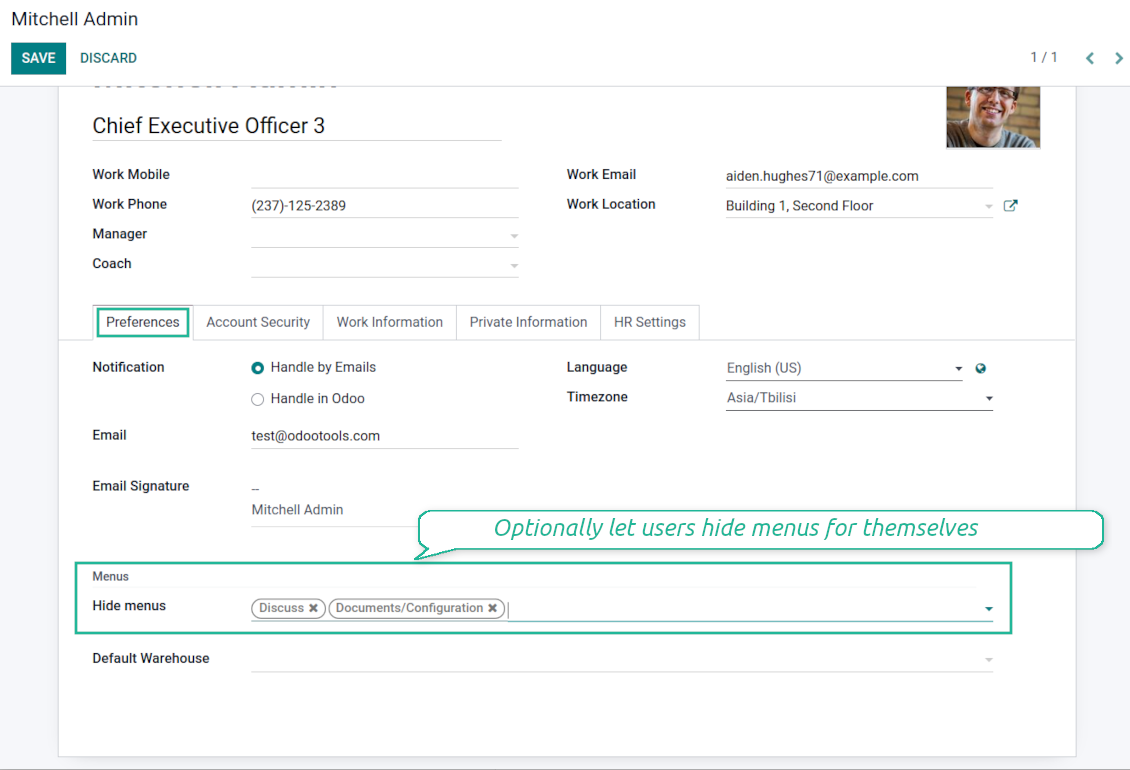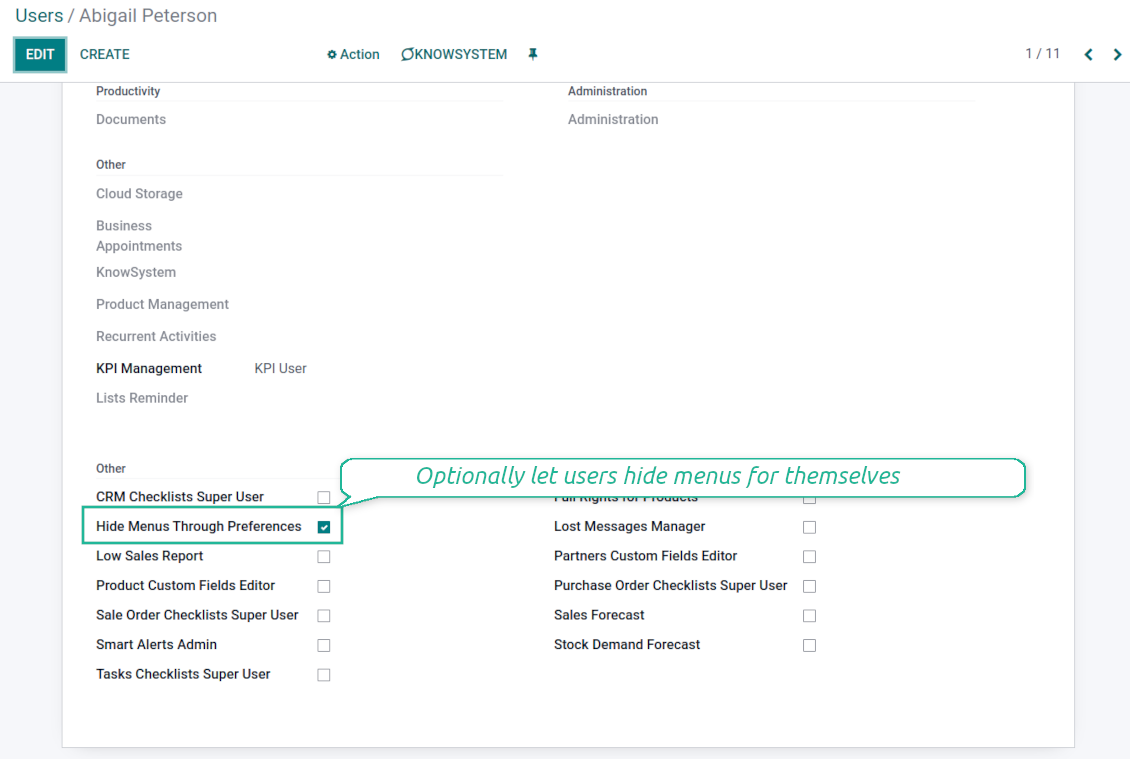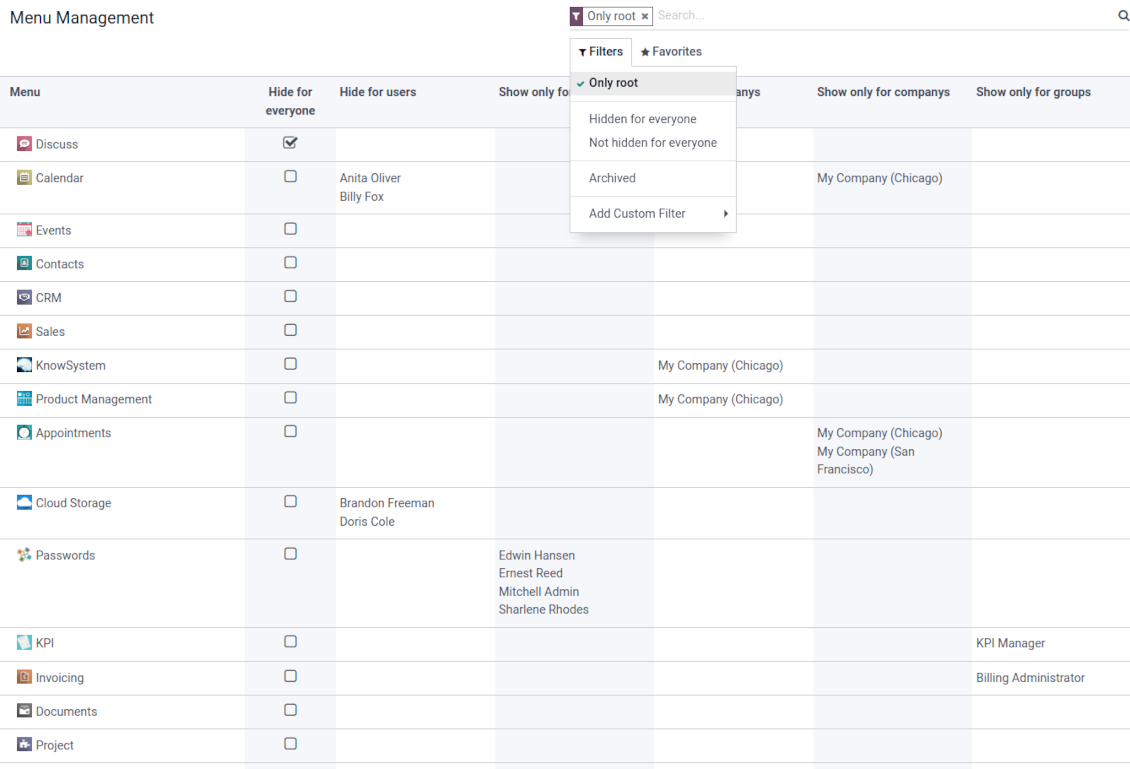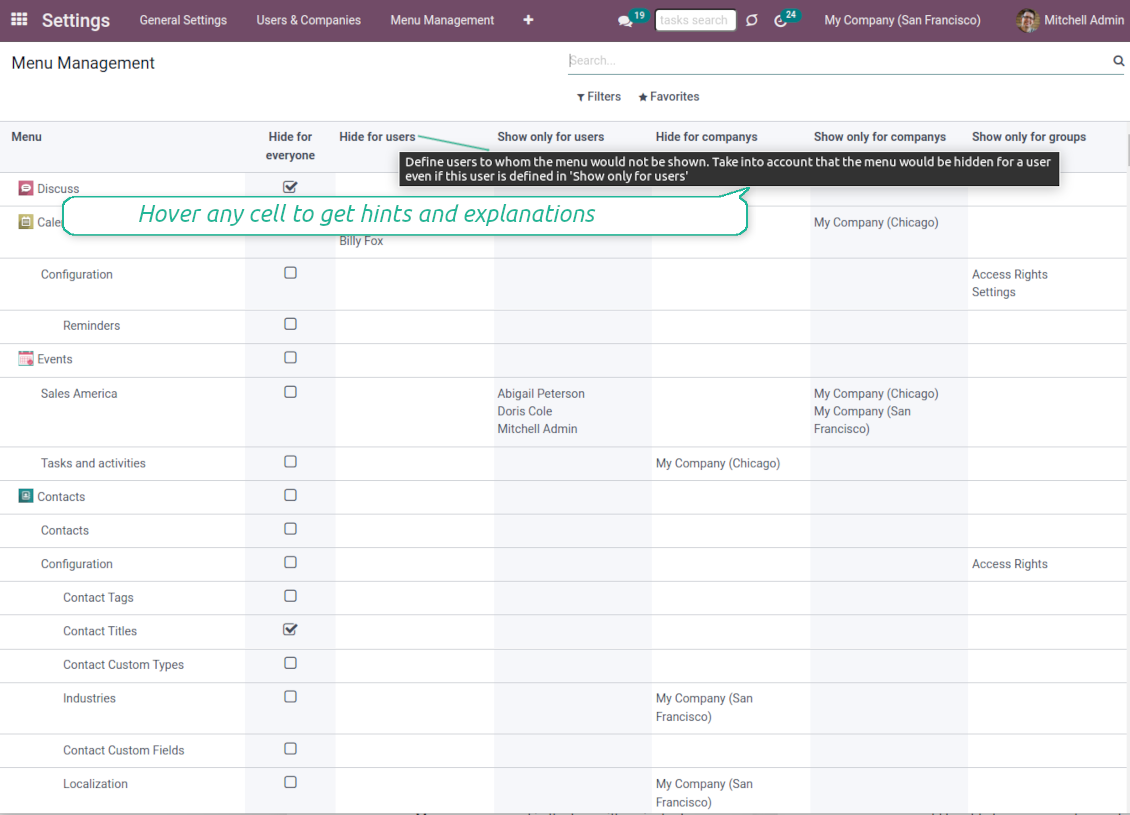 Sincere Appreciation for the "Advanced Menu Management" Module by FAOtools

The user interface design reflects a commendable level of thoughtfulness and attention to user experience, making it extraordinarily intuitive to navigate. This is a quality that greatly enhances the overall usability of the module.
One of the most impressive aspects of this module is its ability to solve a significant operational challenge with remarkable ease. What once required a complex process has been simplified to just a few clicks, thanks to the efficiency and ingenuity of the "Advanced Menu Management" module.
I am pleased to rate this module with a full five stars, as it truly deserves such acclaim. The installation process was seamless, reflective of the development team's commitment to user-friendliness.
The value that this module brings to our operations cannot be overstated. Its basic price point in no way diminishes the extensive benefits it offers. The "Advanced Menu Management" module has rapidly become an indispensable tool in our arsenal, streamlining processes and significantly enhancing efficiency.
In conclusion, I extend my sincere gratitude to the entire FAOtools team for developing a module that exemplifies excellence in design, usability, and functionality. Your commitment to delivering a superior product is evident in every facet of this module, and I am confident that it will continue to provide lasting value to our organization.
Frequently Asked Questions about
Advanced Menu Management Odoo v.15
Odoo demonstration databases (live previews)
For this app, we might provide a free personalized demo database.
No phone number or credit card is required to contact us: only a short email sign up which does not take more than 30 seconds.
By your request, we will prepare an individual live preview database, where you would be able to apply any tests and check assumptions for 14 days.
Bug reporting
In case you have faced any bugs or inconsistent behavior, do not hesitate to contact us. We guarantee to provide fixes within 60 days after the purchase, while even after this period we are strongly interested to improve our tools.
No phone number or credit card is required to contact us: only a short email sign up which does not take more than 30 seconds.
Please include in your request as many details as possible: screenshots, Odoo server logs, a full description of how to reproduce your problem, and so on. Usually, it takes a few business days to prepare a working plan for an issue (if a bug is confirmed) or provide you with guidelines on what should be done (otherwise).
Public features requests and module ideas (free development)
We are strongly motivated to improve our tools and would be grateful for any sort of feedback. In case your requirements are of public use and might be efficiently implemented, the team would include those in our to-do list.
Such a to-do list is processed on a regular basis and does not assume extra fees. Although we cannot promise deadlines and final design, it might be a good way to get desired features without investments and risks.
No phone number or credit card is required to contact us: only a short email sign up which does not take more than 30 seconds.
You may also like the tools