Message / Note Editing

v.14
The tool to correct accidental mistakes in messages and notes
---
The tool does not require extra dependencies beside standard Odoo apps.
Current version: 14.0.1.0.4
---
Enterprise
Community
Odoo.sh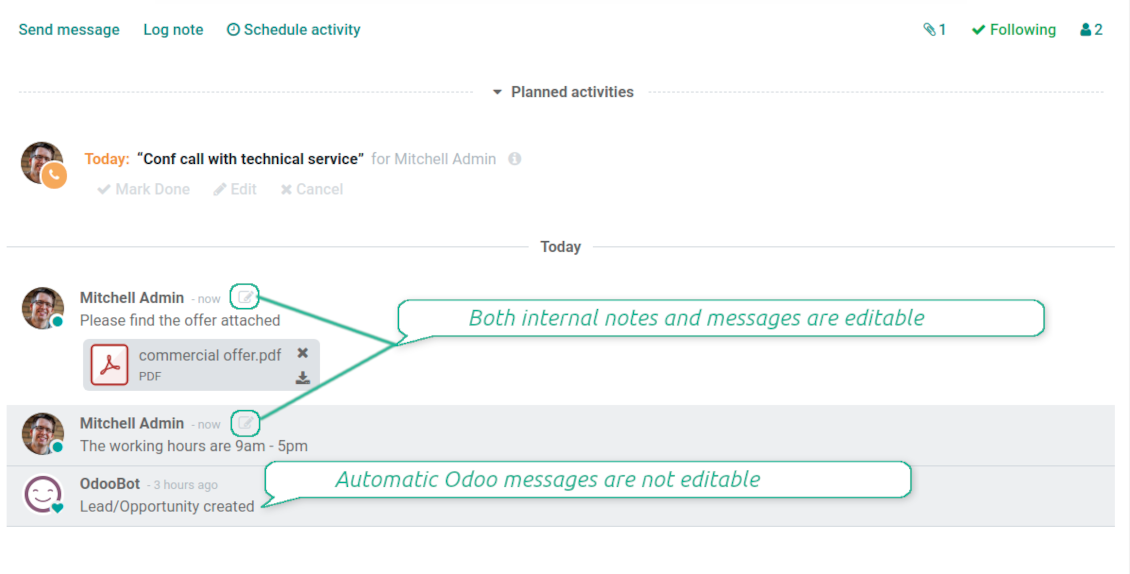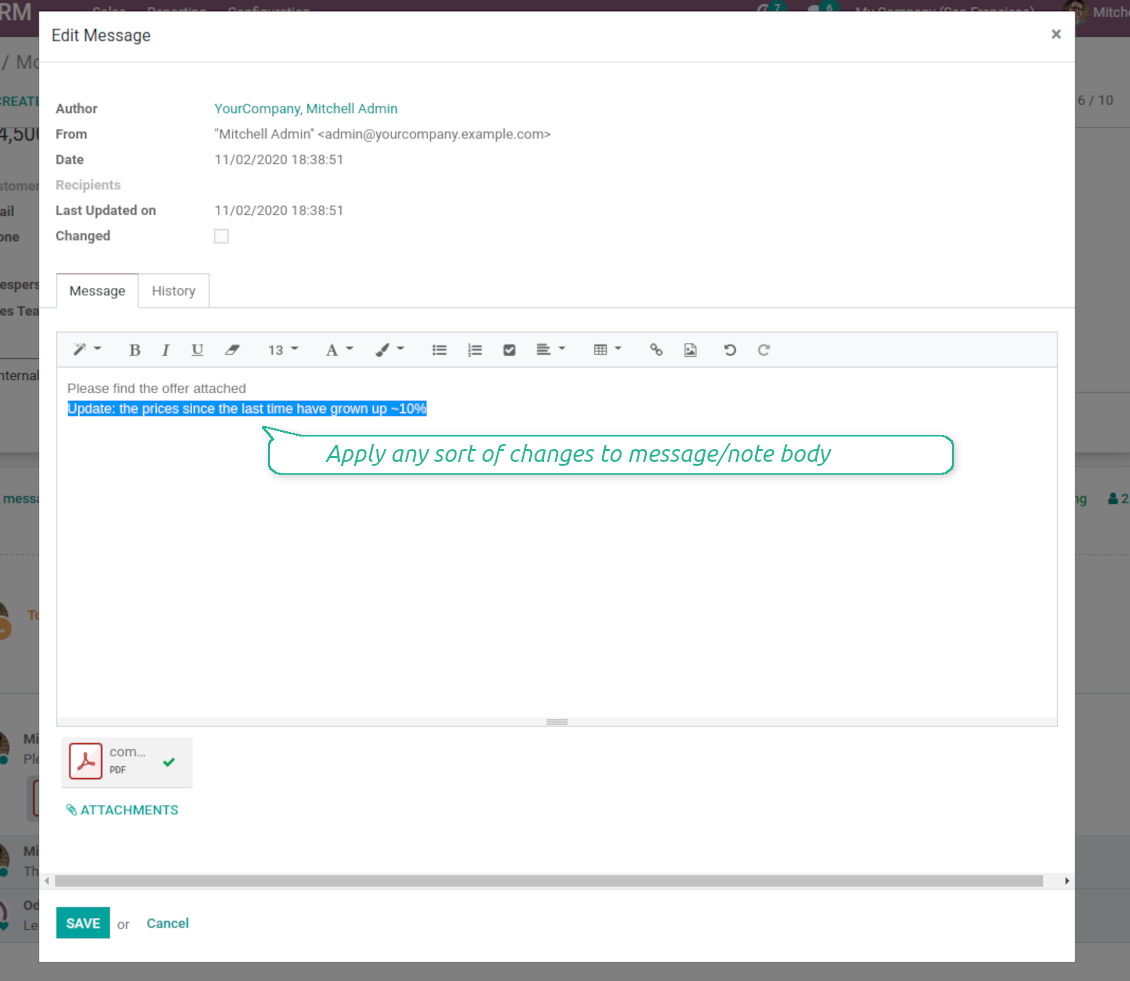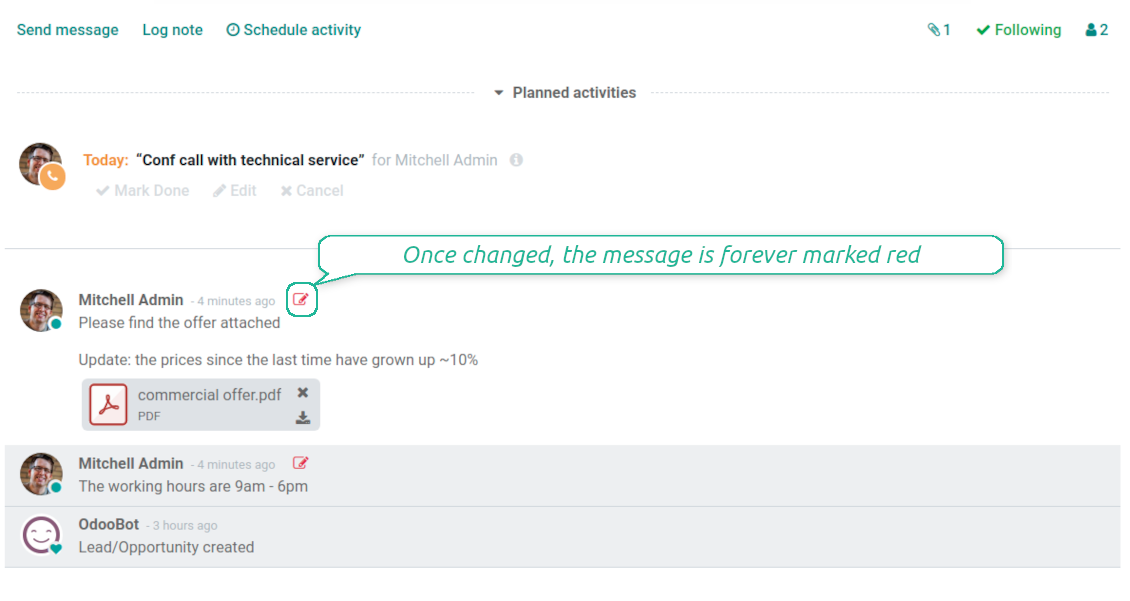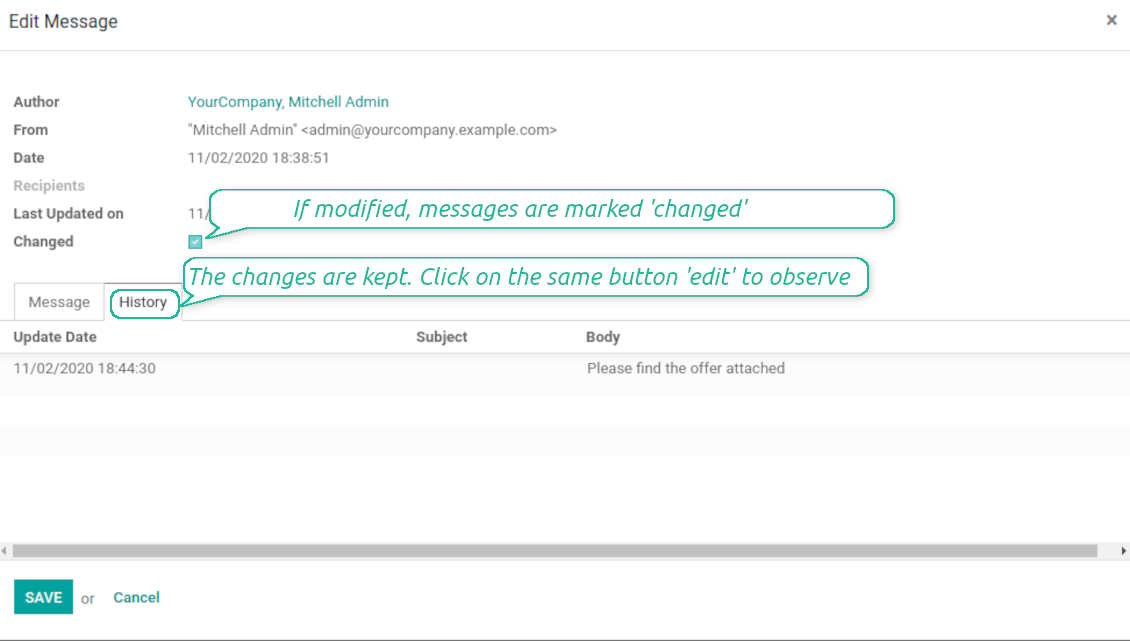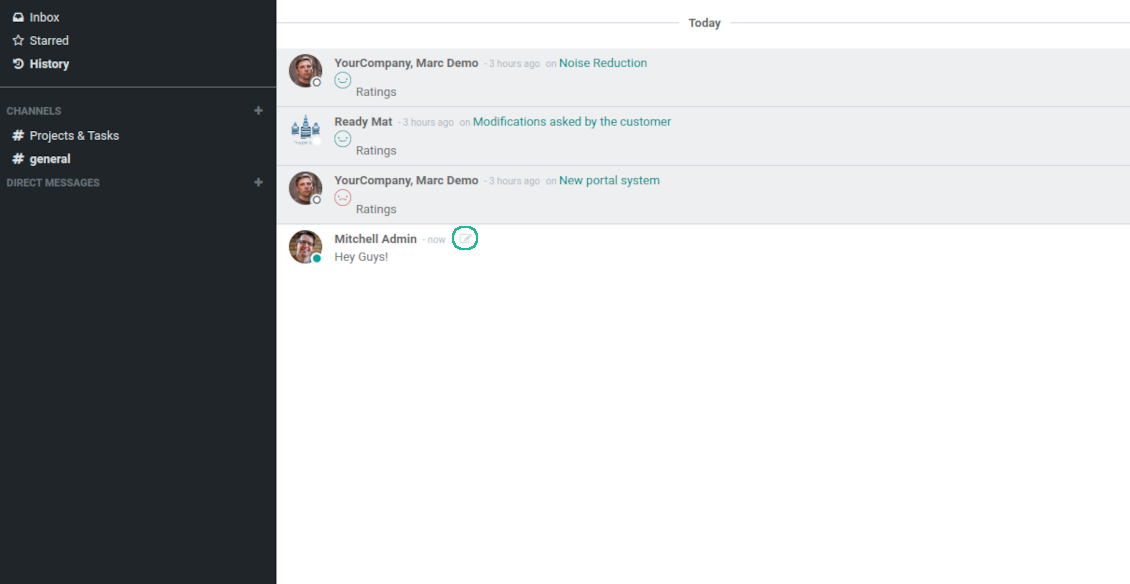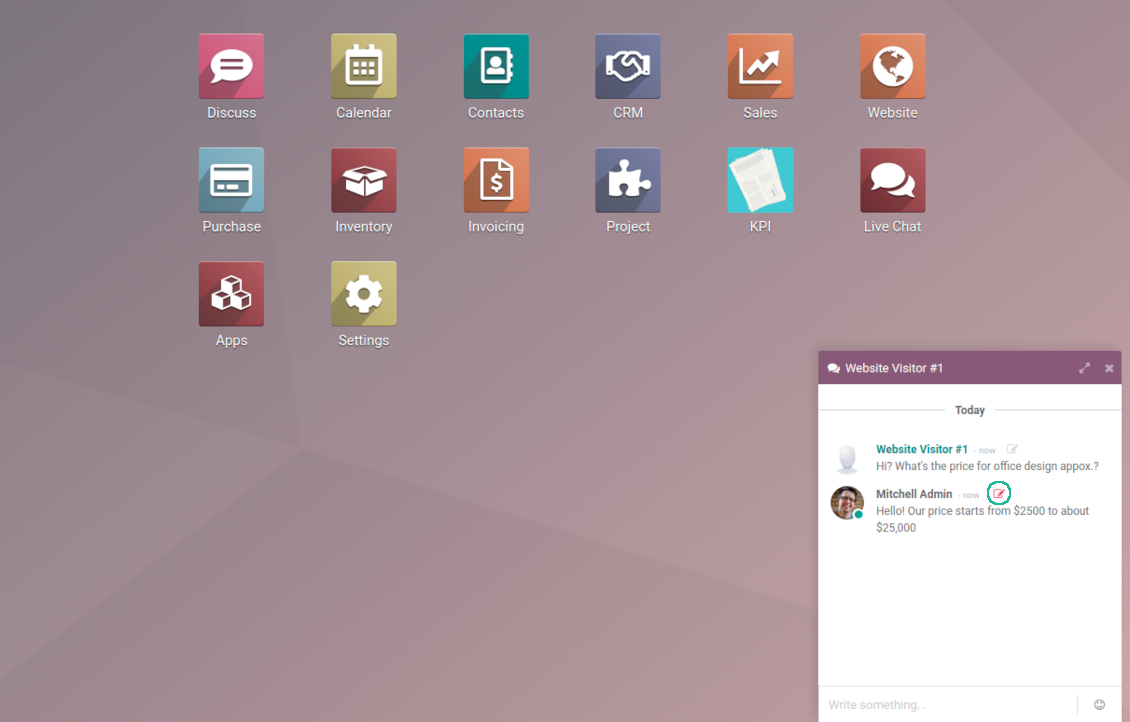 You have logged a long note and suddenly understand that there is a mistake. Some mistakes, such as misprints, are just irritating. Others, such as commercial offer peculiarities, might have critical consequences since they mislead you or your colleagues. Faced that situation Odoo users attach a new message. However, it is a bad option: everything becomes ambiguous, and contradictions disorient users. The proper solution is to update a current note, but to keep a clear history of changes for references. The app is the tool to address this challenge.
Comfortable editing
That's really simple to modify messages: push the 'pencil' button, introduce a change, and save it.
Secured updates
Only messages' authors and users with the super right 'Message Editing: Edit all' might change related records.
Highlighted modifications
To avoid confusions all changed notes and messages are highlighted red.
History of changes
All updates are kept safe in clear and easy-reached history: reference original content whenever it's needed.
Messages, notes, activity feedbacks
The tool works for logged notes, sent messages (including live chat), and activity feedbacks. To avoid confusions Odoo system notifications are purposefully forbidden to update.
Universal for all interfaces
Editing would be available for all communication means: documents threads, mail channels, direct discussion, live chats.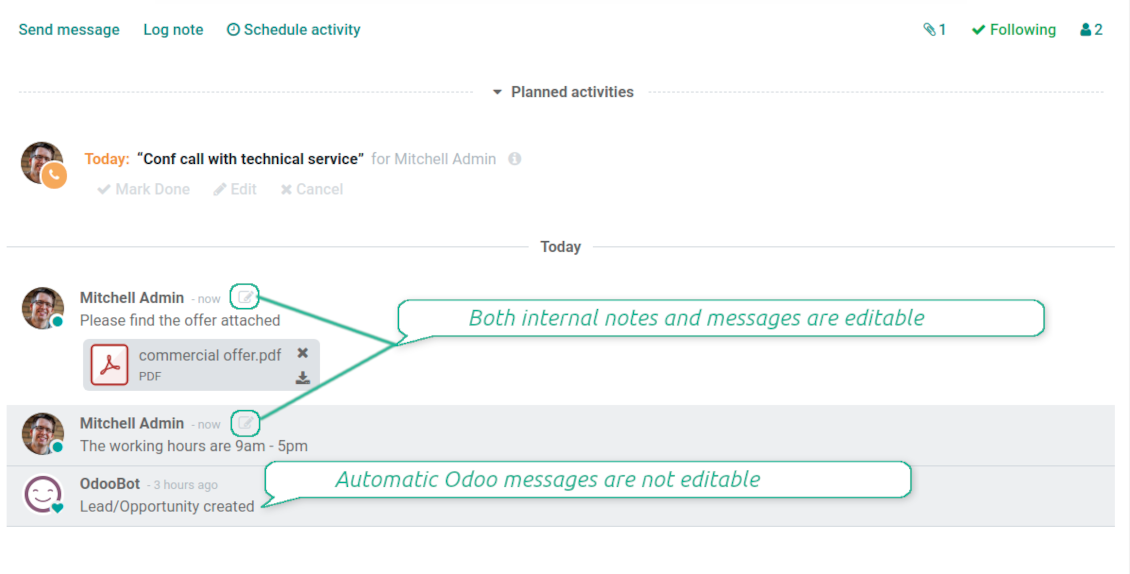 Exactly what we needed.

Thanks for a great module - comments editing is exactly what we needed!
Great app!

This application does what it promises. Works very well. Also great service from Odoo Tools.
The sales team was so excited when I installed this module.

The module works exactly as described. This was a feature the sales team had requested for a long time. It was really frustrating for them when the saved a note with typos or errors and could not fix them. Install went smoothly
This company provides QUALITY Add-On's for Odoo

We've bought a number of add-ons from this company and been pleased with every single one of them.
Frequently Asked Questions about
Message / Note Editing Odoo v.14
Odoo demonstration databases (live previews)
For this app, we might provide a free personalized demo database.
No phone number or credit card is required to contact us: only a short email sign up which does not take more than 30 seconds.
By your request, we will prepare an individual live preview database, where you would be able to apply any tests and check assumptions for 14 days.
Bug reporting
In case you have faced any bugs or inconsistent behavior, do not hesitate to contact us. We guarantee to provide fixes within 60 days after the purchase, while even after this period we are strongly interested to improve our tools.
No phone number or credit card is required to contact us: only a short email sign up which does not take more than 30 seconds.
Please include in your request as many details as possible: screenshots, Odoo server logs, a full description of how to reproduce your problem, and so on. Usually, it takes a few business days to prepare a working plan for an issue (if a bug is confirmed) or provide you with guidelines on what should be done (otherwise).
Public features requests and module ideas (free development)
We are strongly motivated to improve our tools and would be grateful for any sort of feedback. In case your requirements are of public use and might be efficiently implemented, the team would include those in our to-do list.
Such a to-do list is processed on a regular basis and does not assume extra fees. Although we cannot promise deadlines and final design, it might be a good way to get desired features without investments and risks.
No phone number or credit card is required to contact us: only a short email sign up which does not take more than 30 seconds.
You may also like the tools