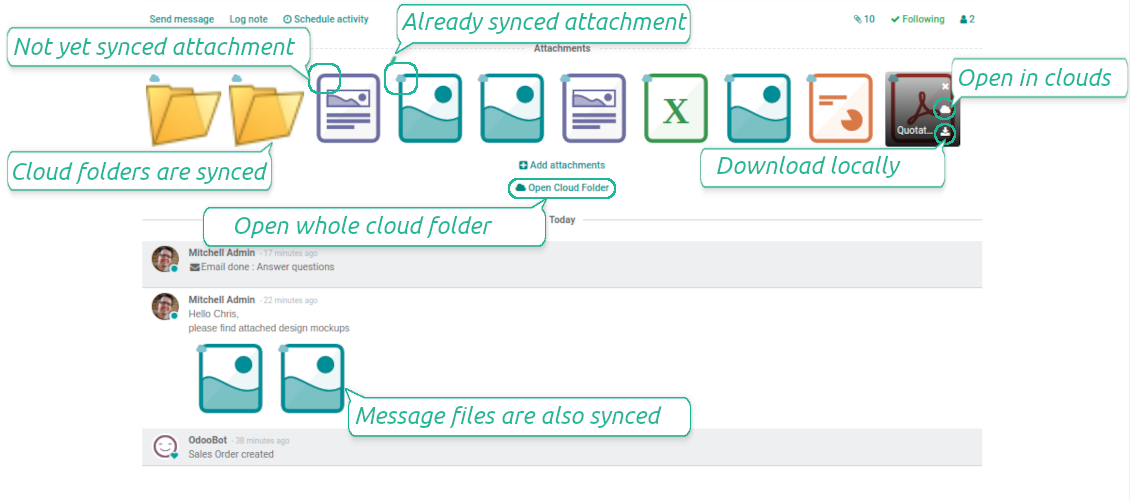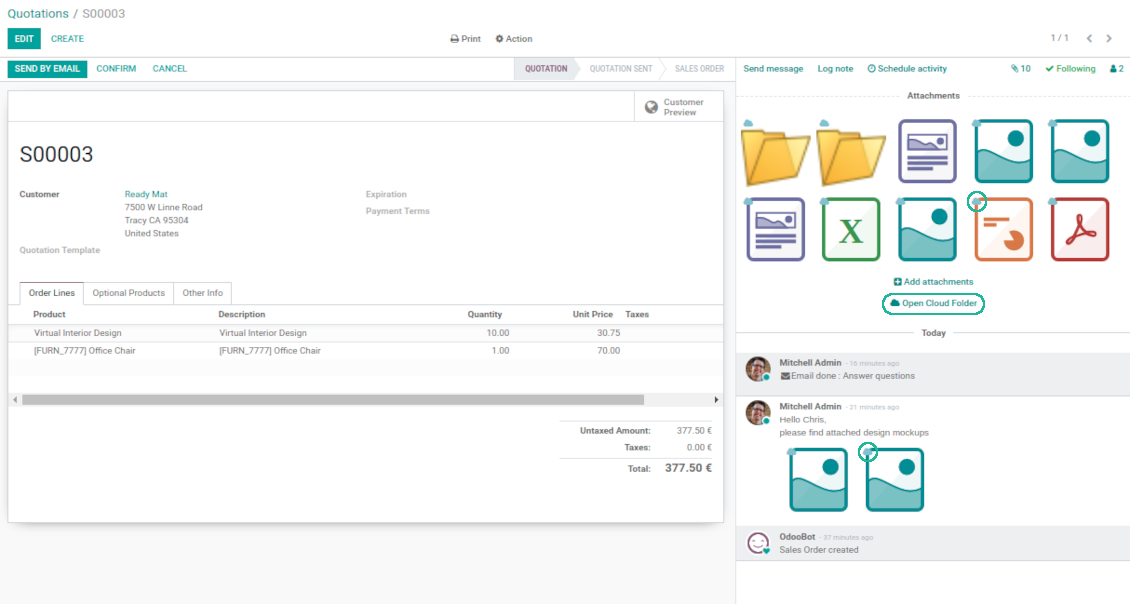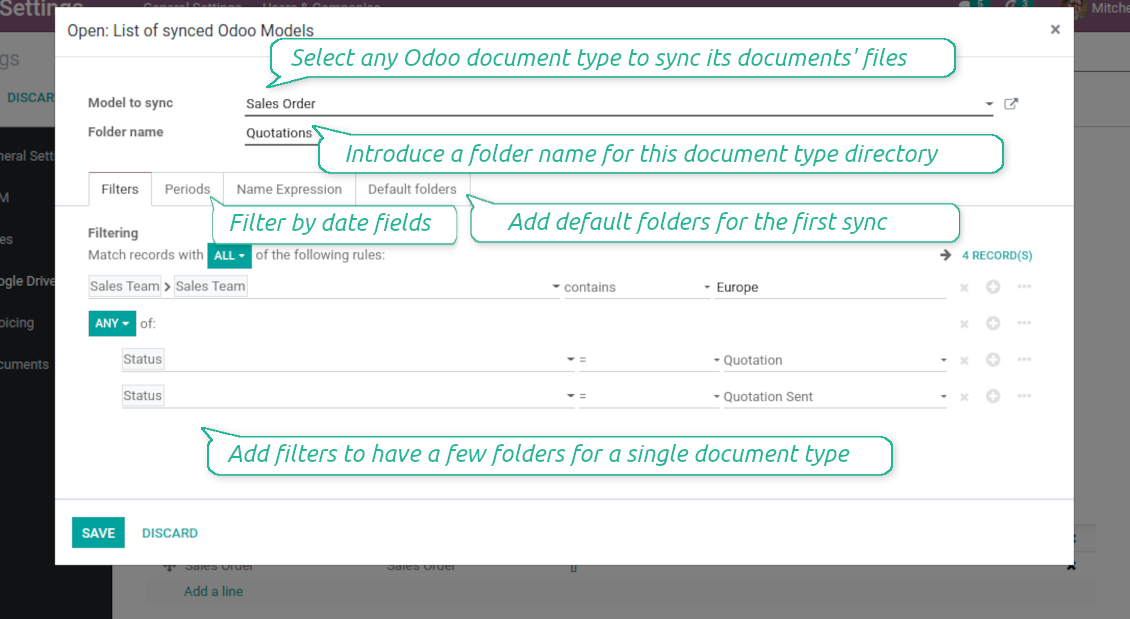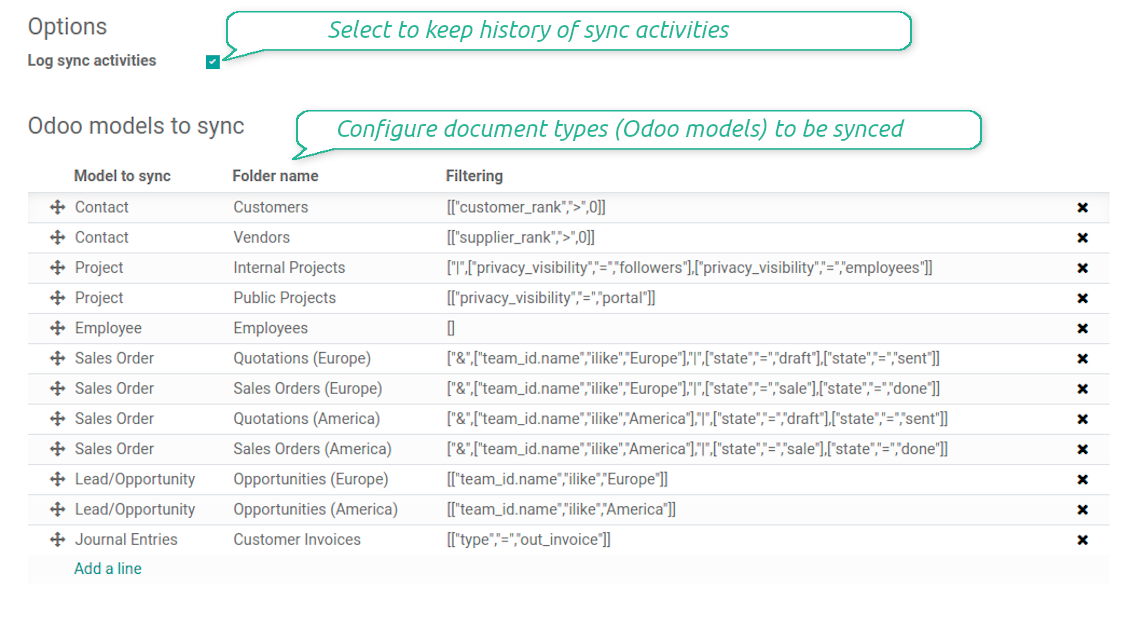 Odoo document system is clear and comfortable to use. However, it is not especially designed to work with files as specific cloud storage solutions like OneDrive, Google Drive, OwnCloud, and DropBox do. To process attachments users need to download a file, to change it, and to upload back. Documents are not synced locally and Odoo doesn't have powerful editors previewers. Specific cloud storage clients don't have such disadvantages.
This tool is a technical core to provide logic of automatic and bilateral files synchronization between Odoo and your cloud storage solution. It is not of use without a real client app.
Set of apps, optional add-ons, prices, and abbreviations
Automatic regular sync
Synchronization between Odoo and a cloud solution is based on scheduled jobs. No manual interaction is required
Bilateral sync
Odoo sends attachments to a cloud solution and retrieves files from there. Binary content is kept in clouds, while Odoo provides direct access to synced items
Any Odoo document types for sync
Decide which Odoo document types should be synced. Customers, opportunities, sale or purchase orders, tasks or issues, employees or users, etc. Custom models are also supported
Instant access for synced items
The tool redefines Odoo attachments boxes to make work comfortable: download files locally without login, open files and folders in a cloud solution, use standard Odoo previewers
Sync history
Sync activities might be logged. Control over files and folders creations, moves, name changes and removals. Just turn on the option 'Log sync activities', and you would be able to observe the history through the button 'Sync logs'
Default folders
The tool let generate default directories' structure for this document type during the very first sync of a related object. For example, for all employees you may have pre-defined folders 'Scans', 'Scans/Official', 'Photos', etc.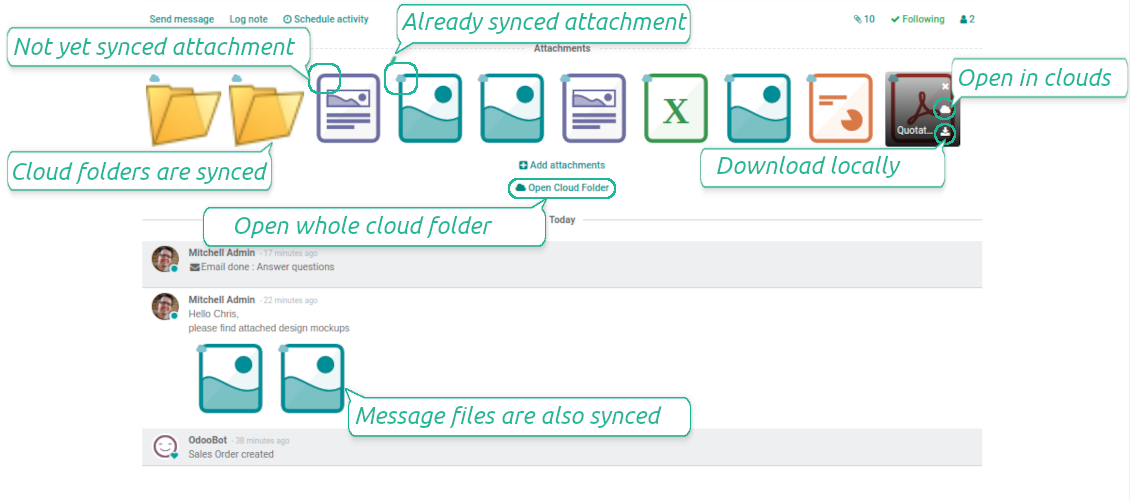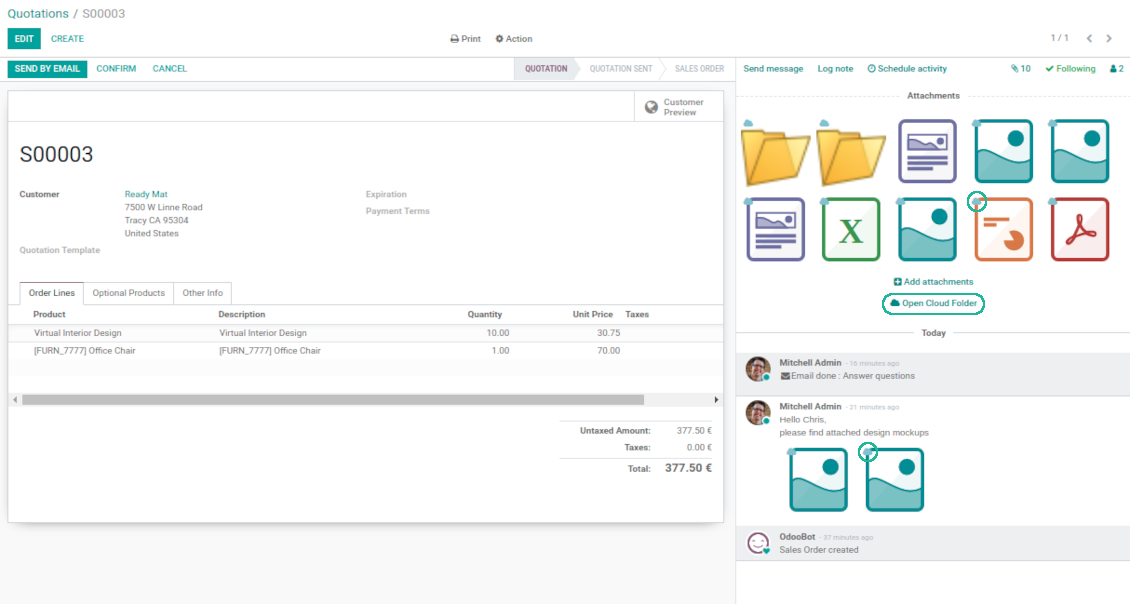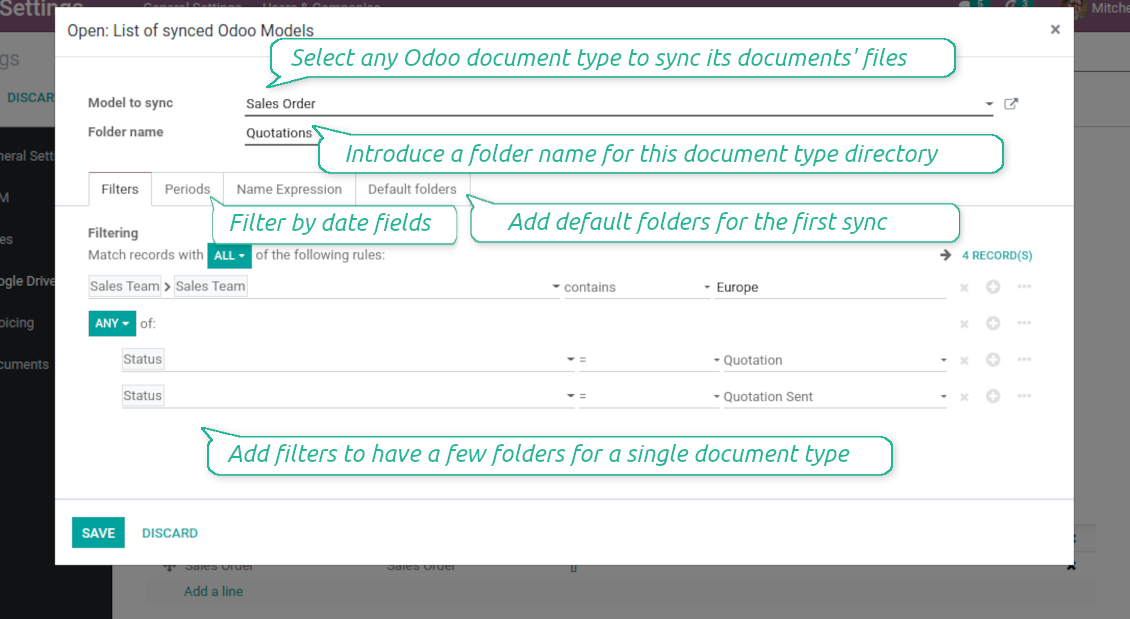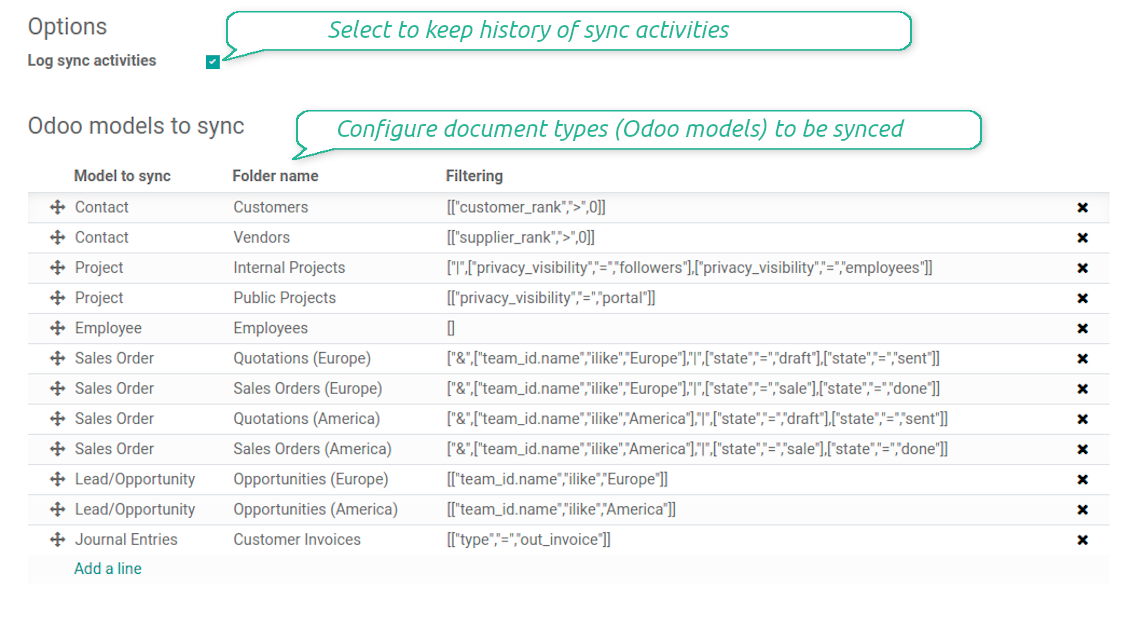 Frequently Asked Questions about
Cloud Storage Solutions Odoo v.14
Bug reporting
In case you have faced any bugs or inconsistent behavior, do not hesitate to contact us. We guarantee to provide fixes during 60 days after a purchase, while even after this period we are strongly interested to improve our tools.
No phone number or credit card are required to contact us: only a short email sign up which does not take more than 30 seconds.
Please include in your request as many details as possible: screen shots, Odoo server logs, full description of how to re-produce your problem, and so on. Usually it takes a few business days to prepare a working plan by an issue (if a bug is confirmed) or provide you with guidelines what should be done (otherwise).
Public features request and module ideas (free development)
We are strongly motivated to improve our tools and would be grateful for any sort of feedback. In case your requirements are of public use and might be efficiently implemented, the team would include those into our to-do list.
Such to-do list is processed on a regular basis and does not assume extra fees. Altough we cannot promise deadlines and final design, it might be a good way to get desired features without investments and risks.
No phone number or credit card are required to contact us: only a short email sign up which does not take more than 30 seconds.
New features and extra Odoo services (individual development)
Each of our apps might be customized and extended to suit your specific requirements.
Our customization team fulfills not only such jobs but it also provides a full range of Odoo services. From simple modifications and consultations to complex enterprise projects. The team has completed over 100 implementations since 2012, and might help with any technical or business needs.
No phone number or credit card are required to contact us: only a short email sign up which does not take more than 30 seconds.
You may also like the tools