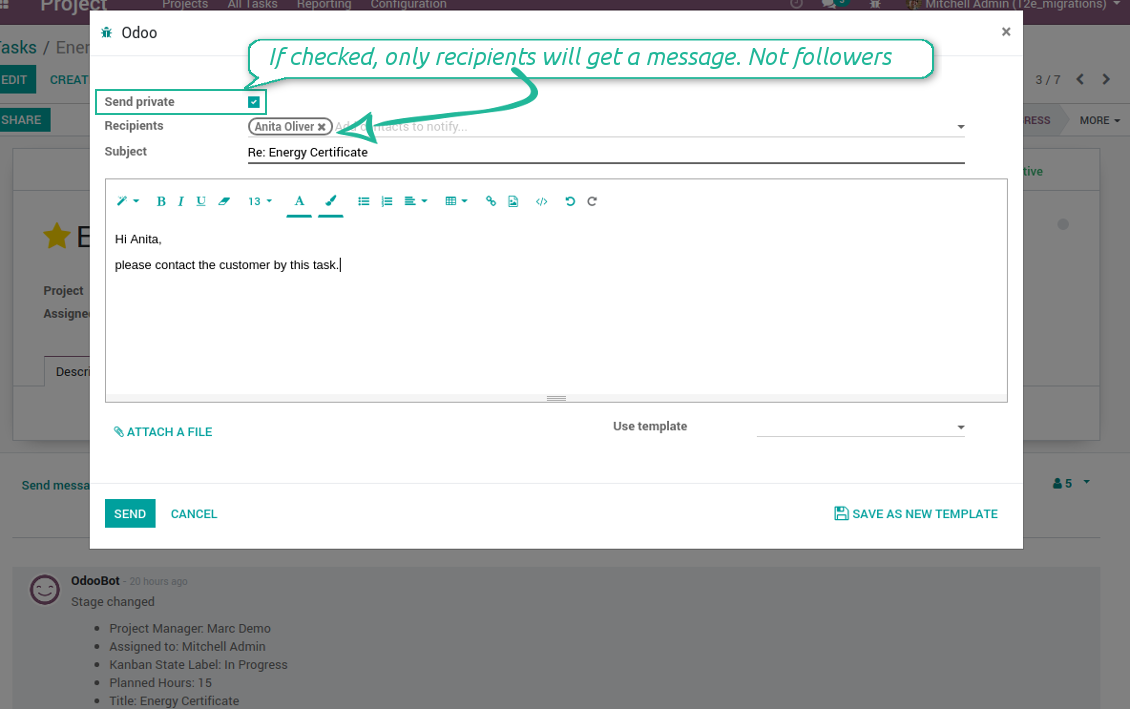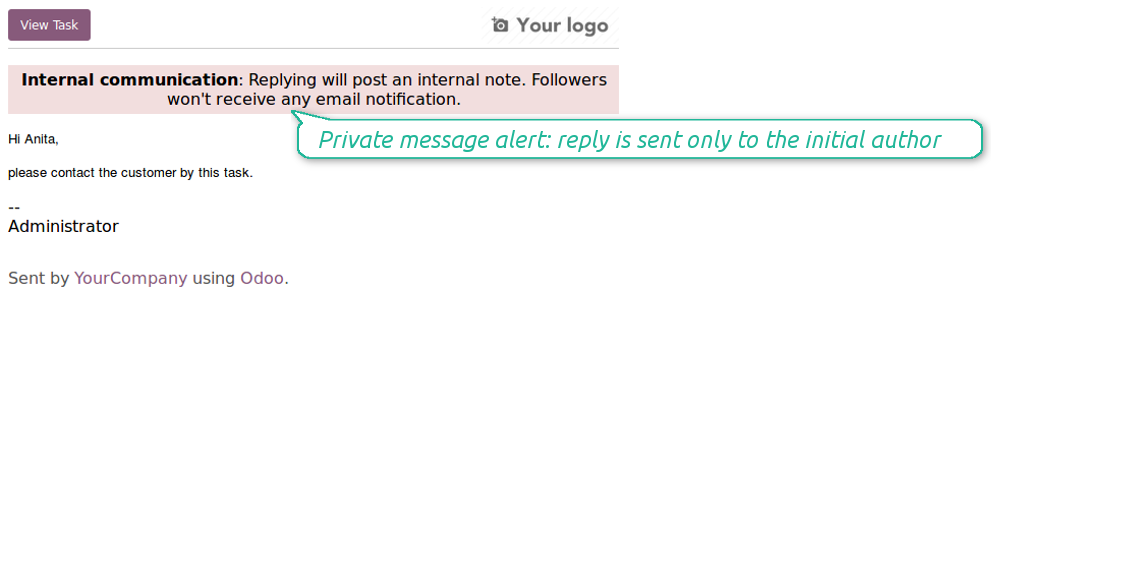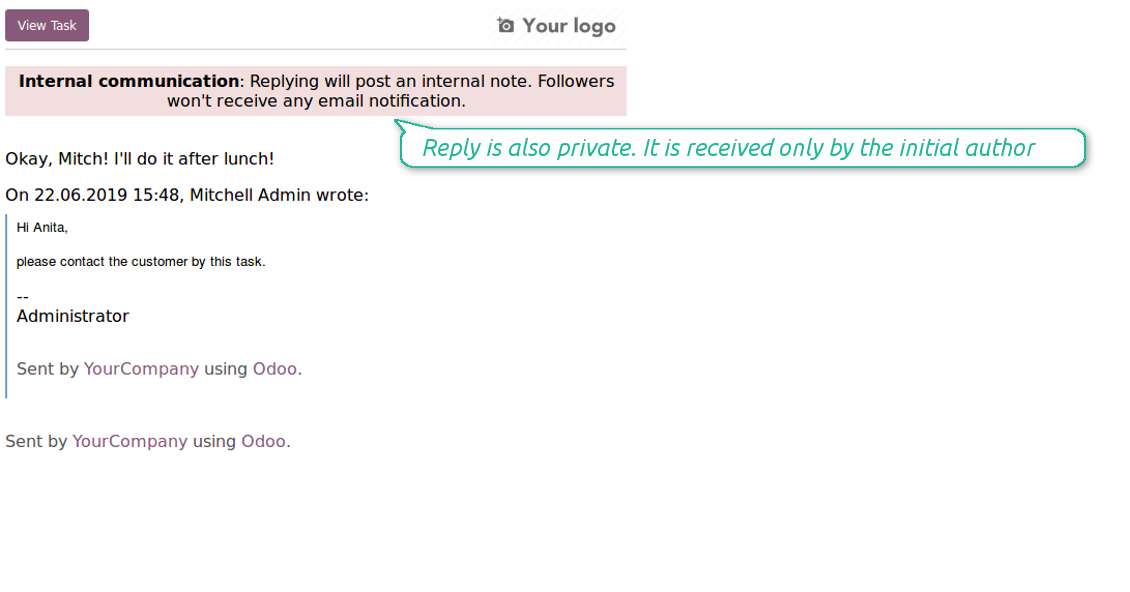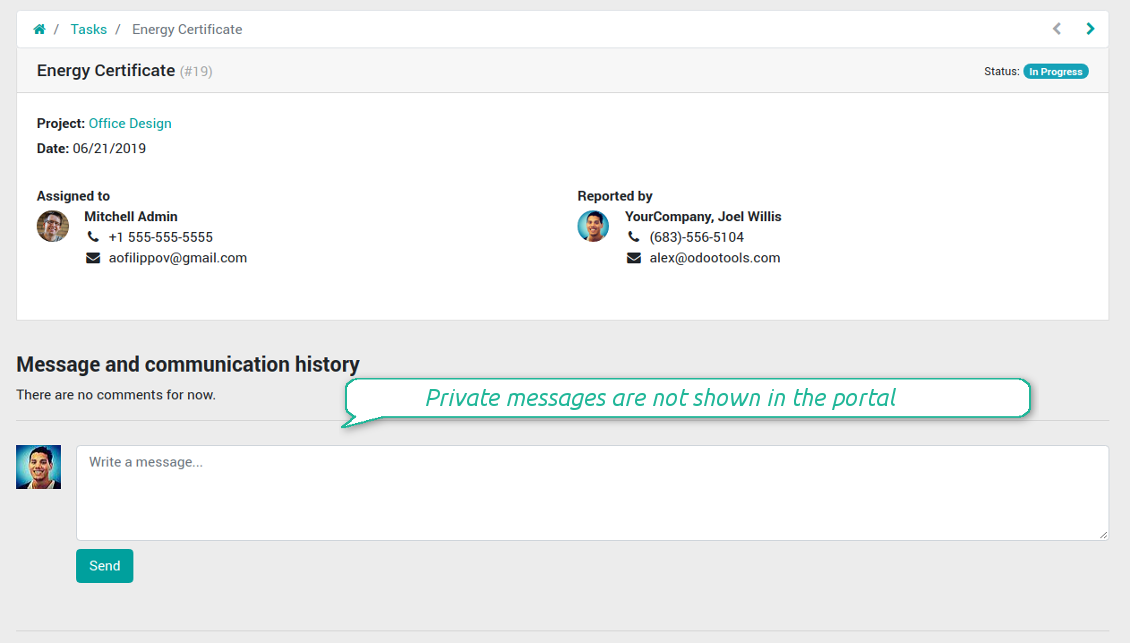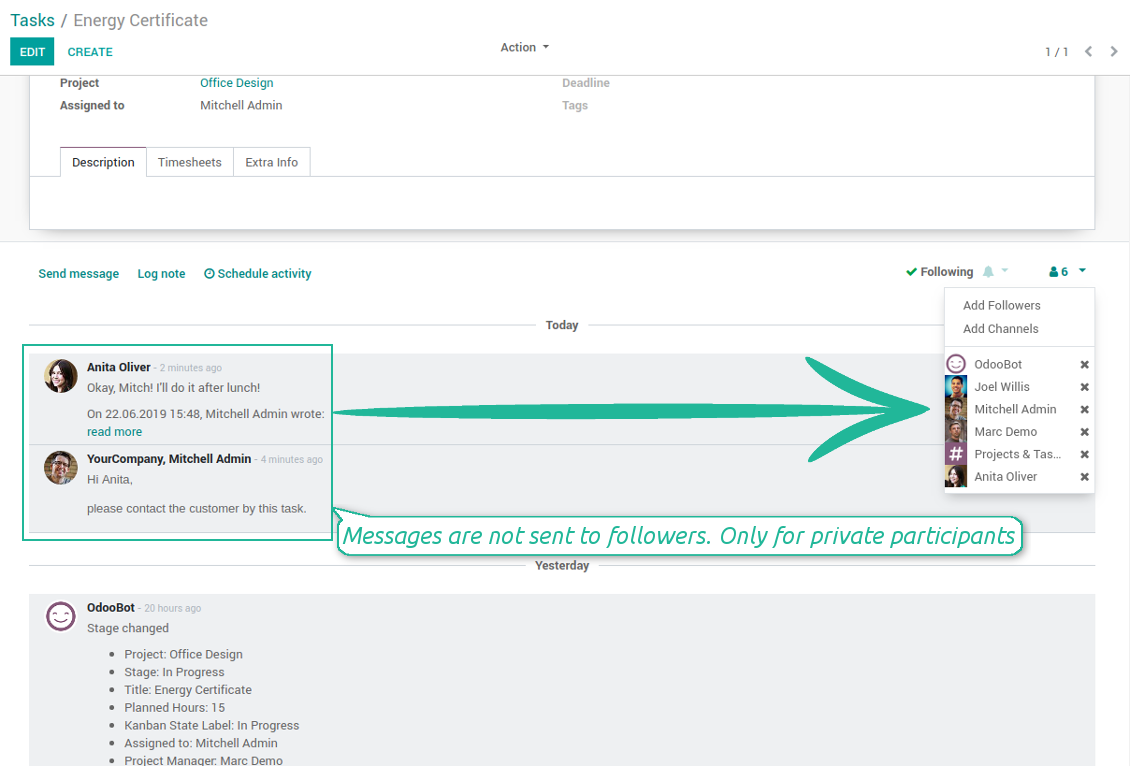 When a user is subscribed for a document, it doesn't mean such a user should receive all messages. Often you want to send a definite email only for chosen participants. It is especially important when external partners follow discussions, and you need to keep confidentiality. This tool aims to achieve the goal by letting users select who are end message recipients. In such a way no excess emails are sent, while information is safely delivered only for required parties.
No interruption of followers
In order to send an internal message it is enough to flag the check box 'Send private' when you compose an email. Such a message would be sent only for chosen recipients, and would not interrupt any other followers.
Moreover, a reply would be also fetched by Odoo as internal, and it would be received exclusively by the initial author.
Screenshots
Screenshots
To send a message privately merely check the box 'Send private'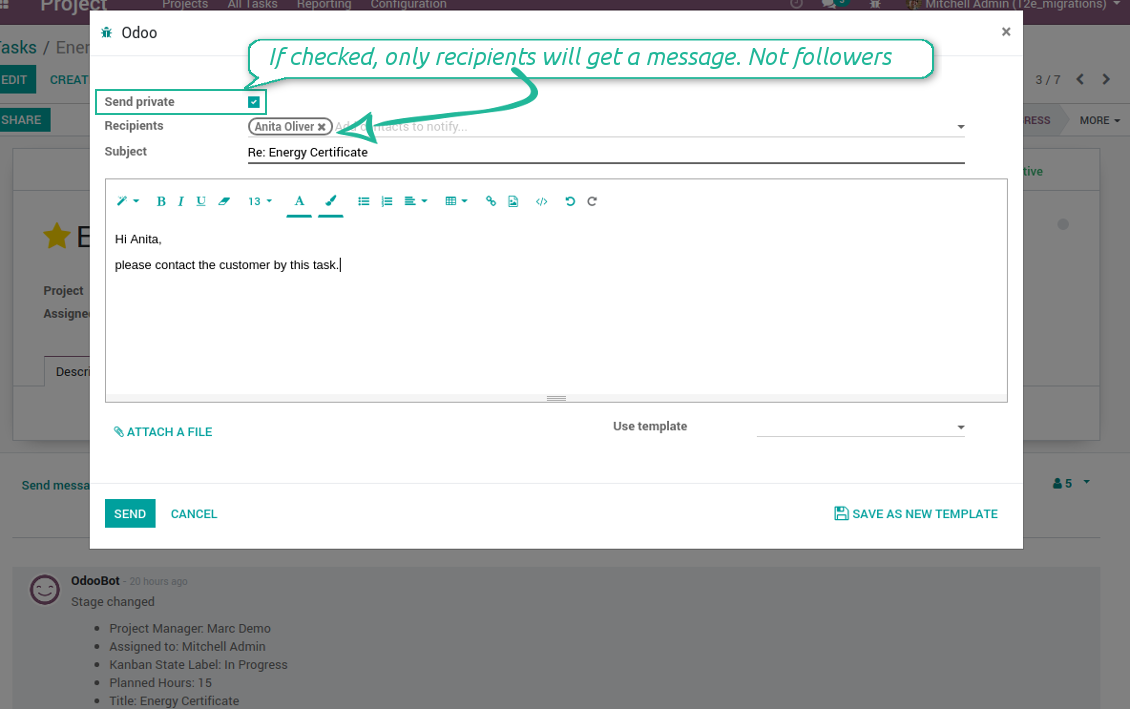 Private message recipients always know that communication is internal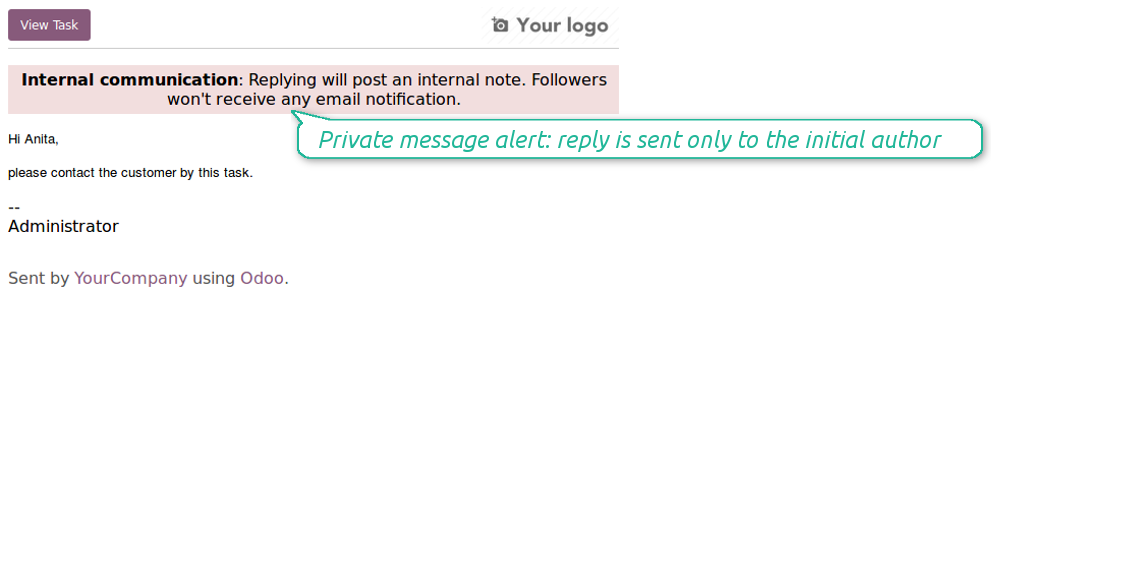 Replies are also private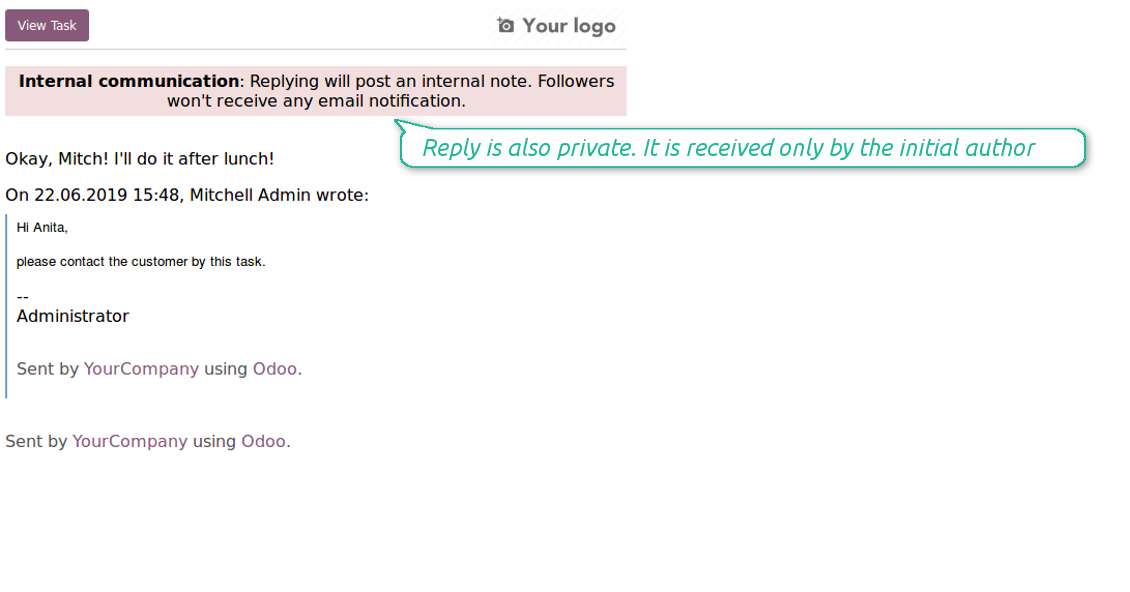 Confidential communication
Although no excess notifications are sent, all private messages are recorded under a related document. It is important to keep history for future actions.
Simultaneously, external partners will never be able to observe internal discussions in the Odoo portal. So, informations is kept confidential.
Screenshots
Screenshots
Confidential messages are not in shown for external partners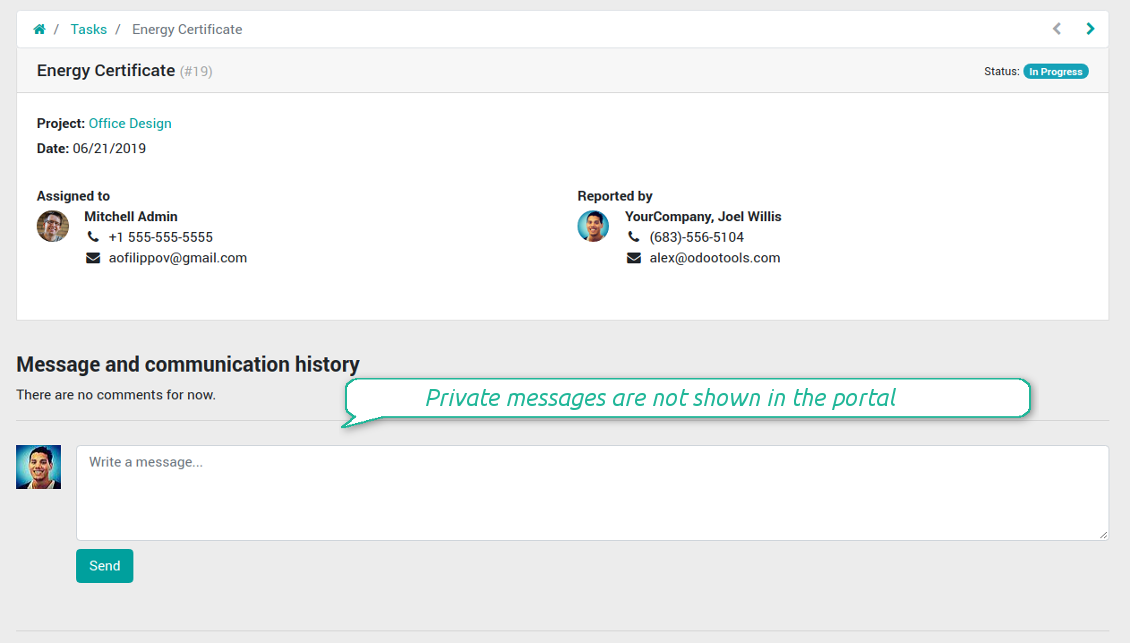 Internal messages are recorded but are not sent to followers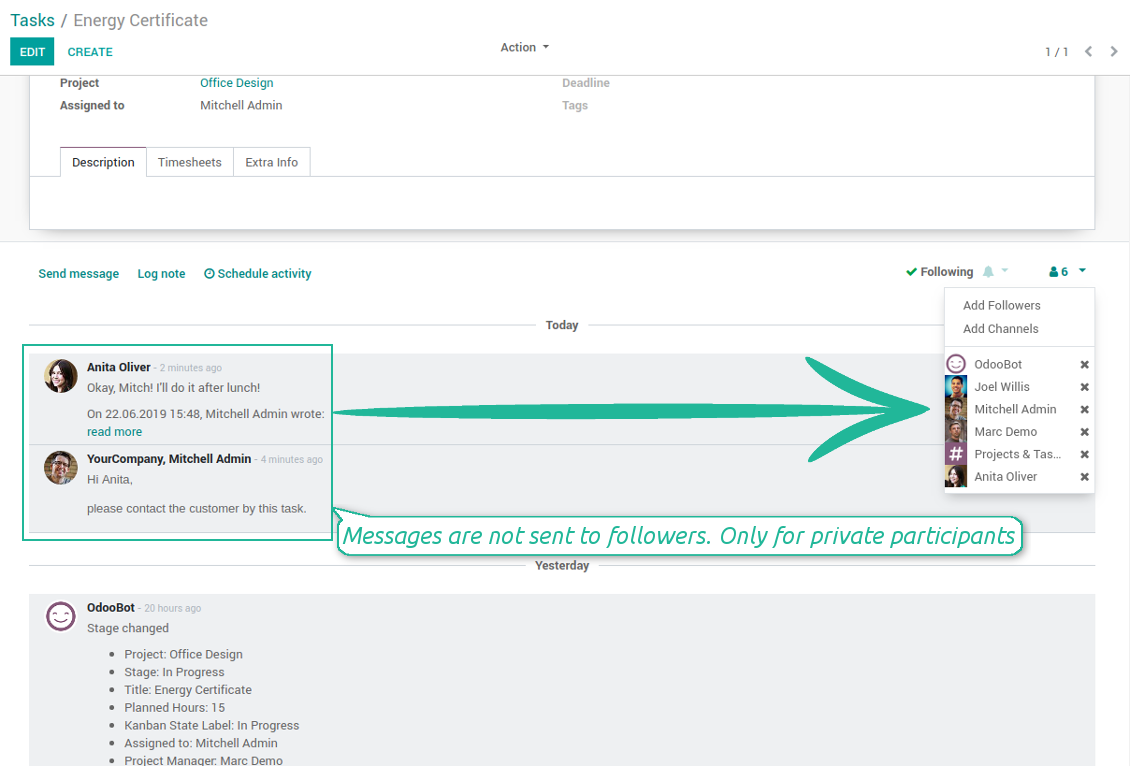 Any functional area
The app equally works for all Odoo objects: sale orders, invoices, tasks, opportunities, so on and so on. Besides, any type of message might be sent privately: not only simple emails but also system templates. For example, the app let you send a quotation report for a manager approval before forwarding it to a customer.
Love the APP! Works Great & Even Greater Support!

This was exactly the app that I needed. Odoo Tools responded to request/bugs and fixed them right away. Top-notch! Make sure you check out their other apps also.
Frequently Asked Questions about
Private Thread Odoo v.12
Bug reporting
In case you have faced any bugs or inconsistent behavior, do not hesitate to contact us. We guarantee to provide fixes within 60 days after the purchase, while even after this period we are strongly interested to improve our tools.
No phone number or credit card is required to contact us: only a short email sign up which does not take more than 30 seconds.
Please include in your request as many details as possible: screenshots, Odoo server logs, a full description of how to reproduce your problem, and so on. Usually, it takes a few business days to prepare a working plan for an issue (if a bug is confirmed) or provide you with guidelines on what should be done (otherwise).
Public features requests and module ideas (free development)
We are strongly motivated to improve our tools and would be grateful for any sort of feedback. In case your requirements are of public use and might be efficiently implemented, the team would include those in our to-do list.
Such a to-do list is processed on a regular basis and does not assume extra fees. Although we cannot promise deadlines and final design, it might be a good way to get desired features without investments and risks.
No phone number or credit card is required to contact us: only a short email sign up which does not take more than 30 seconds.
You may also like the tools