Sale Order Approval Check Lists

v.11
The tool to make sure a sale order is ready for the next stage
---
The tool does not require extra dependencies beside standard Odoo apps.
Current version: 11.0.1.0.3
---
Enterprise
Community
Odoo.sh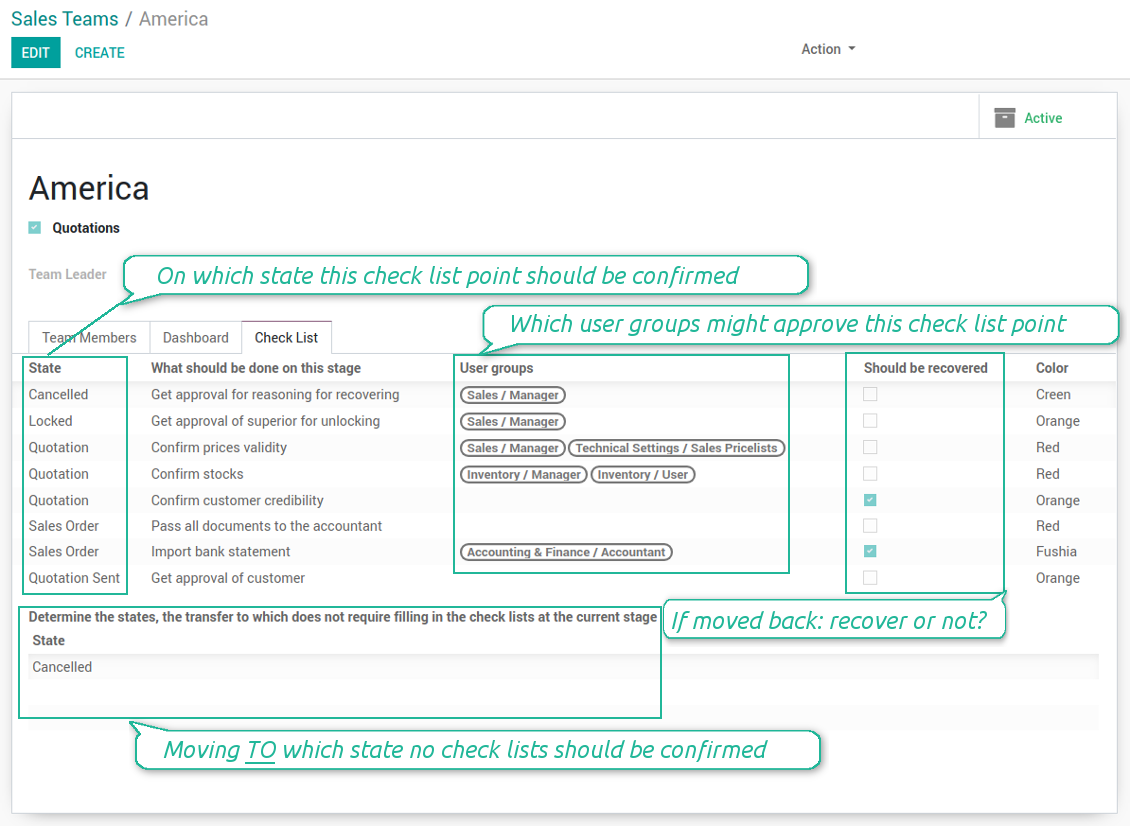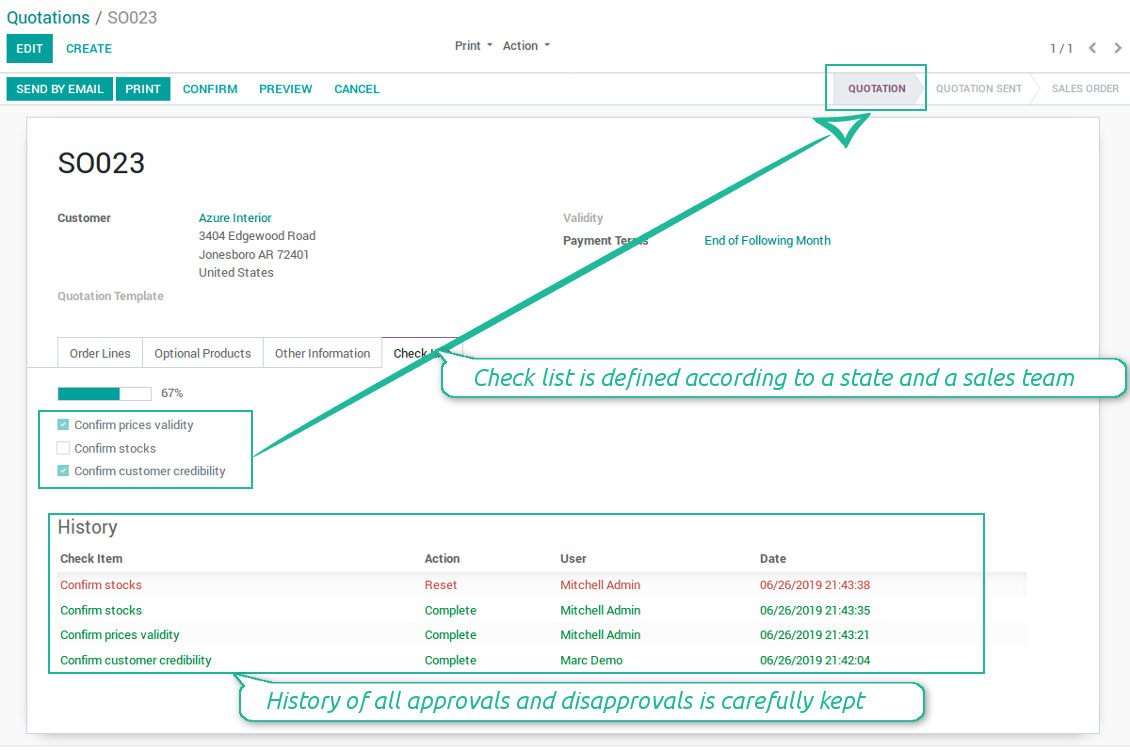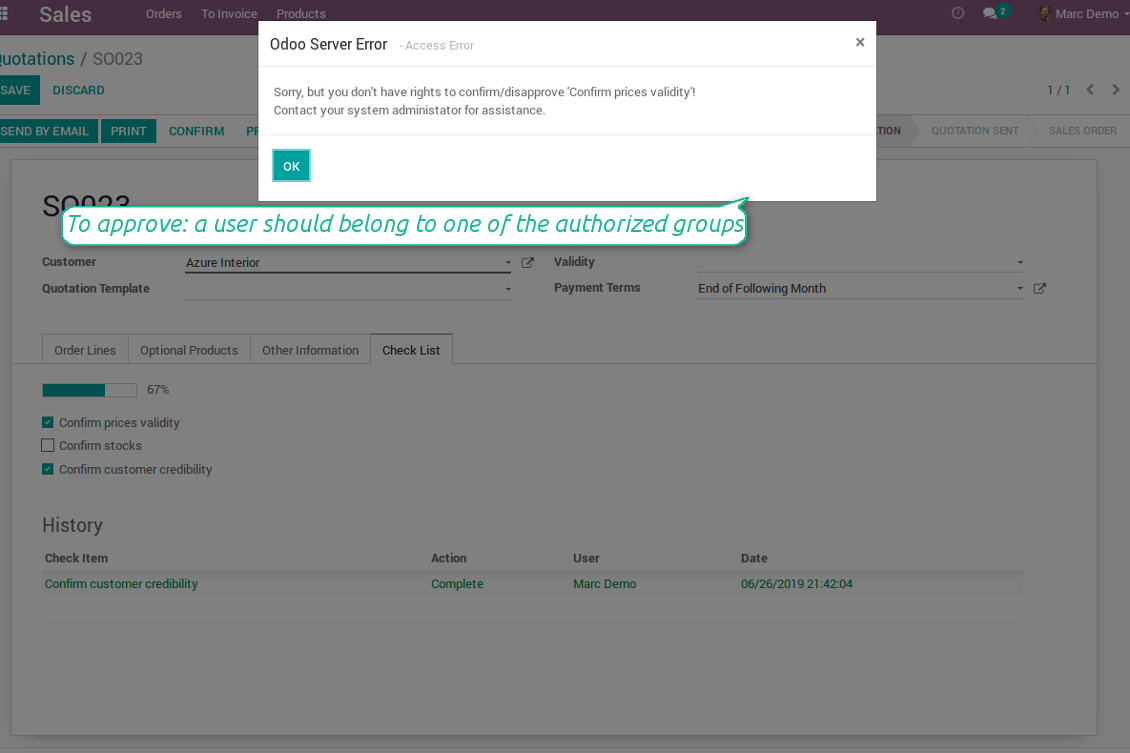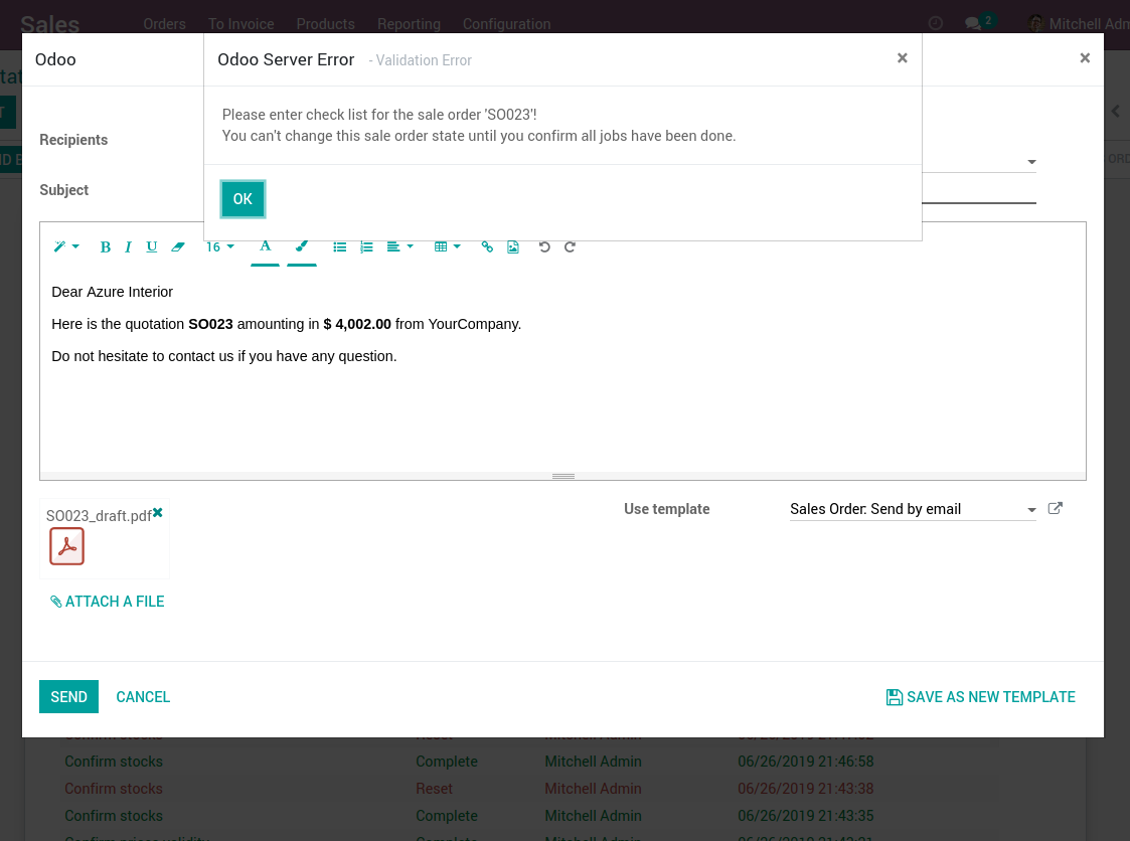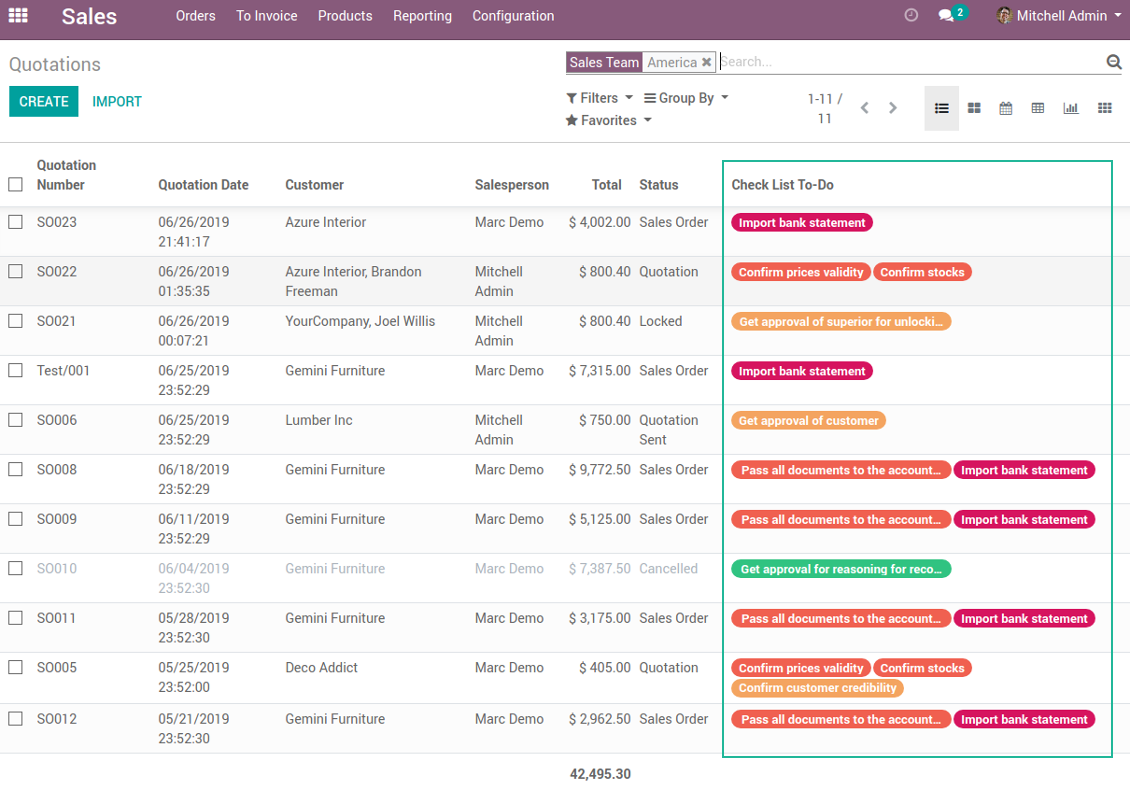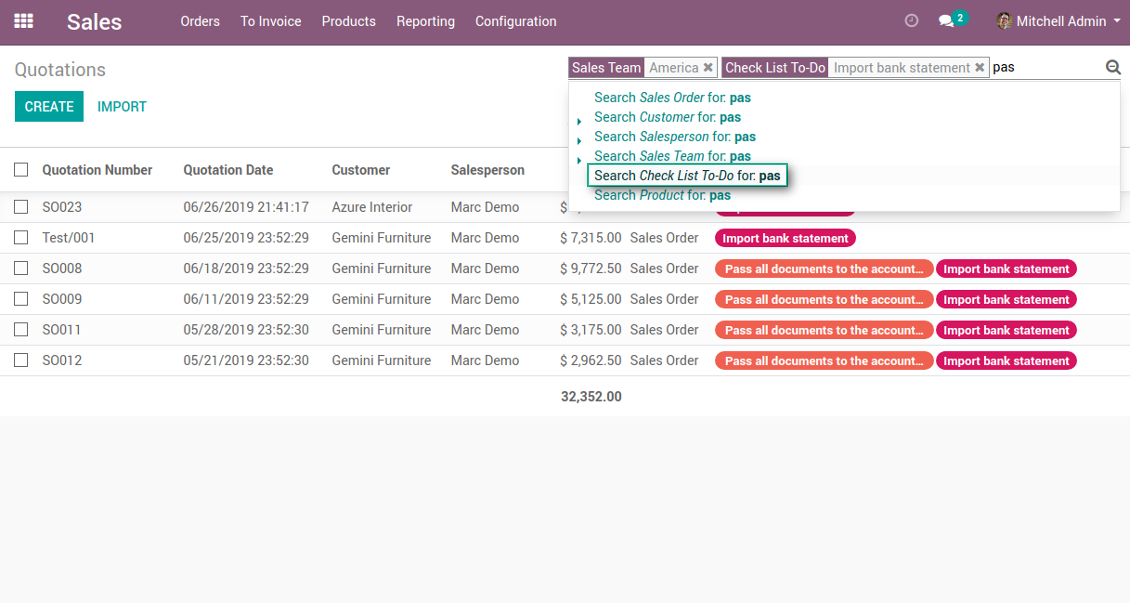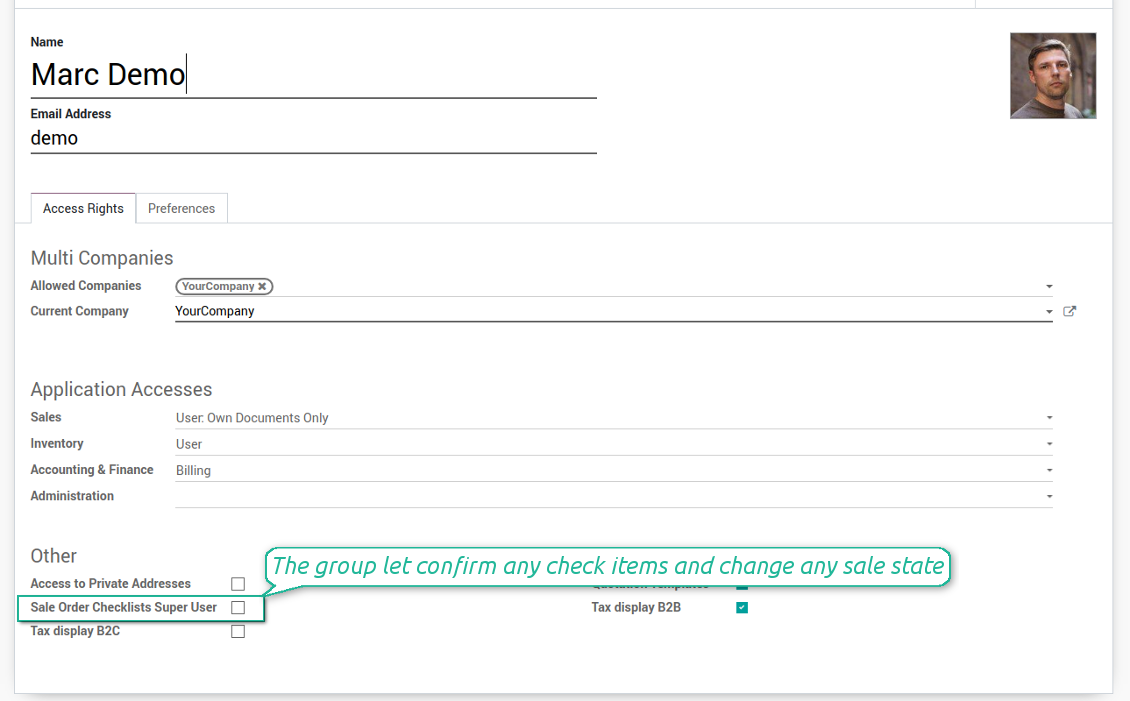 To make a sale, each company undertakes a specific sequence of actions which usually involves various user roles and various requirements to be fulfilled. Control of that process is both complex and extremely important. If a salesperson misses a step, a promising deal might evolve to a drastic failure. This tool is to make sure that a sale order is always ready to the next stage and all intermediary results are approved. The app let you prepare a check list per each state, force users to confirm all points, and control approval by responsible managers.
Check lists per sales team and order state
Checklists are defined for each sales team what let you reflect various work flows depending on applied sales typology. Sale managers by themselves specify what and on which order state should be done and approved. A set is unlimited, might reflect custom stages, and it is as unique as you want.
As a result when a sale order has an assigned team and gets its state updated, a check list would be automatically prepared.
How check list points might be missed
How check list points might be missed
Often an order state change does not require fulfilment of all requirements. For example, when you cancel a sale it seems unreasonable to approve customer credibility.
In such a case you should merely define states moving to which doesn't need confirmation. It is possible to do right under the check list settings on a team form.
One of important use cases is also the state 'Quotation sent'. Sometimes, approval is required for an order confirmation but not for its forwarding to a client. This step might be even missed. In that situation you should define the same check points for the states 'Quotation' and 'Quotation Sent', while 'Quotation Sent' should be added as a no-checklist-required step.
Screenshots
Screenshots
Sale team checklist settings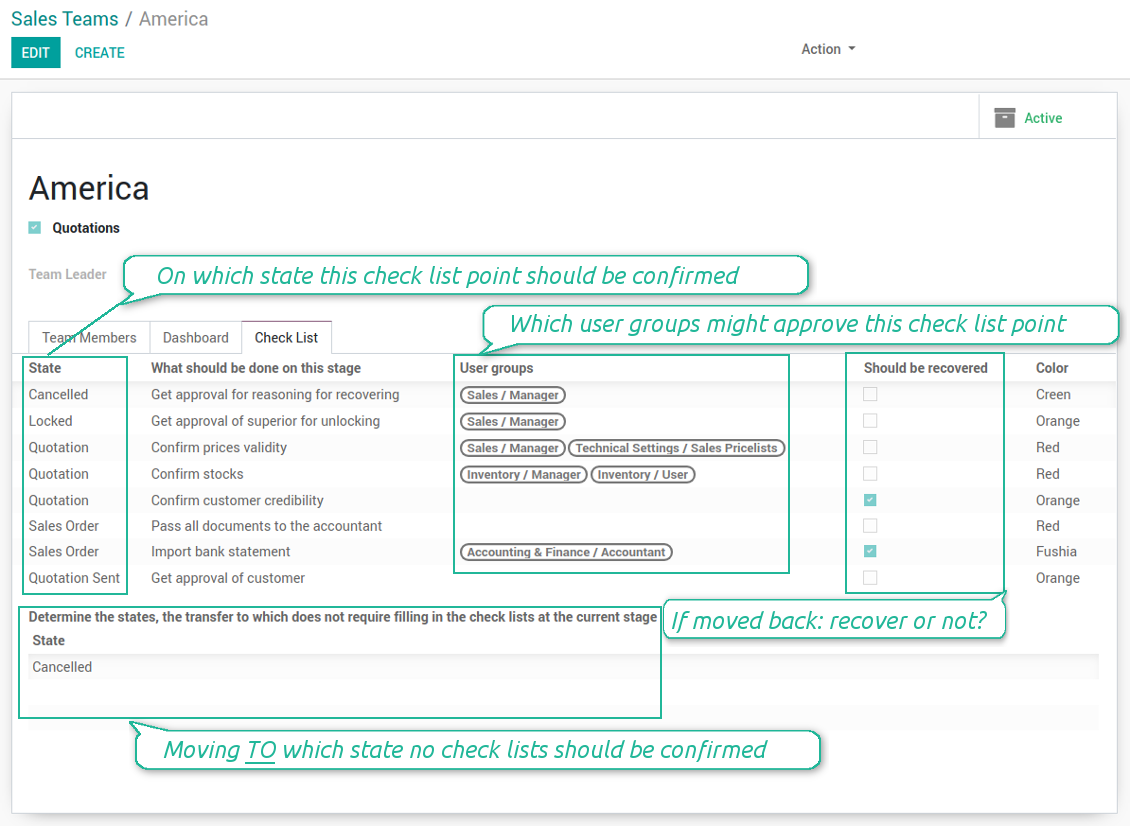 Check list is unique per order state and team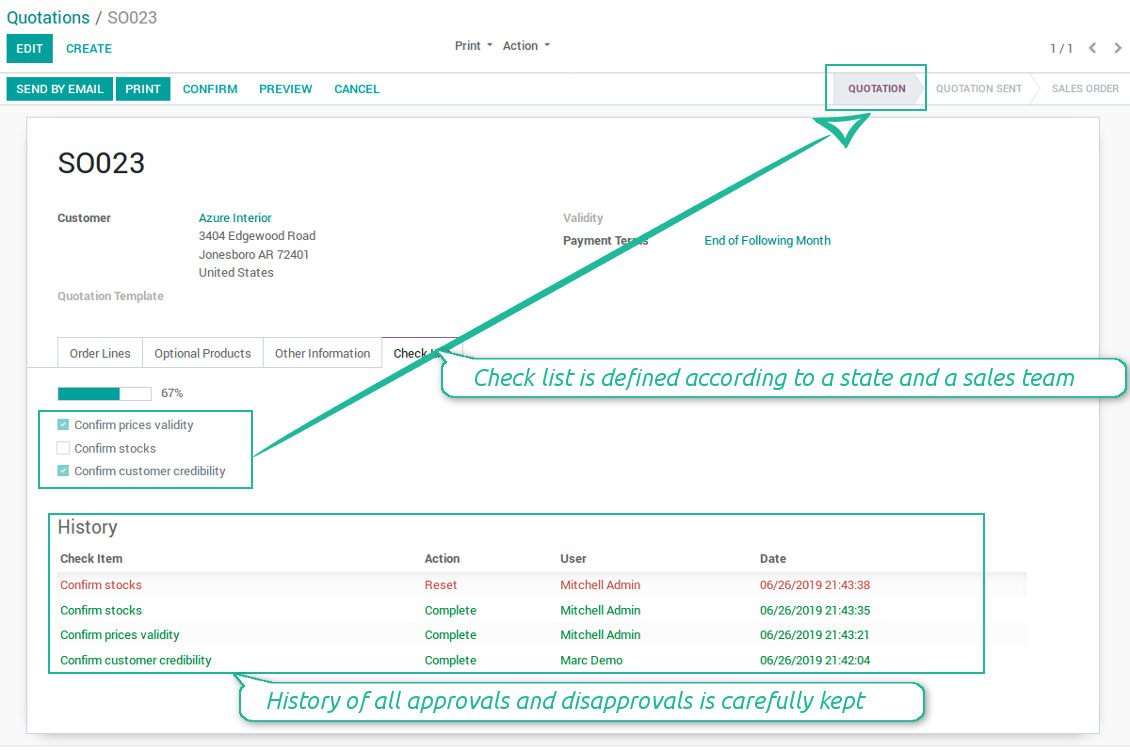 Sale order multi approval flow
In order to move an order to a new state, a sales person needs to enter all confirmation points and get approval for ones he doesn't have a right to enter.
Since the tool let assign user groups for each checklist line, you may force various employees to take part in a sale evolvement. In such a way it is guaranteed that all actions are done and carefully checked.
When Odoo would warn salespersons to confirm check lists
When Odoo would warn salespersons to confirm check lists
Odoo will scan check lists as soon as a user tries to change sale state. In particular it happens when:
A user tries to confirm an order ('Quotation' > 'Sale Order' and 'Quotation Sent' > 'Sale Order').
A user locks ('Sale order' > 'Locked') or unlocks ('Locked' > 'Sale order') a sale.
A user prints or sends a draft quotation ('Quotation' > 'Quotation Sent').
A user cancels a quotation (any state > 'Cancelled') or re-set cancelled quotation ('Cancelled' > 'Quotation').
Surely, you are not obliged to have a check list for each state. Scanning of empty checklist is always considered as successful.
Besides, if you had custom stages, transitions to those would be also taken into account.
Screenshots
Screenshots
Approval involves various user roles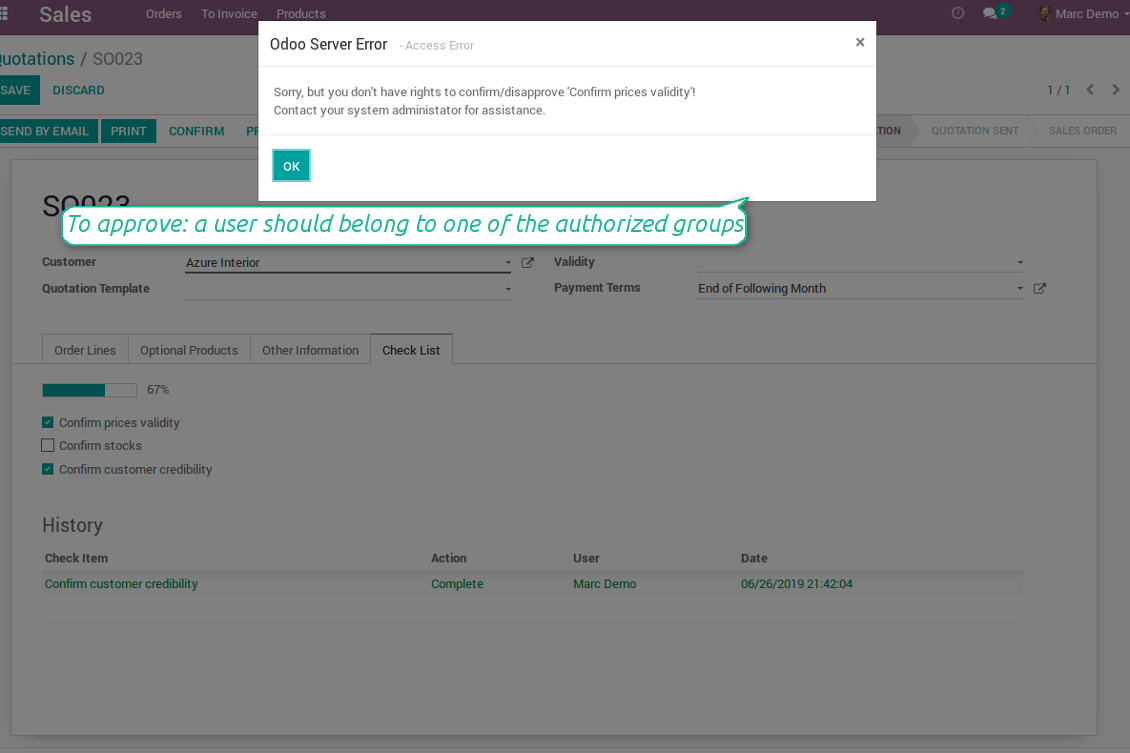 Quotation state can't be changed until checklist is confirmed

Odoo scans check list progress for any attempt of state update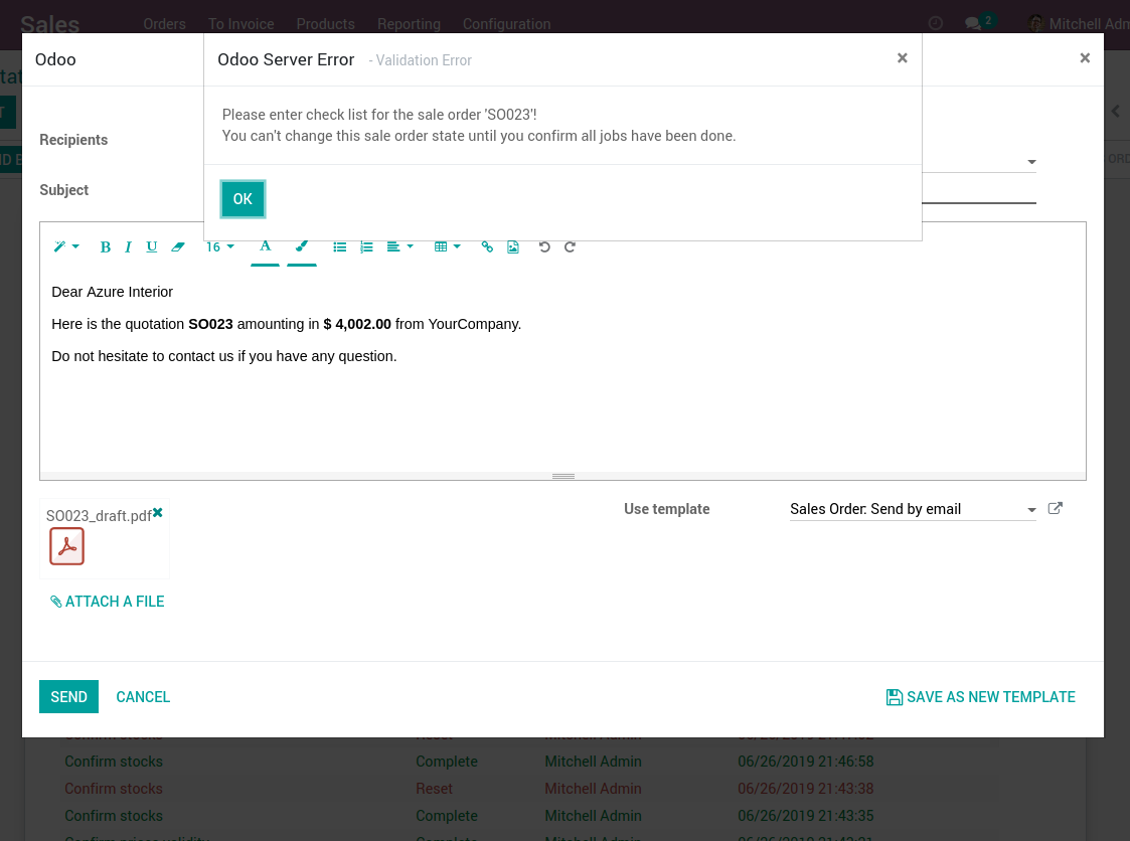 Approval history
If a user marks a check point as done or as not done, the action is carefully recorded in the history. In such a way you always can investigate who and when makes a sale approval. It guarantees transparency and employees commitment.
Indicative checklist to-do
Not yet done check points are shown right on the tree of quotations and on the list of sale orders. You may distinguish those by colors and always search them by key words.
Super checklist user
In any workflows you may encounter exceptions. Sometimes sales persons would reasonably like to move an order forward although not everything is done. For example, when a customer is super perspective or is a loyal partner.
In such a case you should assign the super check list access level for yourself or for any responsible manager. A user with such rights would be able both to change an order sate without approving check list and confirm any check point disregarding security restrictions.
Frequently Asked Questions about
Sale Order Approval Check Lists Odoo v.11
Bug reporting
In case you have faced any bugs or inconsistent behavior, do not hesitate to contact us. We guarantee to provide fixes within 60 days after the purchase, while even after this period we are strongly interested to improve our tools.
No phone number or credit card is required to contact us: only a short email sign up which does not take more than 30 seconds.
Please include in your request as many details as possible: screenshots, Odoo server logs, a full description of how to reproduce your problem, and so on. Usually, it takes a few business days to prepare a working plan for an issue (if a bug is confirmed) or provide you with guidelines on what should be done (otherwise).
Public features requests and module ideas (free development)
We are strongly motivated to improve our tools and would be grateful for any sort of feedback. In case your requirements are of public use and might be efficiently implemented, the team would include those in our to-do list.
Such a to-do list is processed on a regular basis and does not assume extra fees. Although we cannot promise deadlines and final design, it might be a good way to get desired features without investments and risks.
No phone number or credit card is required to contact us: only a short email sign up which does not take more than 30 seconds.
You may also like the tools