URL Transliterations for Website Pages

v.15
The tool to translate URL addresses of Odoo website pages
---
The tool does not require extra dependencies beside standard Odoo apps.
Current version: 15.0.1.0.3
---
Enterprise
Community
Odoo.sh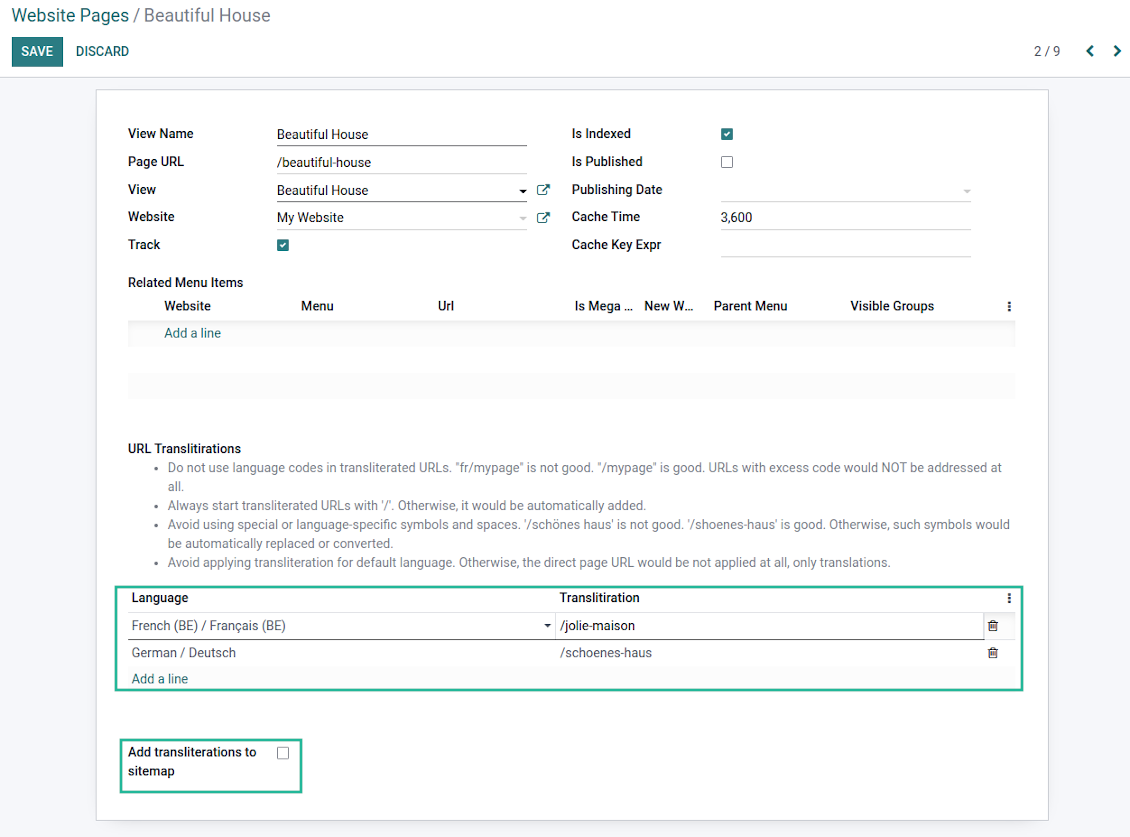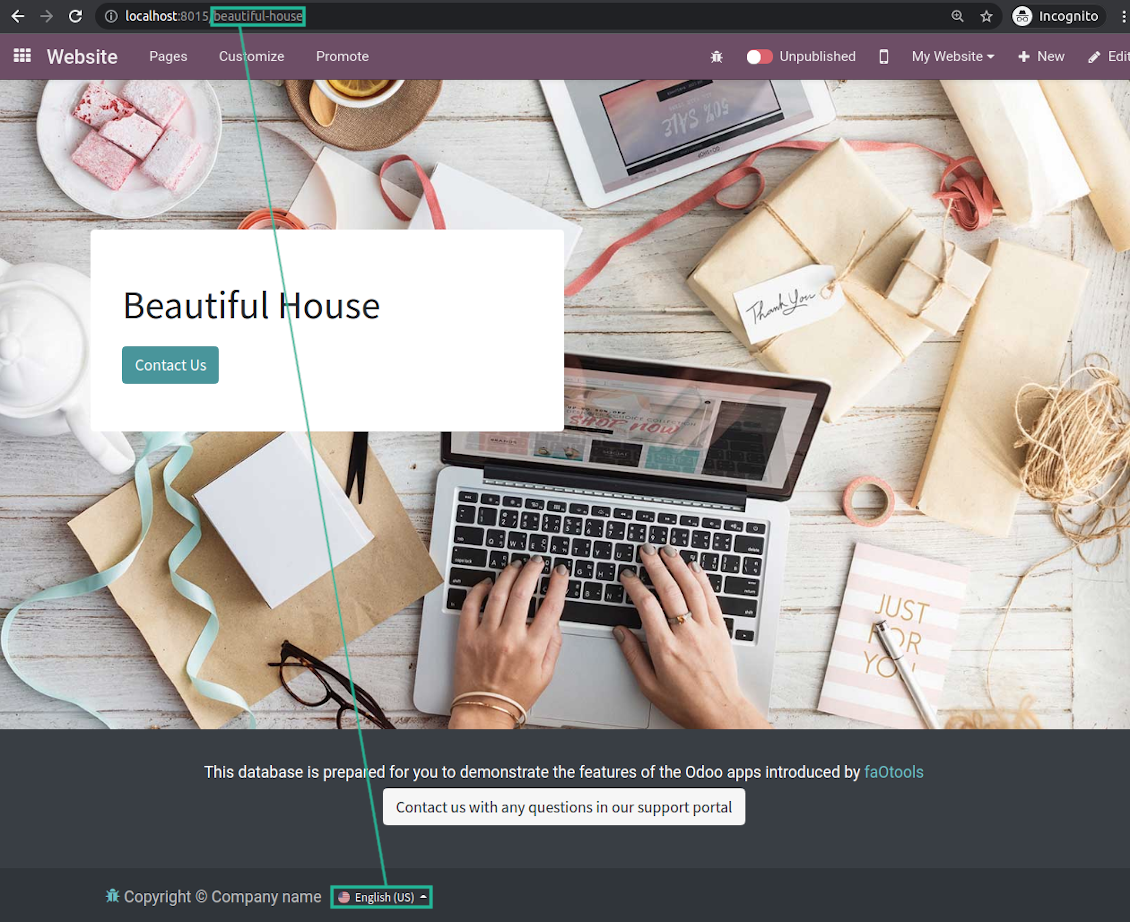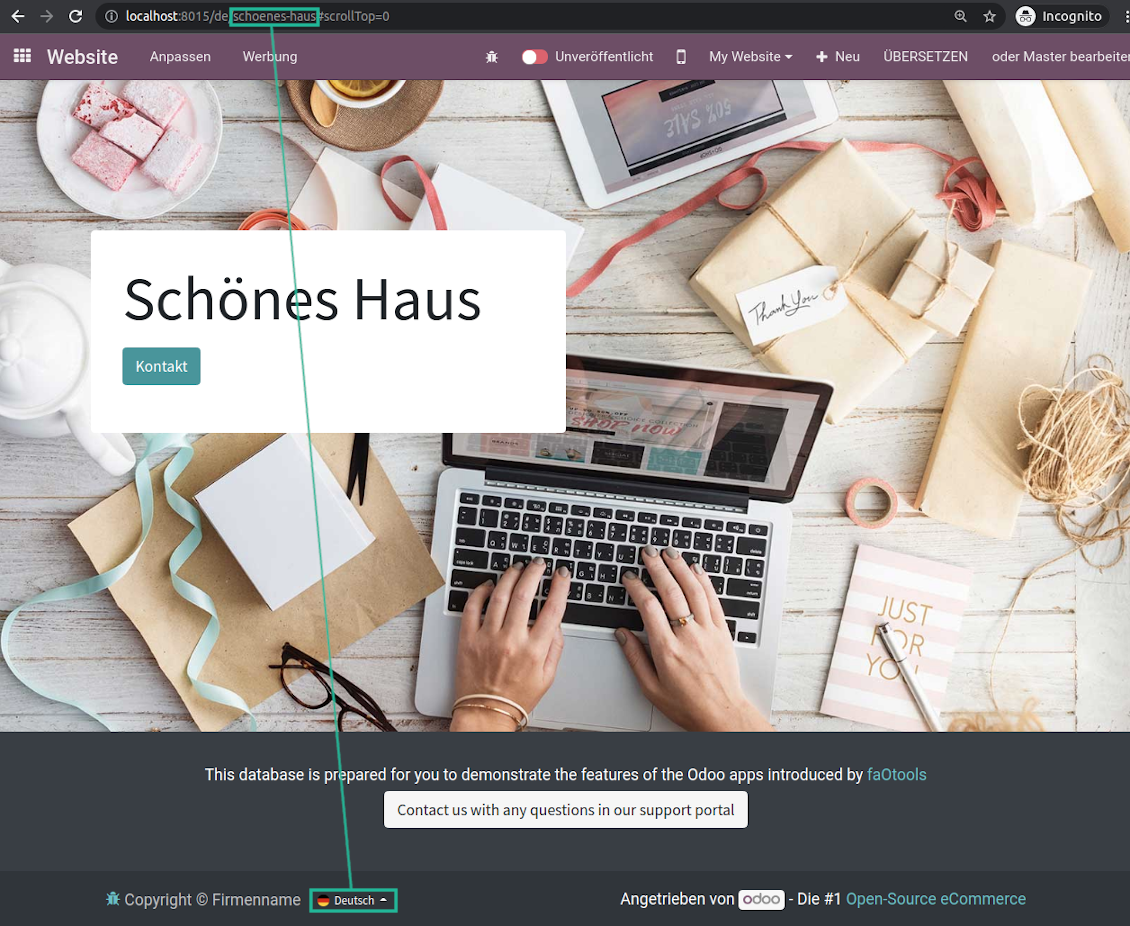 If your website operates in multiple languages, you should have already faced the requirement to transliterate addresses of Odoo custom website pages. This is the tool to fulfill that requirement through translating web URLs.
Simple Odoo URLs transliteration
Transliterate URLs right from Odoo website page backend forms (Website > Configuration > Pages). To that end just add a new translation for a required language to the list of addresses at the form bottom
Own website links for any Odoo language
The tool lets translate addresses to any installed Odoo language. Simultaneously, you are not obliged to do so for all languages. In case there is no transliteration for a certain one, default URL would be applied
User friendly website addresses
Page address is adapted each time a user opens that page or selects a desired language. For example, default language link is '/beautiful house'. For French it might be 'fr/mapage/olie-maison', while for German - 'de/shoenes-haus'
SEO optimized
According to many search engine optimization specialists, transliterated URLs contribute to the website position and let reach higher ranks. Optionally add transliterated links to Odoo sitemap.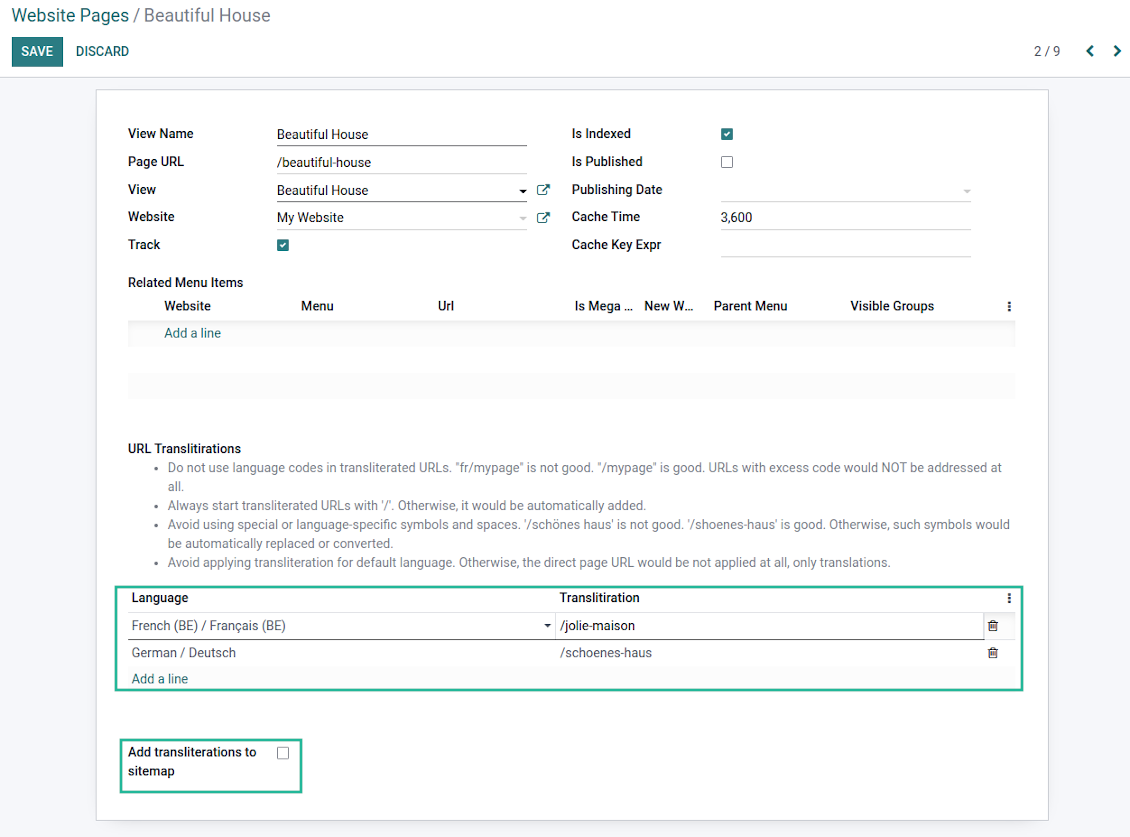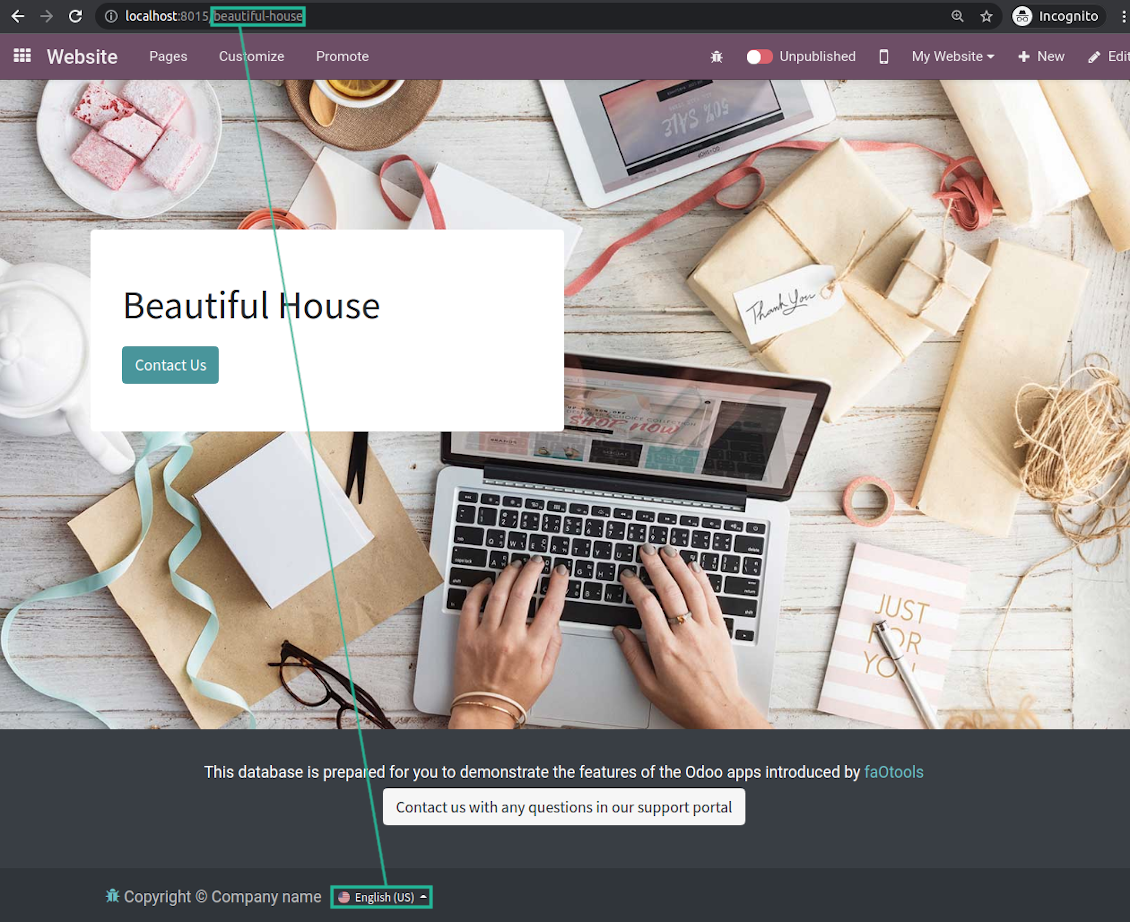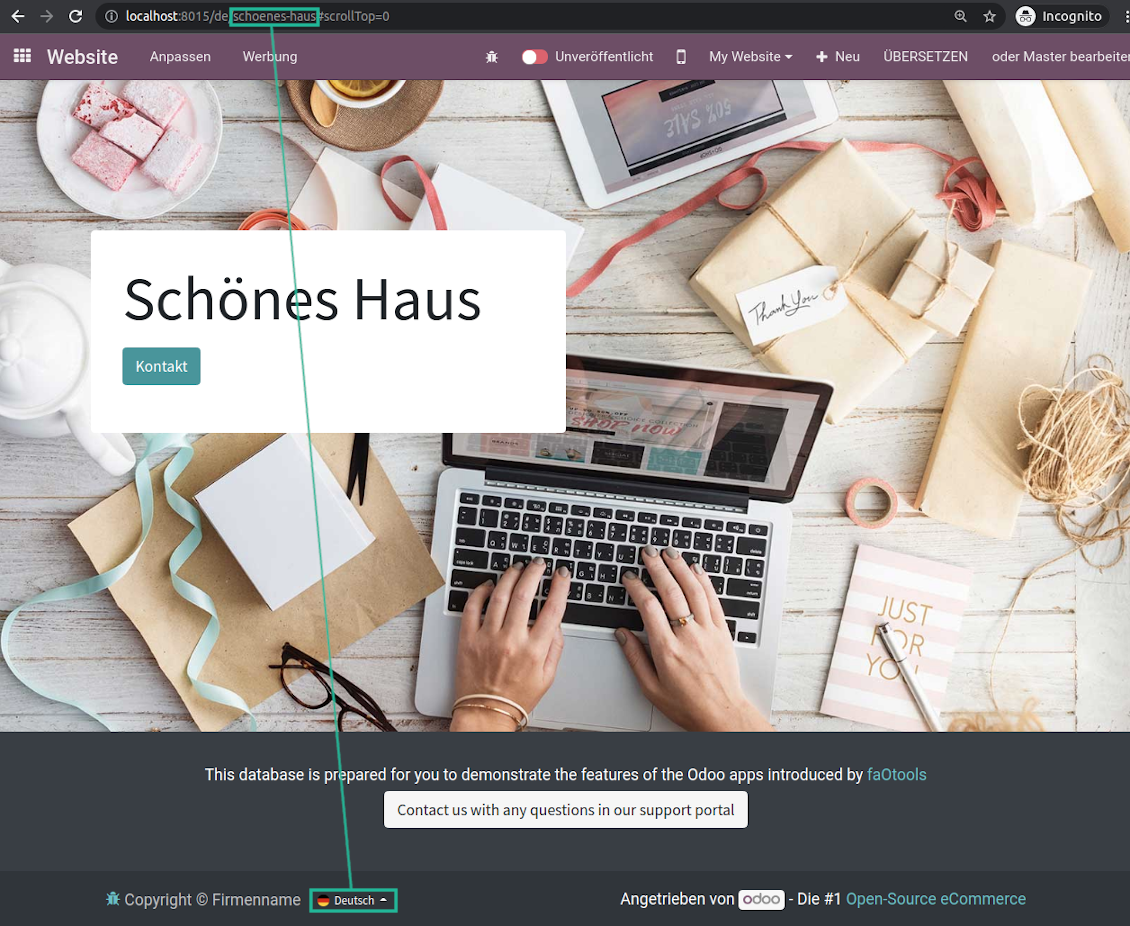 URLs translation requirements
Page URL serves as a precise page address. It let Odoo and user browsers understand which information and view to show. This is why it is extremely important to make URLs always correct and unique

Always start transliterated URLs with '/'. Otherwise, the app would do it after you inserted a new value.

Avoid using special or language-specific symbols and spaces. For example, '/schönes haus' is not good: apply '/shoenes-haus' instead. If you missed some of such symbols, they would be replaced or converted by the tool. So, always check the result afterwards

Do not use language codes as transliterated URLs parts (/fr/, /de/, etc). Those keys are reserved to distinguish user language and make proper redirection. Odoo would add those automatically, while 2 language codes would break addressing. So, "fr/mapage/olie-maison" is not good, use "/mapage/olie-maison" instead

The tool would warn about critical cases, including (a) when the same URL translation is applied for various website pages; (b) when a few web addresses transliterations for the same language and for the same page exist. However, be cautious with unique page URLs: there should be no case when transliteration of a page equals default URL of another page.
Frequently Asked Questions about
URL Transliterations for Website Pages Odoo v.15
Odoo demonstration databases (live previews)
For this app, we might provide a free personalized demo database.
No phone number or credit card is required to contact us: only a short email sign up which does not take more than 30 seconds.
By your request, we will prepare an individual live preview database, where you would be able to apply any tests and check assumptions for 14 days.
Bug reporting
In case you have faced any bugs or inconsistent behavior, do not hesitate to contact us. We guarantee to provide fixes within 60 days after the purchase, while even after this period we are strongly interested to improve our tools.
No phone number or credit card is required to contact us: only a short email sign up which does not take more than 30 seconds.
Please include in your request as many details as possible: screenshots, Odoo server logs, a full description of how to reproduce your problem, and so on. Usually, it takes a few business days to prepare a working plan for an issue (if a bug is confirmed) or provide you with guidelines on what should be done (otherwise).
Public features requests and module ideas (free development)
We are strongly motivated to improve our tools and would be grateful for any sort of feedback. In case your requirements are of public use and might be efficiently implemented, the team would include those in our to-do list.
Such a to-do list is processed on a regular basis and does not assume extra fees. Although we cannot promise deadlines and final design, it might be a good way to get desired features without investments and risks.
No phone number or credit card is required to contact us: only a short email sign up which does not take more than 30 seconds.
You may also like the tools