Security User Roles

v.15
The tool to combine users in roles and to simplify security group assigning. Access groups management. Users mass updating
---
The tool does not require extra dependencies beside standard Odoo apps.
Current version: 15.0.1.0.5
---
Enterprise
Community
Odoo.sh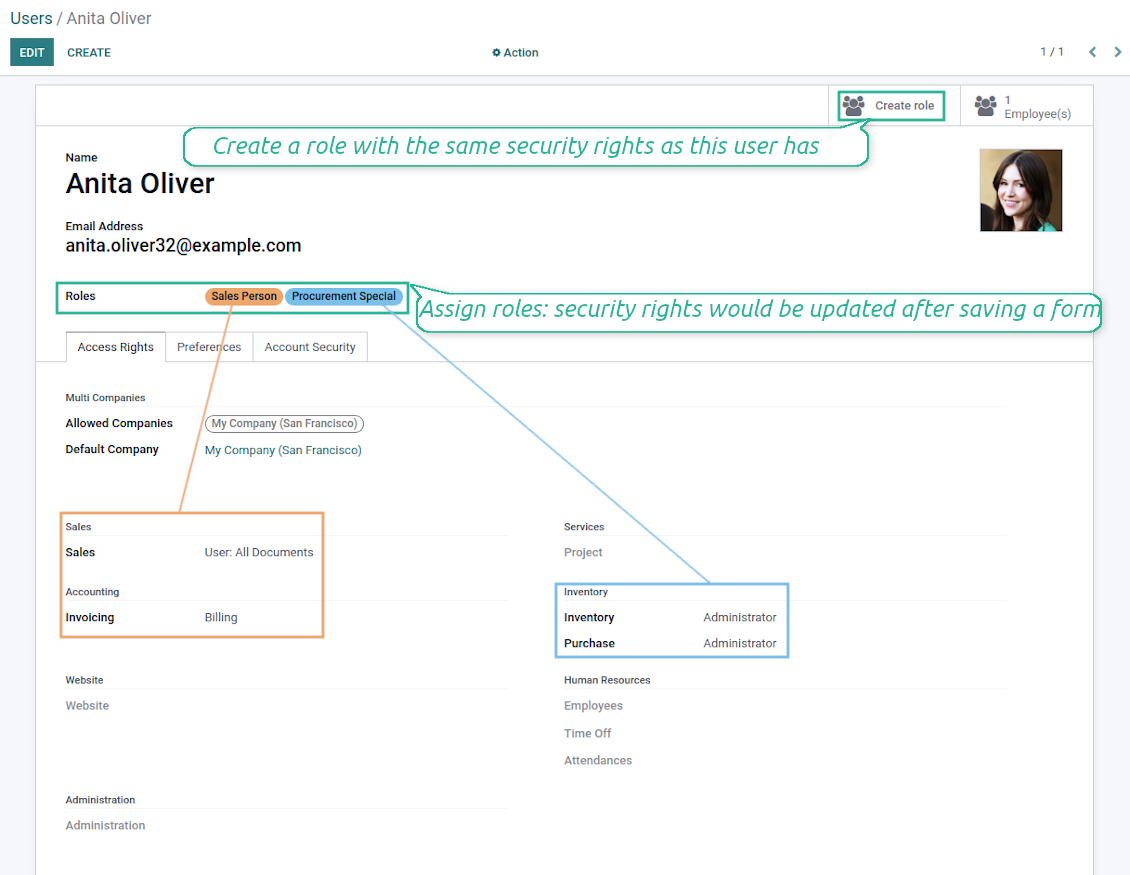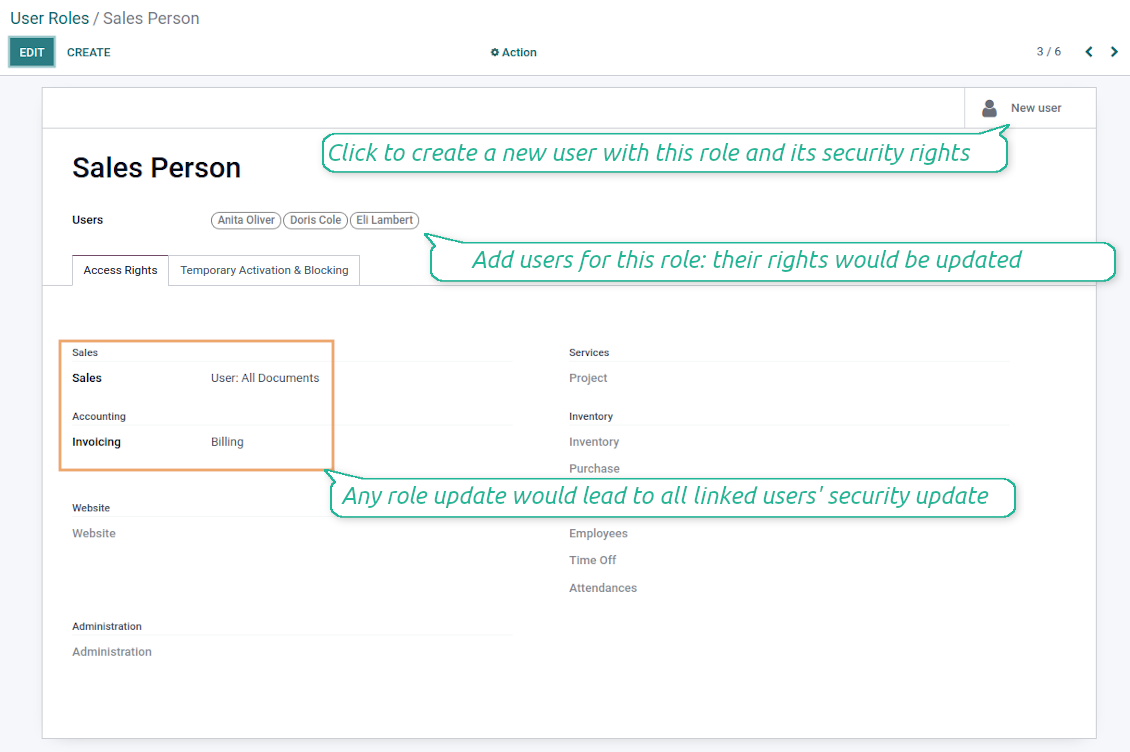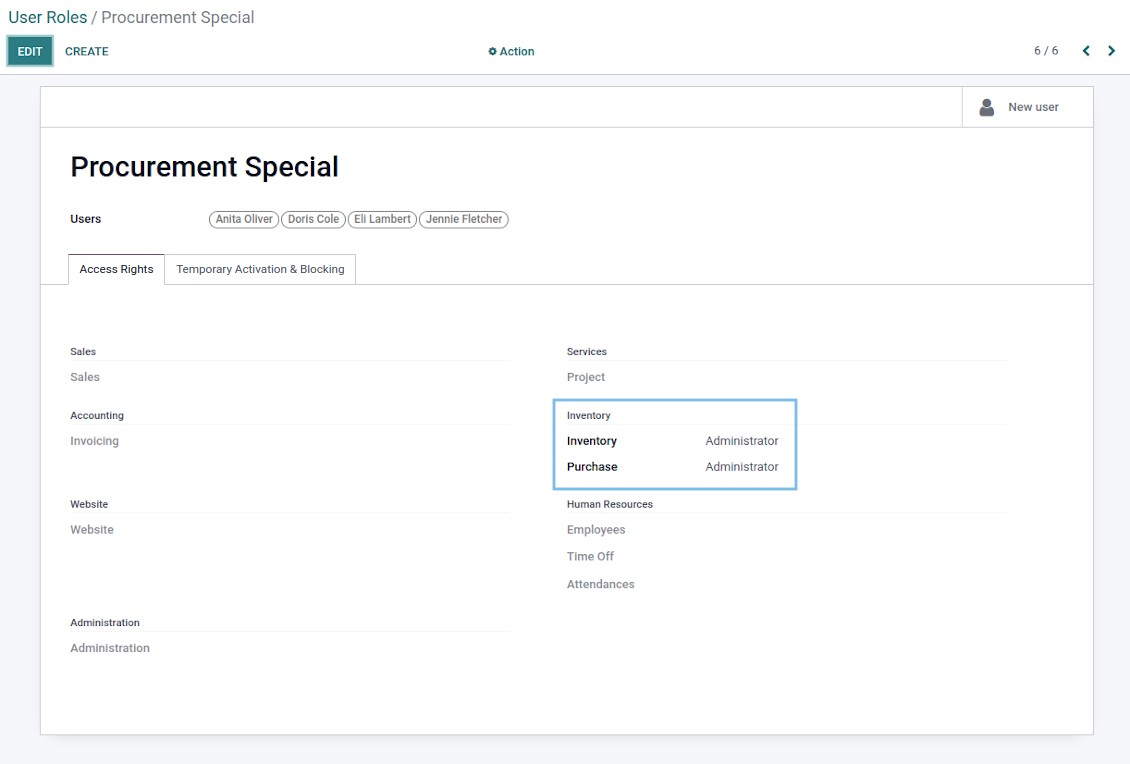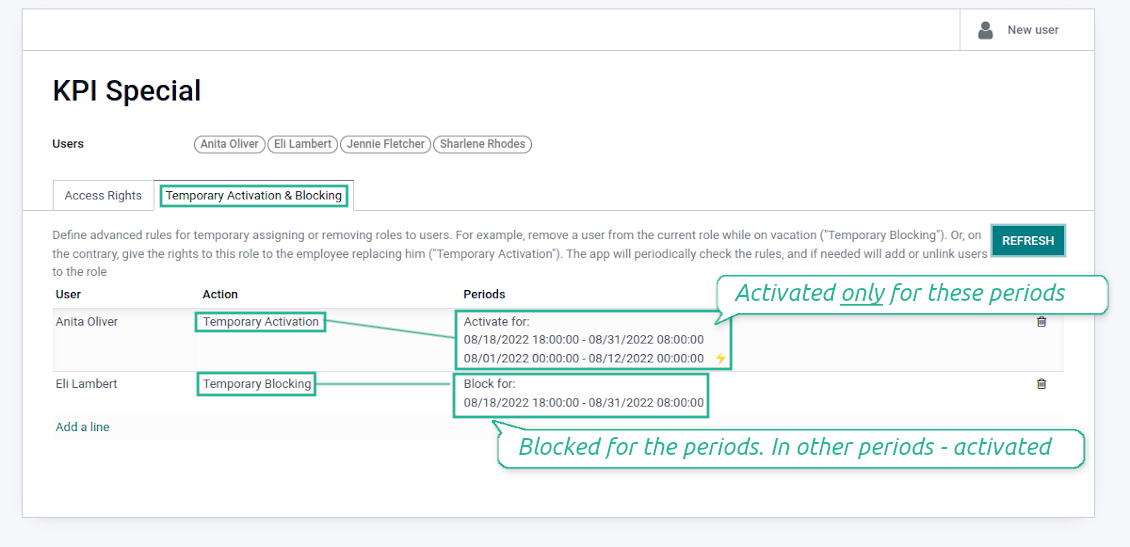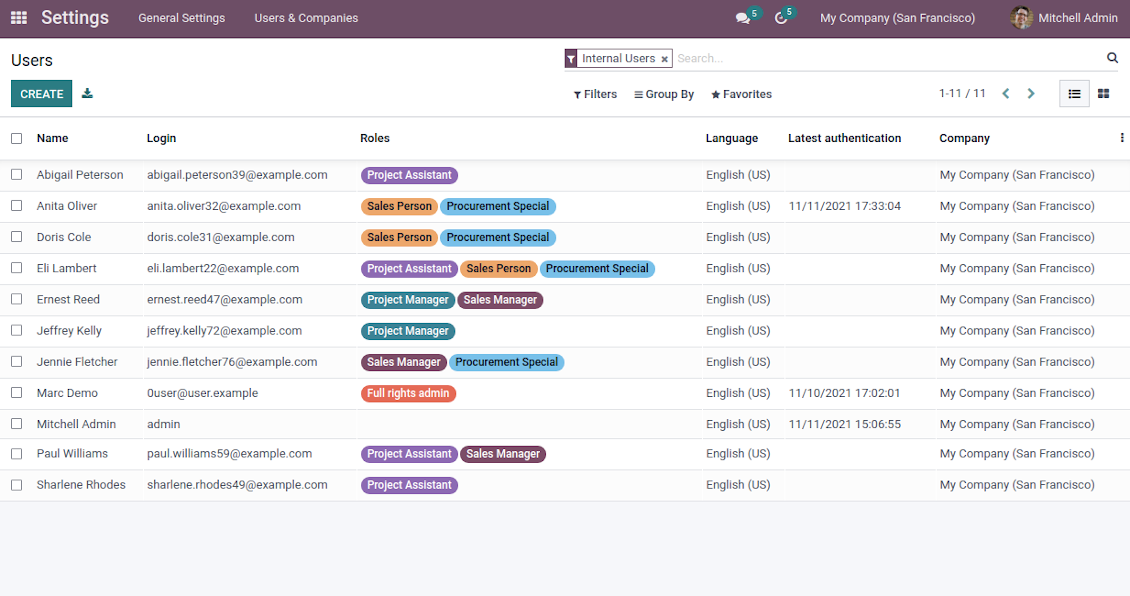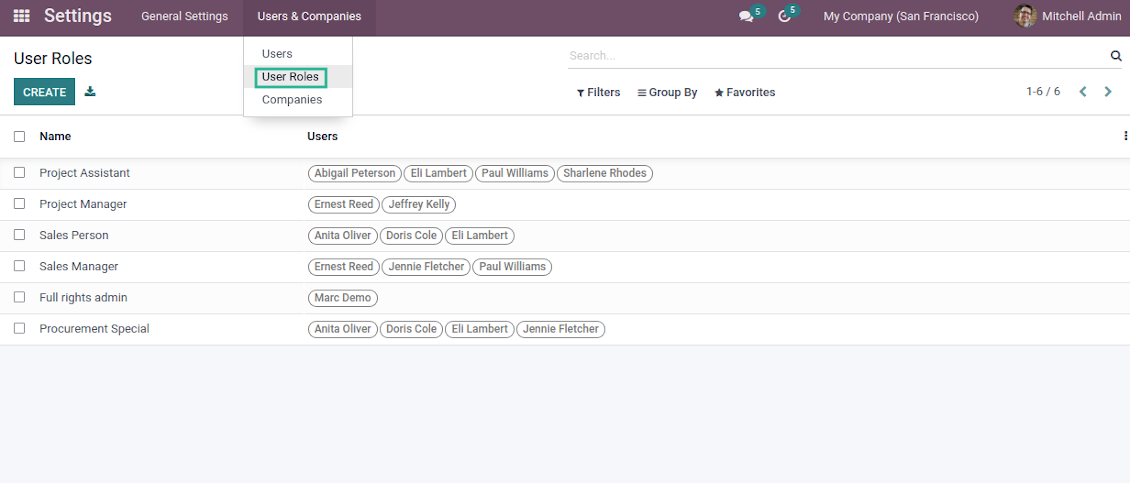 As your Odoo database grows, the more you think of how to manage users efficiently. Each new app installed and each employee hired become a headache for Odoo administrators. Which rights should have a sales manager? What checkbox have I again missed? This is the tool to forget about such questions. The app is to manage users from a role perspective not based on security rights. Simple to start, easy to maintain, and safe to administrate.
2 clicks to apply user rights
To add access rights it is enough to assign a role for a user. Odoo would automatically add required security groups. No need to always remember all checkboxes!
Multiple roles per user
Assign security roles in any combination to reflect employee Odoo rights. As precise as it is needed. Or leave roles empty to administrate very specific users manually
Safe in changing environment
To change the rights of multiple users it is enough to update a security role. It takes a few seconds to reflect changes in policies or in the set of installed apps. Fast and minimum risks of errors!
Simple to start
Security roles are managed absolutely in the same way as you do for standard Odoo users. You may even create roles based on existing users or, vice versa: a user based on a role
Dynamic updates
The app lets configure advanced rules to automatically add/remove users to a role. For example, to temporarily grant rights for a substitute employee, or block access for vacation time
All modules access groups
The tool works with access groups introduced by any modules: Odoo standard, third-party, or custom ones. The logic here and settings availability are the same as in configuring users.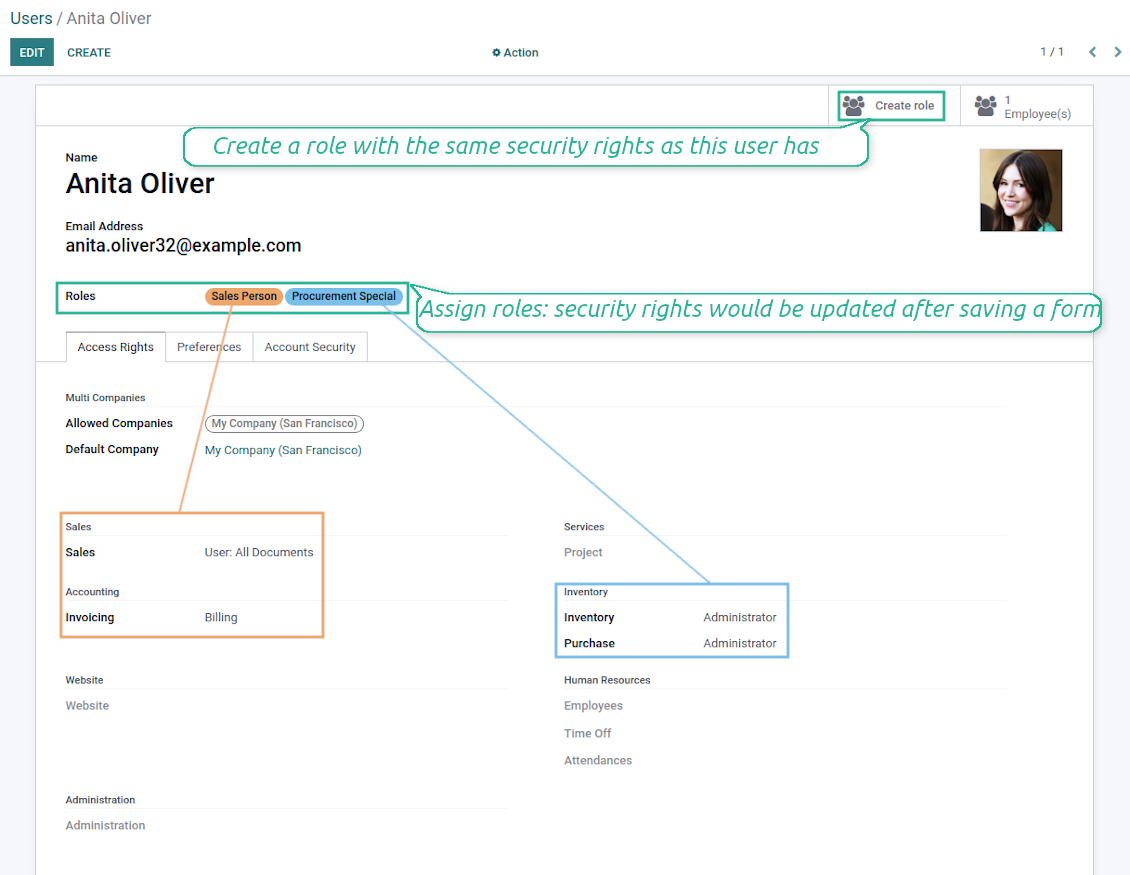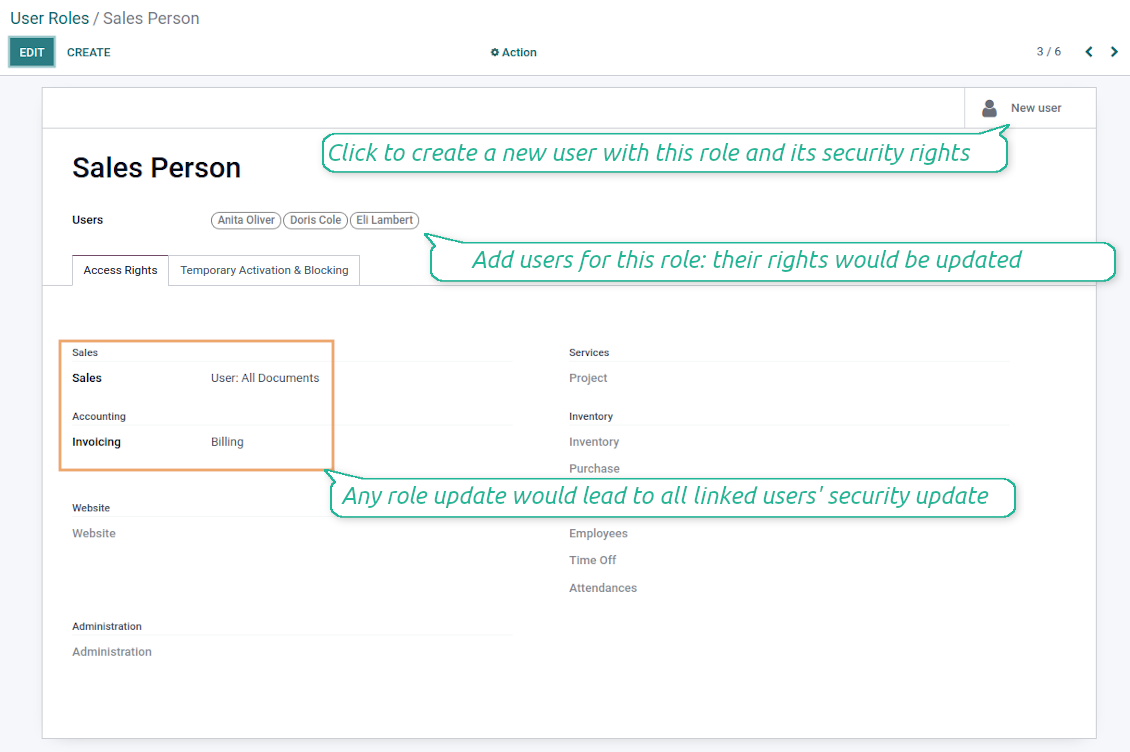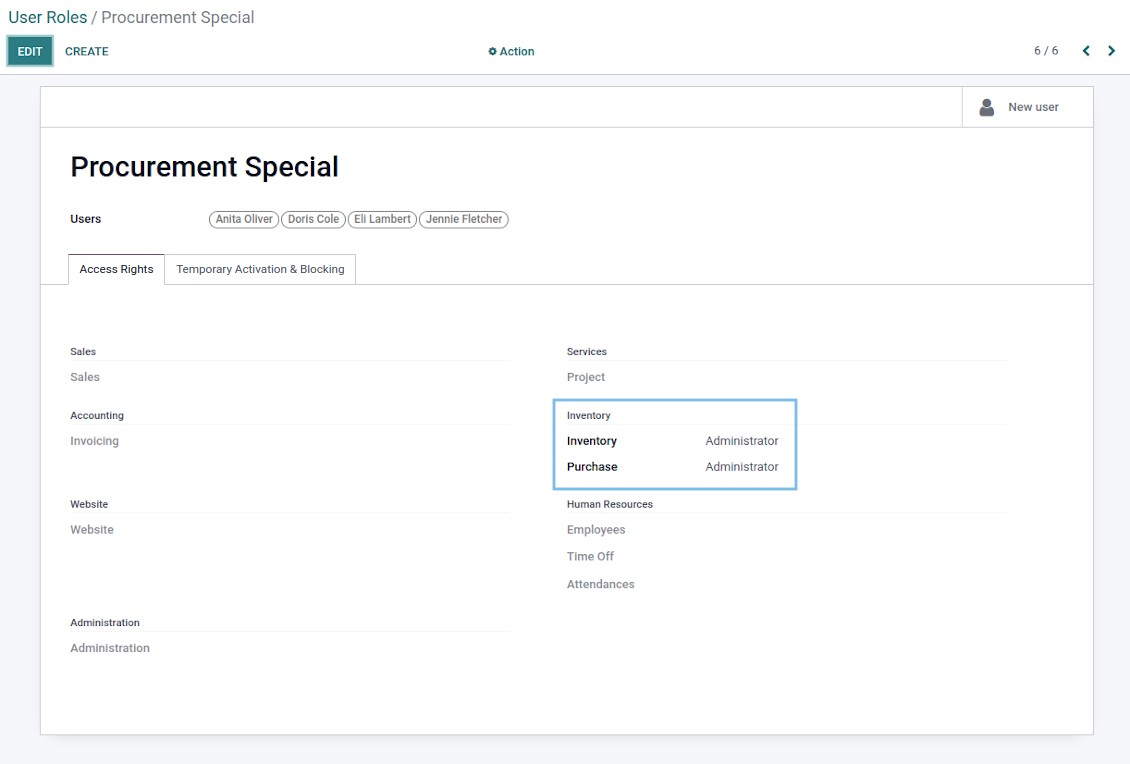 Temporary user blocking and activation
Set up advanced rules to assign a user for a role temporarily or, vice versa, to block a user for a specific period

To that goal, go to the tab 'Temporary Activation and Blocking' and add a line. Each user might have a single linked rule per a role

When you block a user for some period, it means that she/he would not have the role for that time. During other intervals, this user would be re-assigned for this role. For example, use such rules for vacations and other types of time-offs

When you activate a user for some intervals, it means that she/he would have the role groups only during those periods. At other times, such a user would not have this role and access rights. For instance, it might be essential for a substitute or short-term employees

Each rule might have a few blocking or activating periods. Then, if any of those are suitable now, the rule would take place. For example, you may assign a few vacation intervals for a single user

The app will periodically check the rules and will block/activate users for roles when that is assumed by the rules. You may change the frequency of checks under the menu Settings > Technical > Automation > Scheduled Jobs > the action '[Security User Roles] Activate/Block Users for Roles'.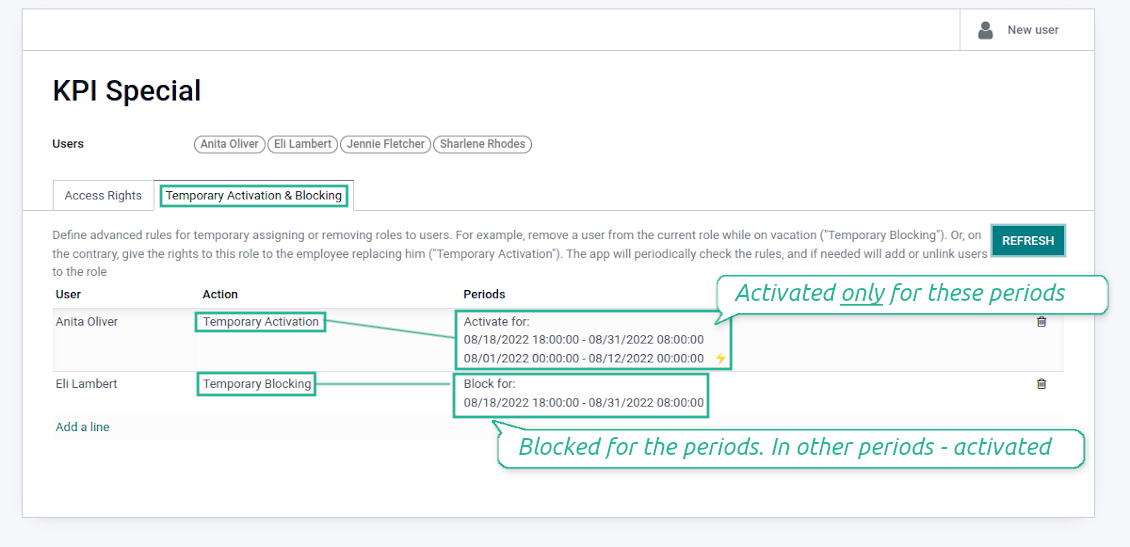 Frequently Asked Questions about
Security User Roles Odoo v.15
Odoo demonstration databases (live previews)
For this app, we might provide a free personalized demo database.
No phone number or credit card is required to contact us: only a short email sign up which does not take more than 30 seconds.
By your request, we will prepare an individual live preview database, where you would be able to apply any tests and check assumptions for 14 days.
Bug reporting
In case you have faced any bugs or inconsistent behavior, do not hesitate to contact us. We guarantee to provide fixes within 60 days after the purchase, while even after this period we are strongly interested to improve our tools.
No phone number or credit card is required to contact us: only a short email sign up which does not take more than 30 seconds.
Please include in your request as many details as possible: screenshots, Odoo server logs, a full description of how to reproduce your problem, and so on. Usually, it takes a few business days to prepare a working plan for an issue (if a bug is confirmed) or provide you with guidelines on what should be done (otherwise).
Public features requests and module ideas (free development)
We are strongly motivated to improve our tools and would be grateful for any sort of feedback. In case your requirements are of public use and might be efficiently implemented, the team would include those in our to-do list.
Such a to-do list is processed on a regular basis and does not assume extra fees. Although we cannot promise deadlines and final design, it might be a good way to get desired features without investments and risks.
No phone number or credit card is required to contact us: only a short email sign up which does not take more than 30 seconds.
You may also like the tools