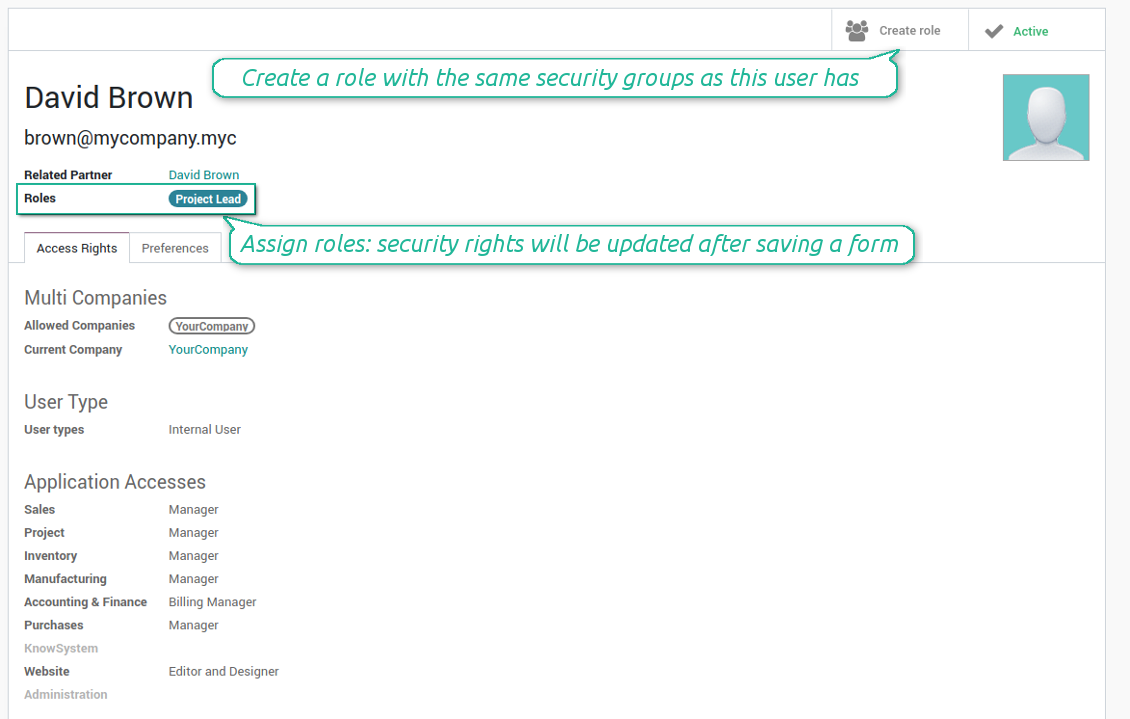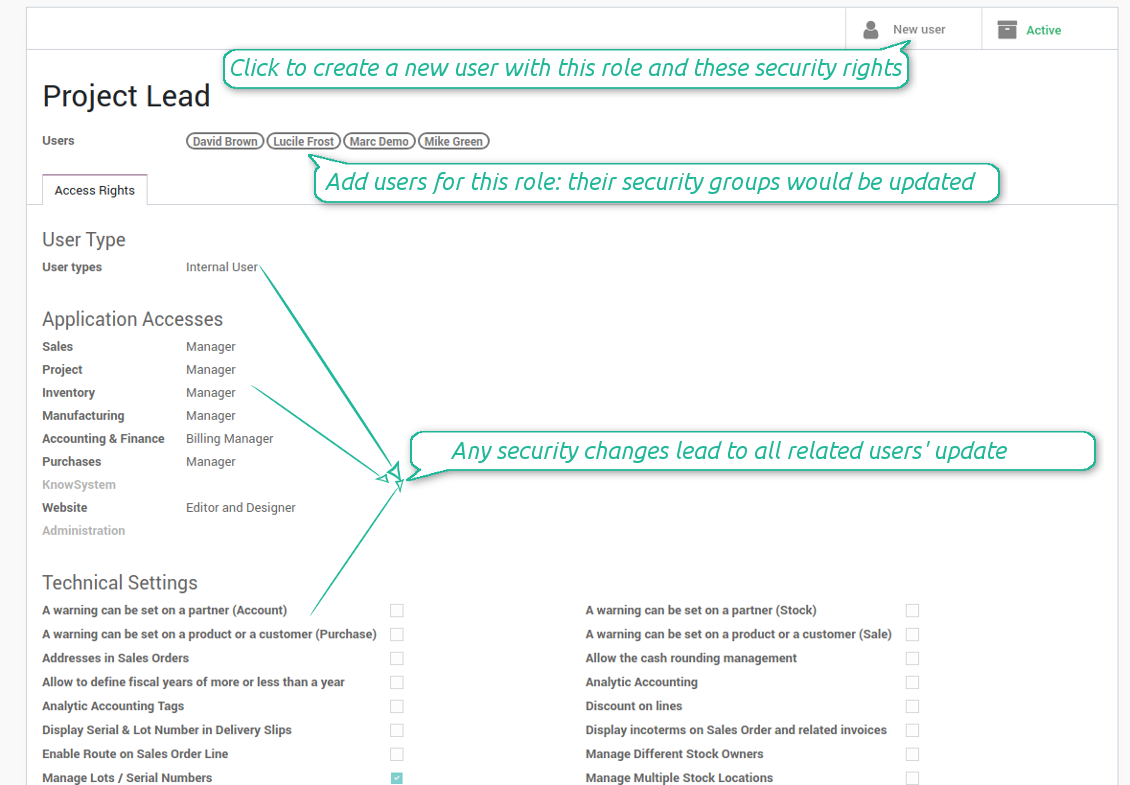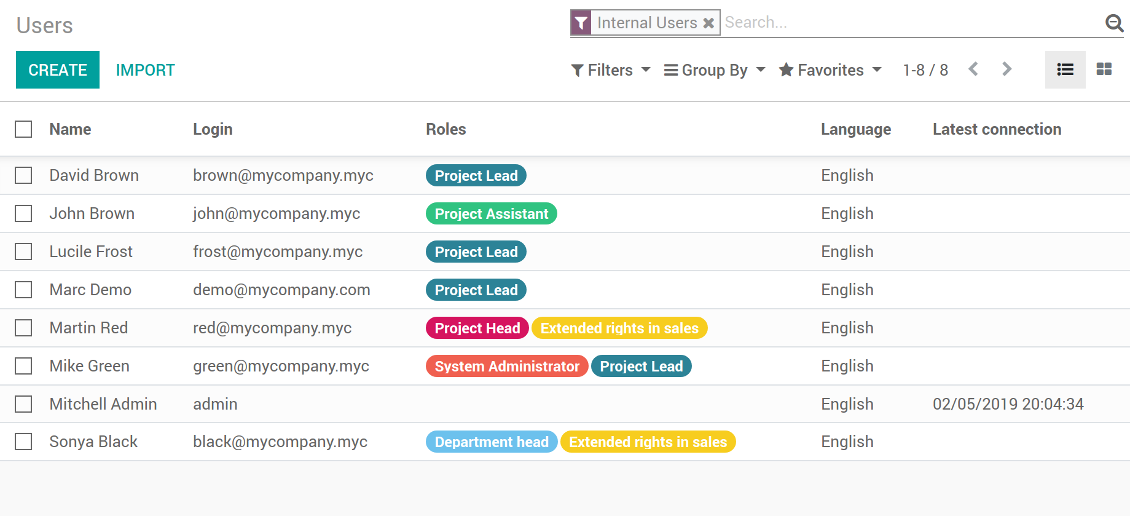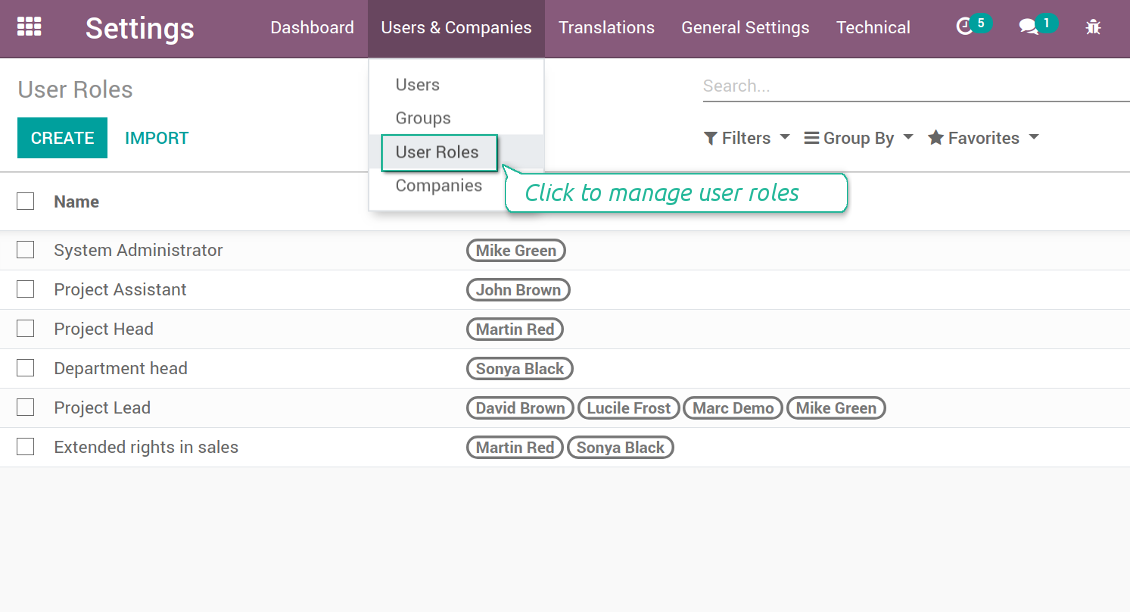 As your Odoo database grows, either vertically or horizontally, you face an issue of how to manage users efficiently. Each new app installed and each employee hired become a headache for Odoo administrators. Which rights should have a sales manager? What checkbox have I again missed? This is the tool to forget about such questions. The app is to manage users from a role perspective not based on security rights. Simply to start, easy to maintain, safe to administrate.
It is simple to start: the tool let you create roles based on existing users. To that end push the button 'Create role' on a user form view
It saves time to administrate users: just select a role on a user form and save. All security groups will be automatically applied
It is comfortable in a changing environment: you do not have to open each form to update security groups. Modify only a role and all related users would immediately have proper rights
The tool allows to configure as many roles for a single user as you need: it let fully reflect your organizational structure
You are not obliged to assign a role for all users. For specific ones you might leave this field empty and select security groups manually
Rights to configure user roles are the same as for configuring users
Frequently Asked Questions about
Security User Roles Odoo v.11
Bug reporting
In case you have faced any bugs or inconsistent behavior, do not hesitate to contact us. We guarantee to provide fixes within 60 days after the purchase, while even after this period we are strongly interested to improve our tools.
No phone number or credit card is required to contact us: only a short email sign up which does not take more than 30 seconds.
Please include in your request as many details as possible: screenshots, Odoo server logs, a full description of how to reproduce your problem, and so on. Usually, it takes a few business days to prepare a working plan for an issue (if a bug is confirmed) or provide you with guidelines on what should be done (otherwise).
Public features requests and module ideas (free development)
We are strongly motivated to improve our tools and would be grateful for any sort of feedback. In case your requirements are of public use and might be efficiently implemented, the team would include those in our to-do list.
Such a to-do list is processed on a regular basis and does not assume extra fees. Although we cannot promise deadlines and final design, it might be a good way to get desired features without investments and risks.
No phone number or credit card is required to contact us: only a short email sign up which does not take more than 30 seconds.
You may also like the tools