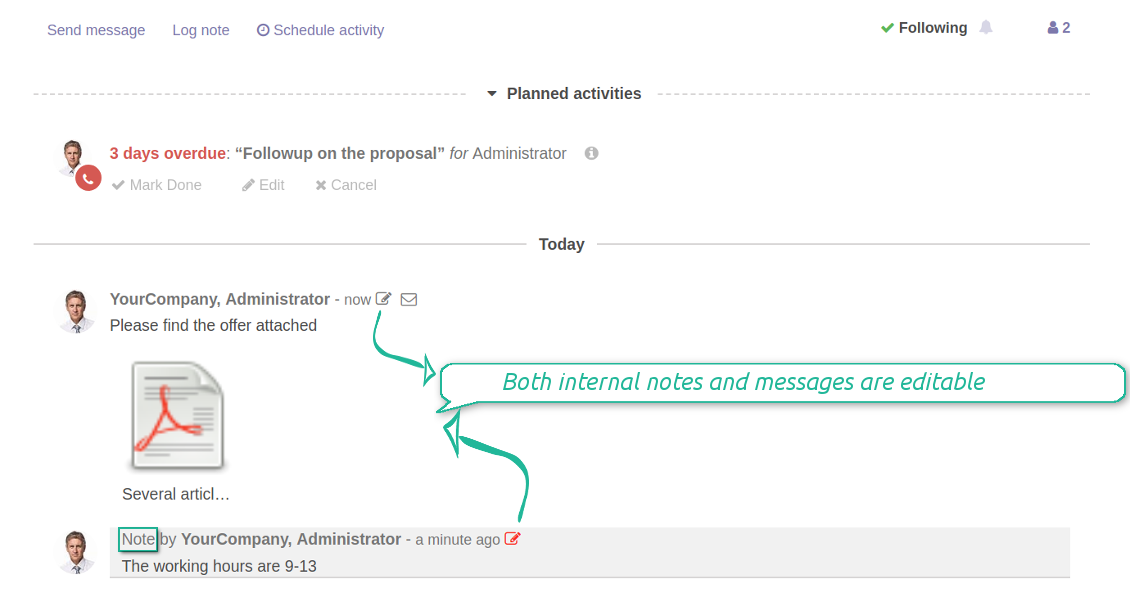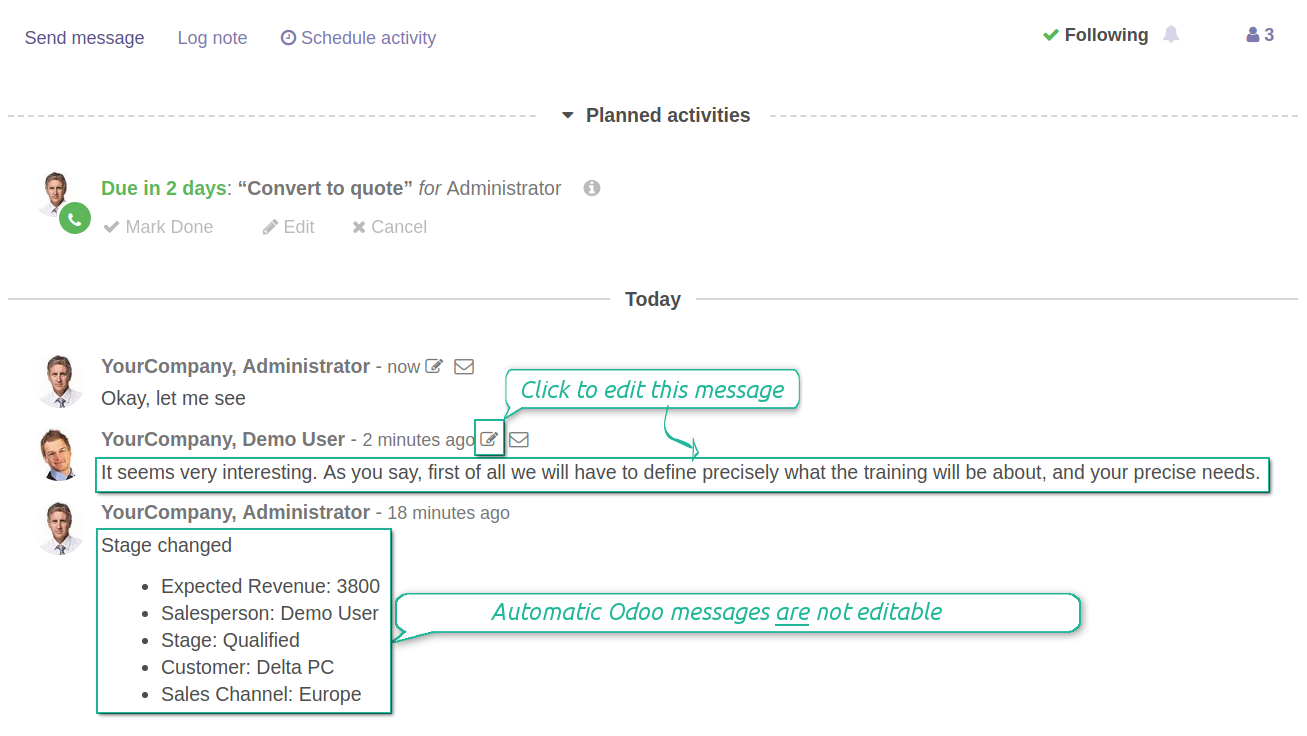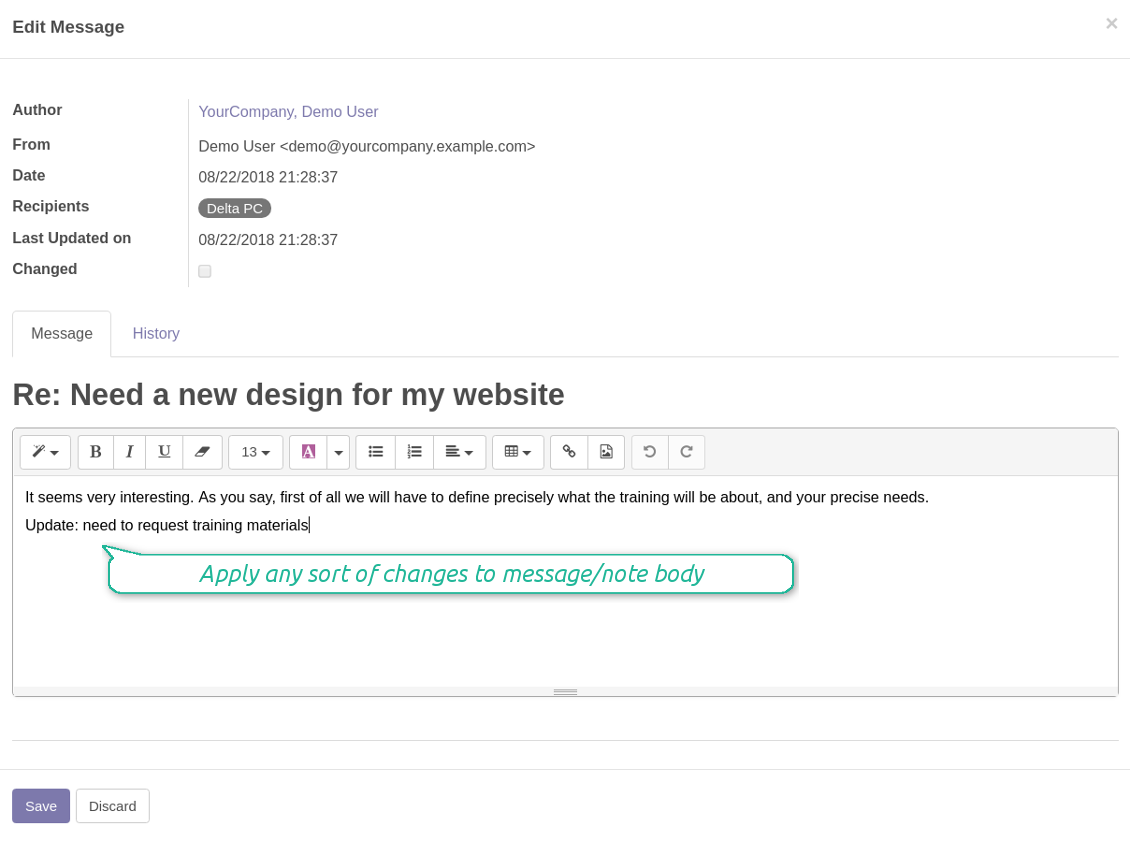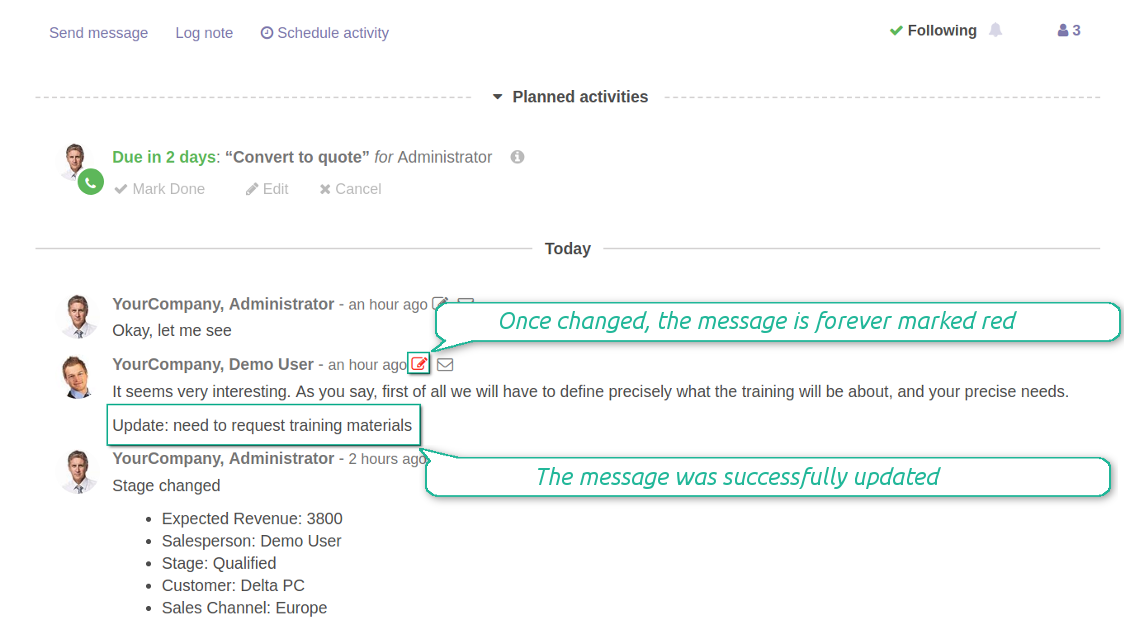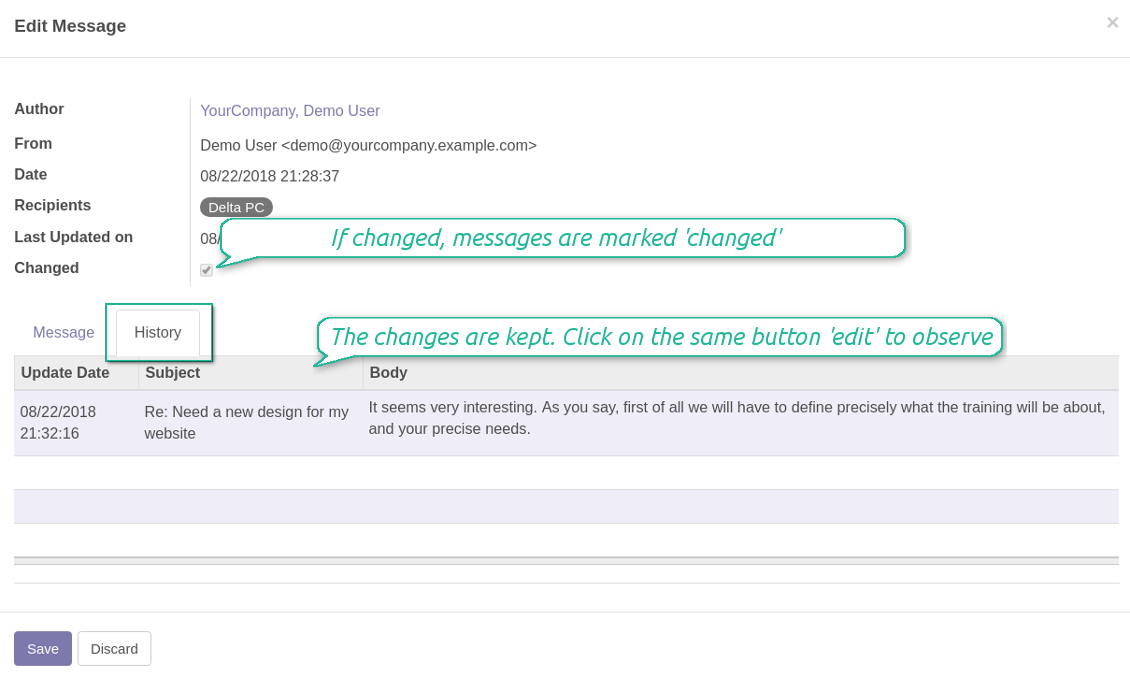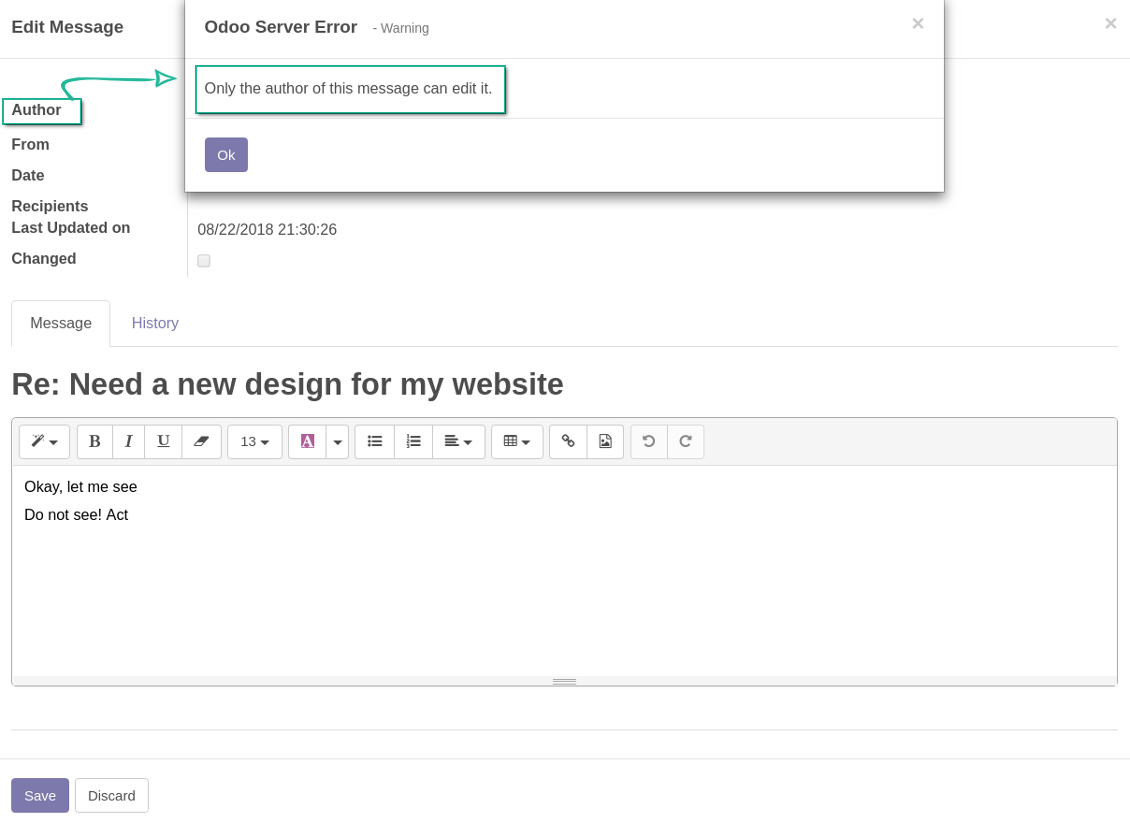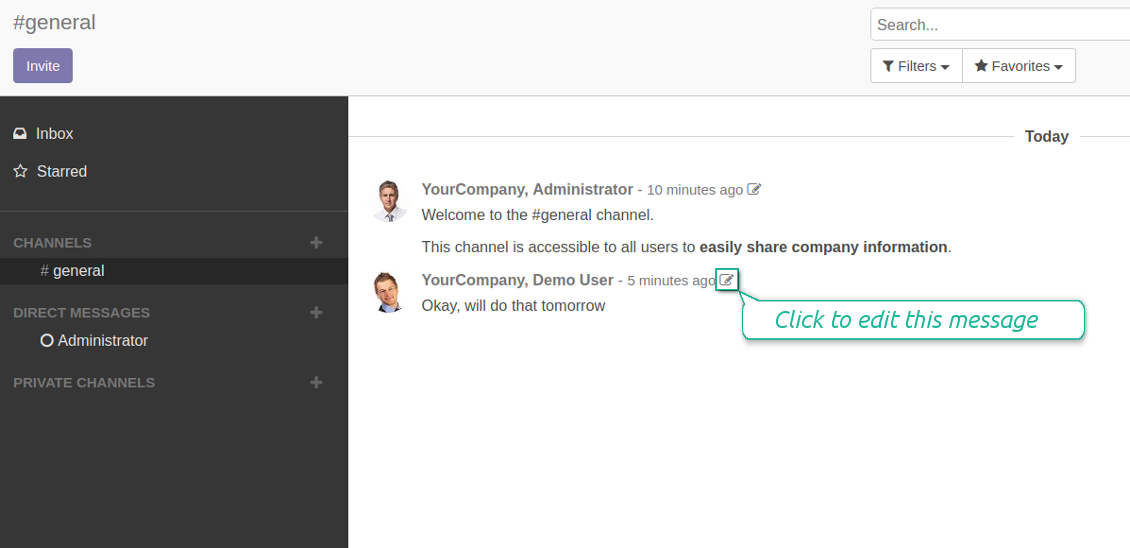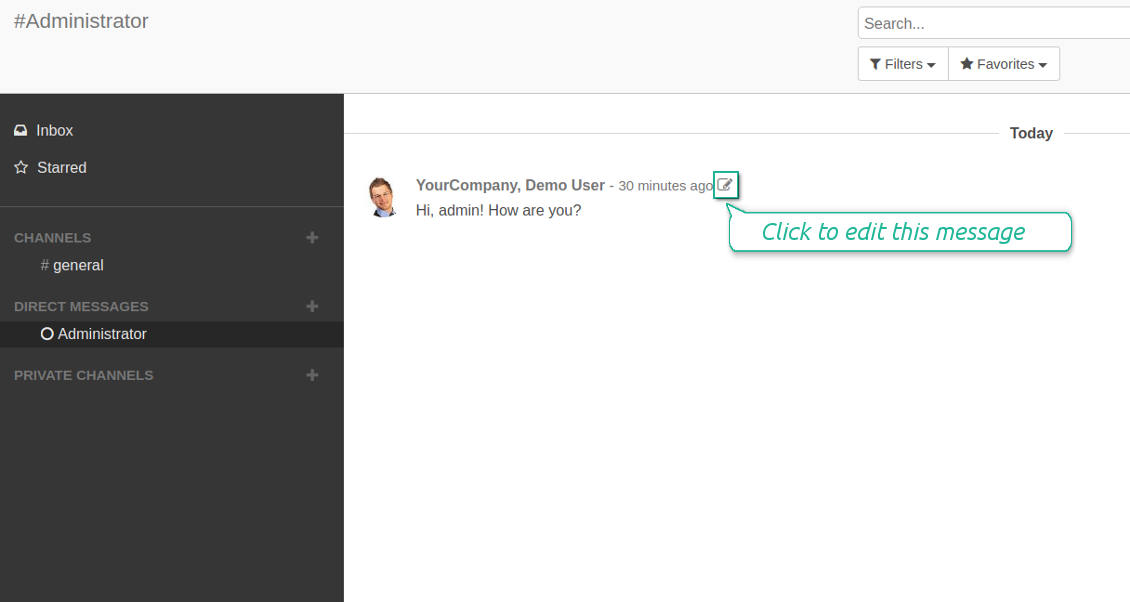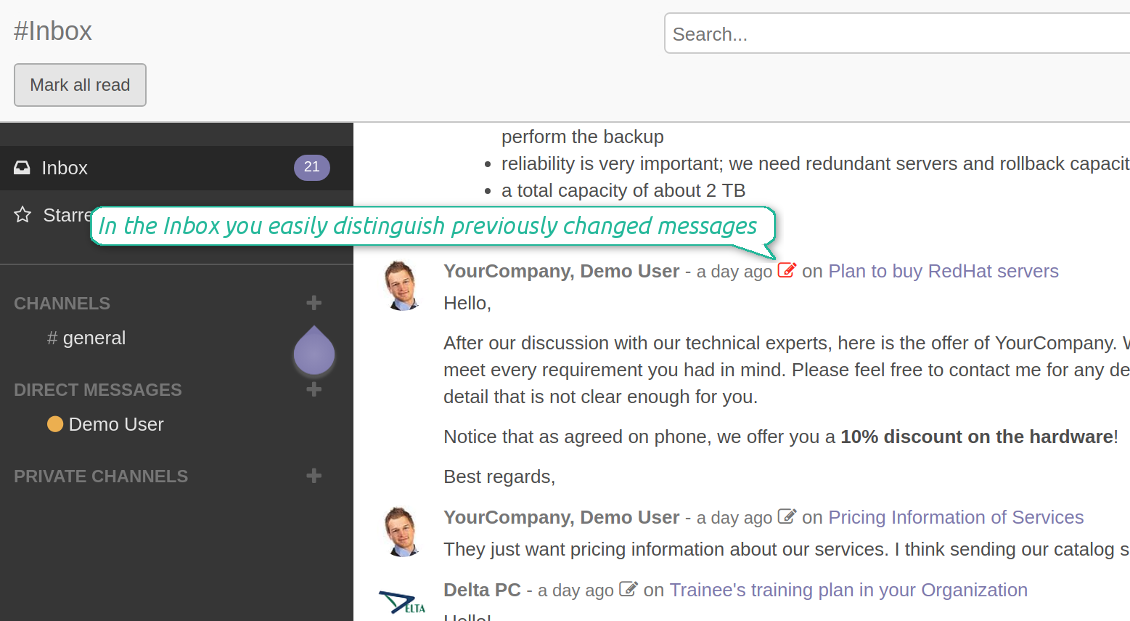 You have logged a long note and suddenly understand that there is a mistake. Some mistakes, such as misprints, are just irritating. Others, such as commercial offer peculiarities, might have critical consequences since they mislead you or your colleagues. Faced that situation Odoo users attach a new message. However, it is a bad option: everything becomes ambiguous, and contradictions disorient users. The proper solution is to update a current note, but to keep a clear history of changes for references. The app is the tool to address this challenge.
The tool works both for logged notes and for sent messages
Update body content any time from document threads, form channels, and from direct discussions
Editing is simple: push the 'pencil' button, introduce a change, and save it
Modified records are marked red: nobody is confused
Updates are kept in clear and easy-reached history. Refer it in case of arguable issues
Users are allowed to edit only own messages and notes
Installation Tips
In order the widget works correctly, re-start Odoo server. If you faced the error 'Qweb2: Template is not found': restart Odoo server > refresh the page (Ctrl+Shift+R)
Frequently Asked Questions about
Message / Note Editing Odoo v.11
Bug reporting
In case you have faced any bugs or inconsistent behavior, do not hesitate to contact us. We guarantee to provide fixes within 60 days after the purchase, while even after this period we are strongly interested to improve our tools.
No phone number or credit card is required to contact us: only a short email sign up which does not take more than 30 seconds.
Please include in your request as many details as possible: screenshots, Odoo server logs, a full description of how to reproduce your problem, and so on. Usually, it takes a few business days to prepare a working plan for an issue (if a bug is confirmed) or provide you with guidelines on what should be done (otherwise).
Public features requests and module ideas (free development)
We are strongly motivated to improve our tools and would be grateful for any sort of feedback. In case your requirements are of public use and might be efficiently implemented, the team would include those in our to-do list.
Such a to-do list is processed on a regular basis and does not assume extra fees. Although we cannot promise deadlines and final design, it might be a good way to get desired features without investments and risks.
No phone number or credit card is required to contact us: only a short email sign up which does not take more than 30 seconds.
You may also like the tools