Purchase Order Approval Check Lists

v.16
The tool to make sure a purchase order is ready for the next stage. Purchase checklists. Purchase approval. Multi RFQ confirmation
---
The tool does not require extra dependencies beside standard Odoo apps.
Current version: 16.0.1.0.2
---
Enterprise
Community
Odoo.sh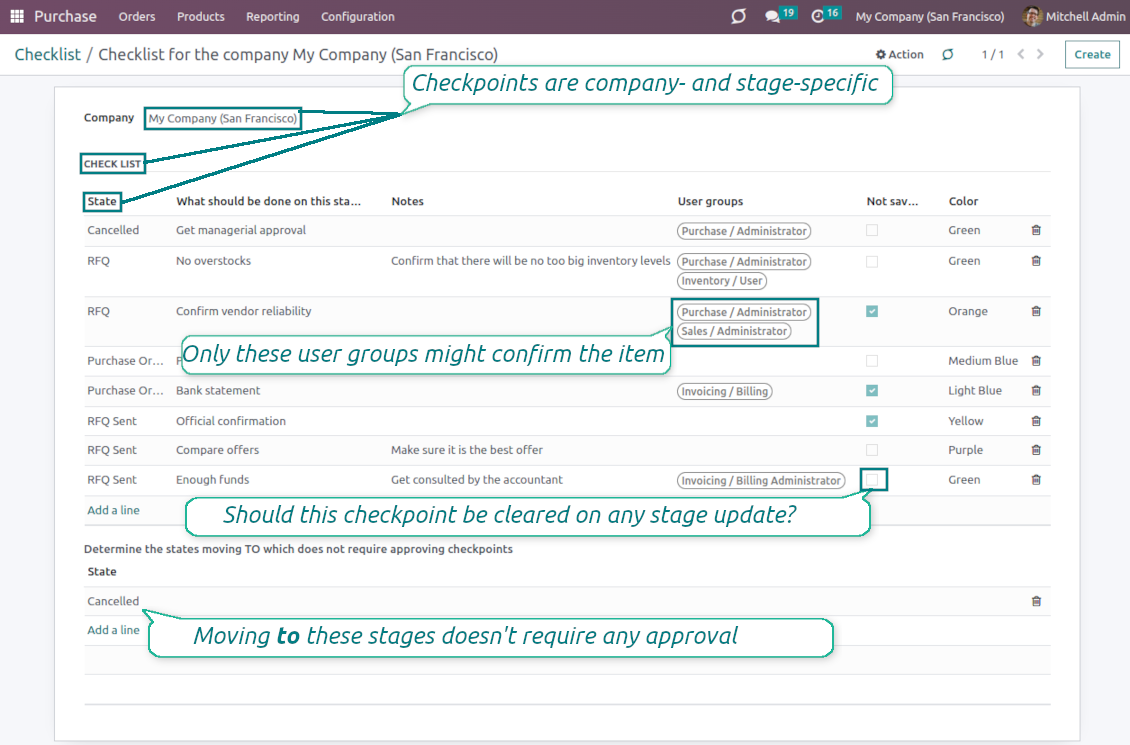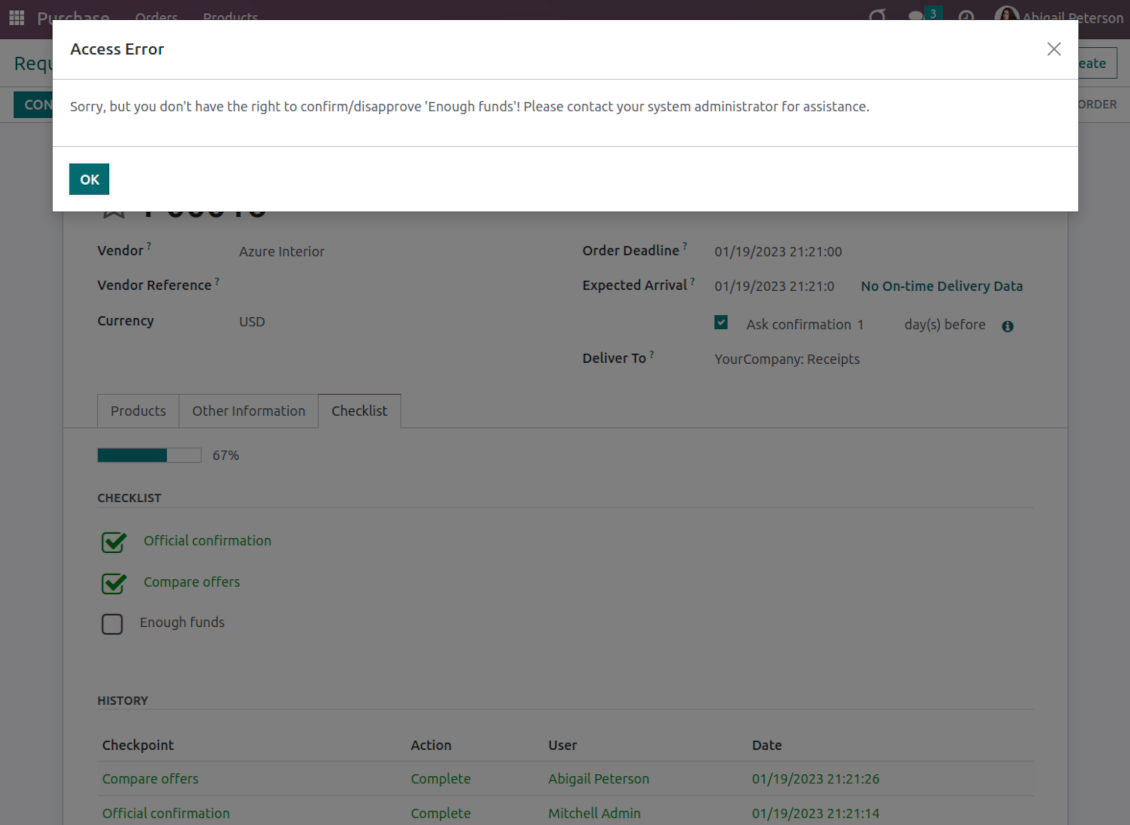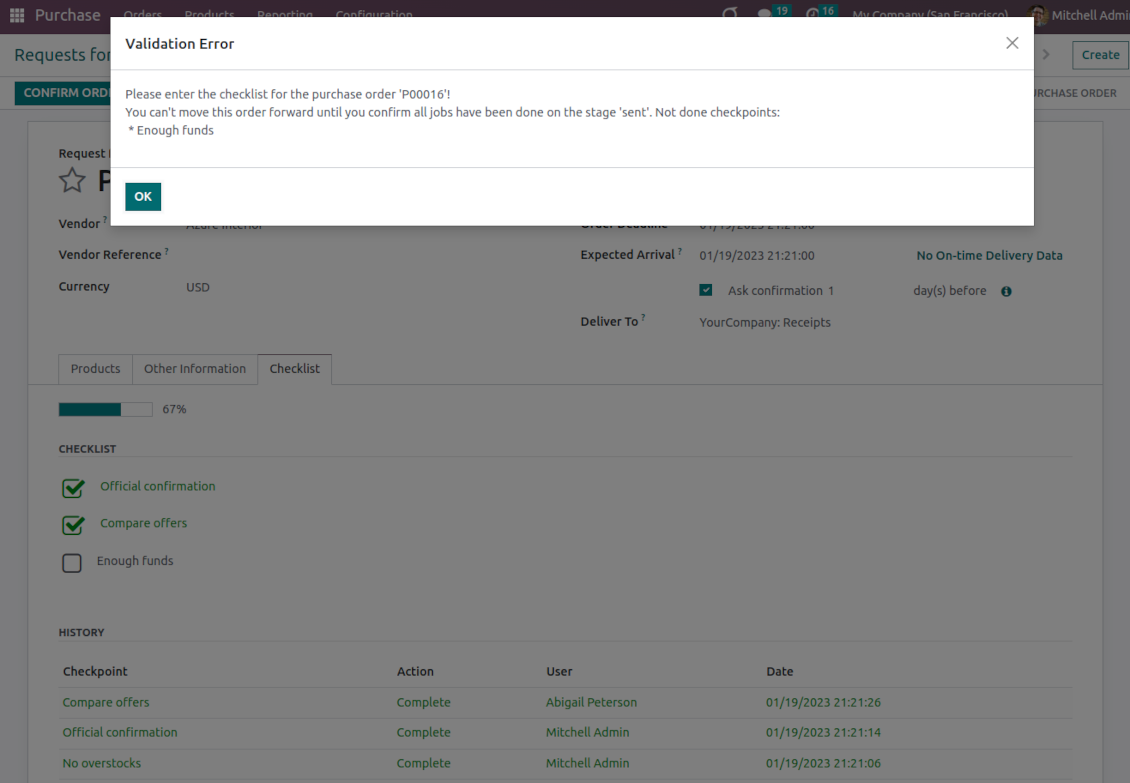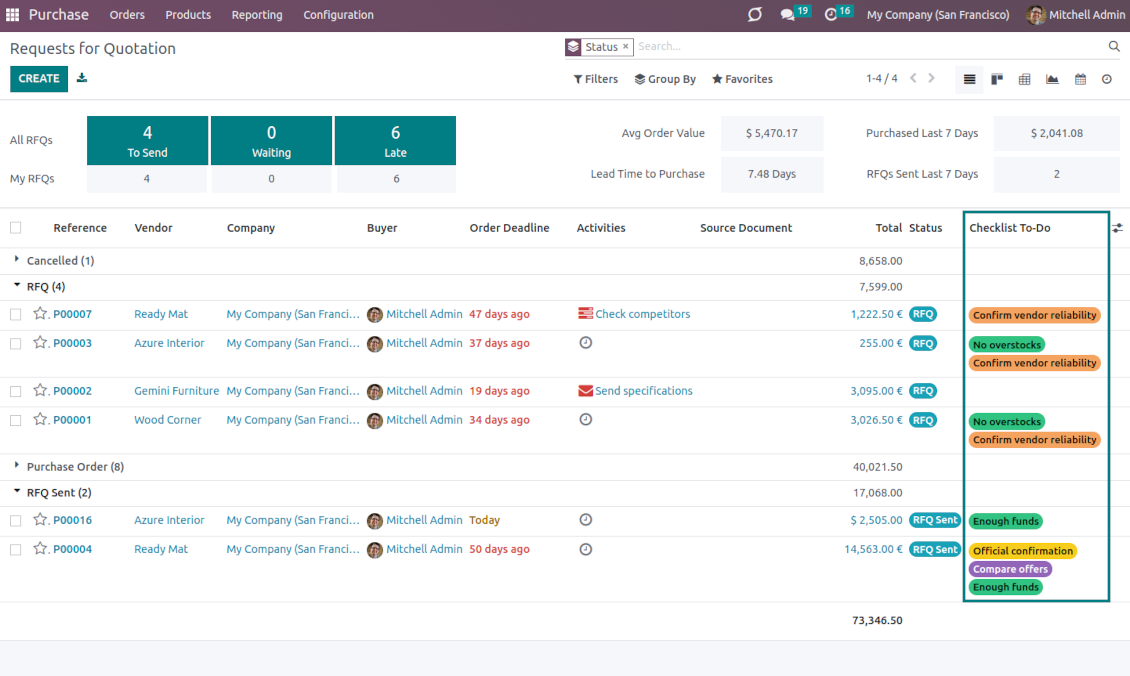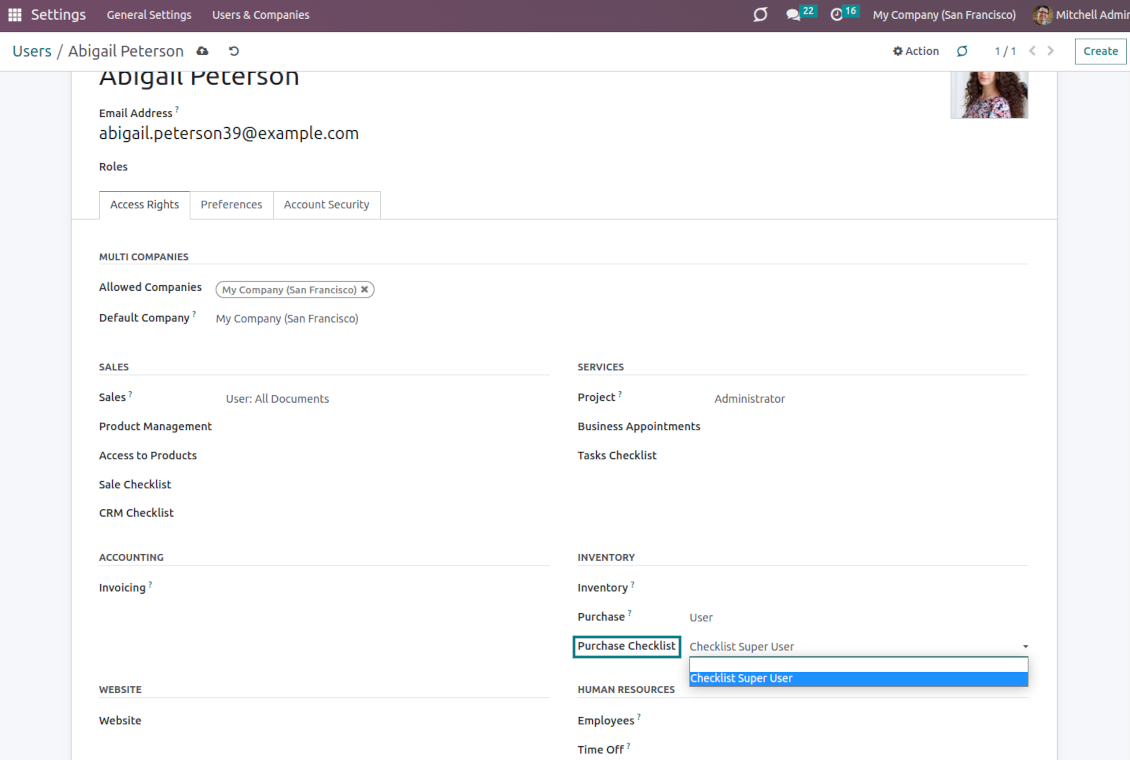 Procurement is a complex and vulnerable process. It assumes various required steps and it usually involves a number of users from different departments. Any error might lead to drastic money losses and reputation damages. This Odoo tool is to make sure that a purchase order is always ready for the next stage and that all intermediary actions are approved. The app lets you prepare a checklist per each state, so it forces users to confirm all points and controls the approval process.
Checklists per procurement stage and company
Checklists are defined for a company in general. Purchase managers specify what and in which order state should be done and approved. A set is unlimited and might reflect custom procurement stages
Actions ensured to be done
In order to move an RFQ to a new state, a purchase manager needs to enter all confirmation points and should get approval for those he/she doesn't have a right to confirm
Indicative checklist to-do
Not yet done checkpoints are shown right on the tree of purchase orders or requests for quotations. You may distinguish those by colors and may always search them by keywords
Approval history for managerial control
Checklist actions are saved in history. If an order state is changed, already-done check items would be recovered. Turn on the setting 'not saved' to avoid that behavior for specific approval points
Multiple purchase approval roles
The app lets assign security groups for each checklist point. In such a case, only users from those groups would be able to confirm a related item
Super approval admins
The role 'Checklist Super User' allows (a) to confirm any checkpoints disregarding defined security groups and (b) to move any request for quotation further without fulfilling checklists.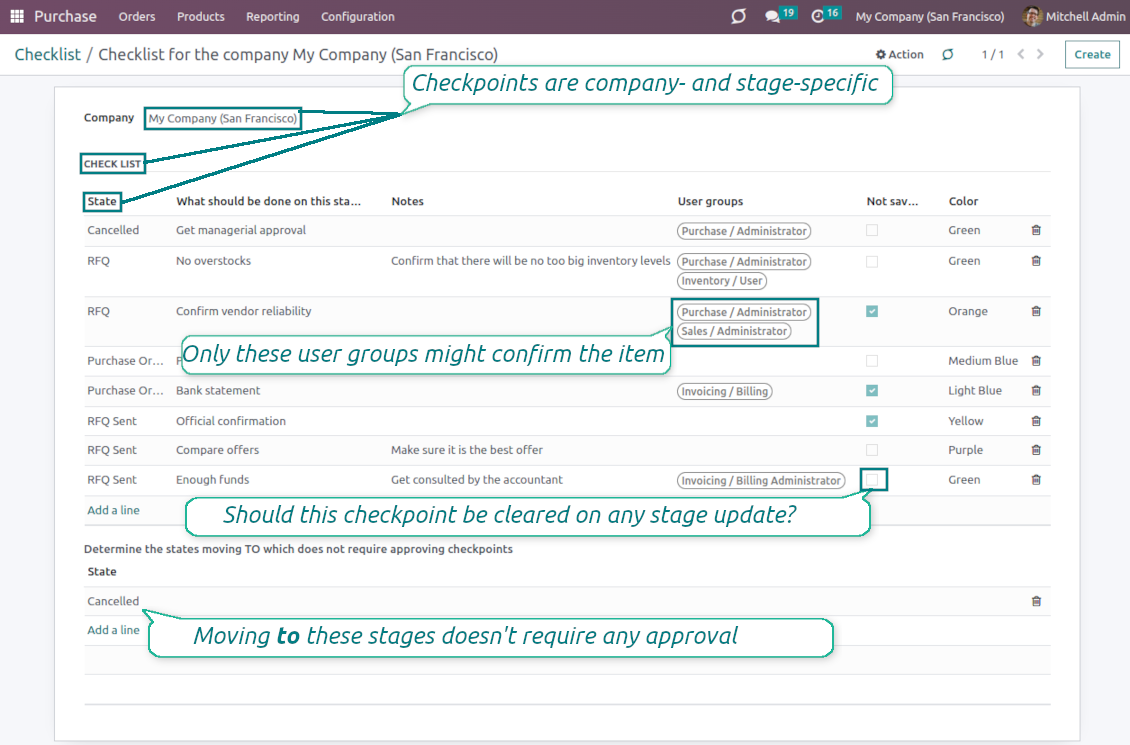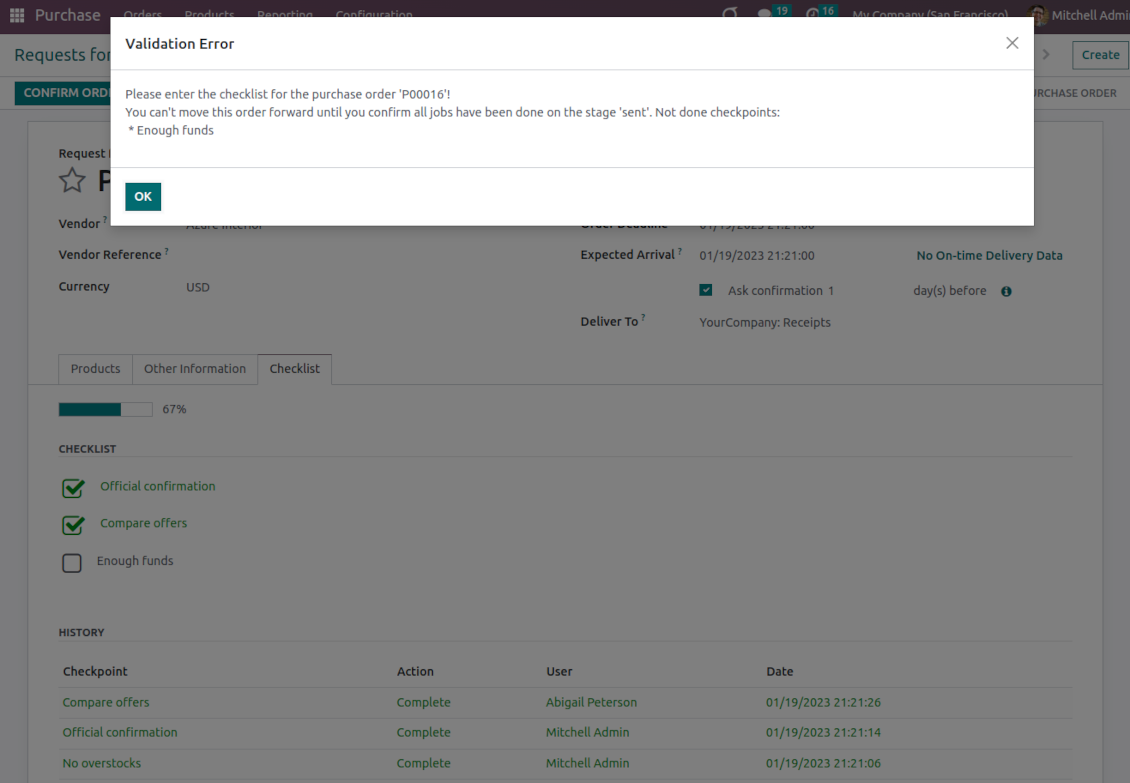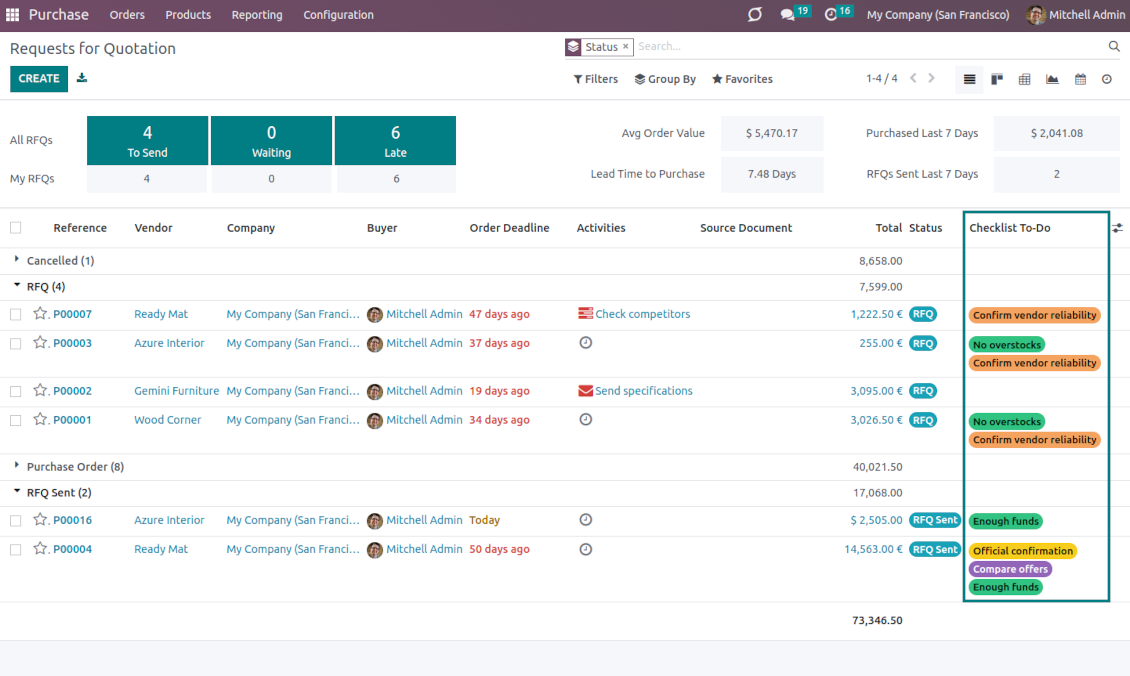 Configurable purchase multi approval
Ensured approval workflow
Check items are generated based on a purchase order company and state. Thus, the set of actions to be done is different for each stage

Odoo scans checklists as soon as a user tries to change an order state. If not all actions are undertaken or confirmed, an RFQ can't be moved forward

You are not obliged to have a checklist for each state. Scanning an empty checklist is always considered as successful

The app lets configure checkpoints for each standard or custom purchase state
Typical scenarios for checklists
A user tries to confirm an order ('RFQ' > 'Purchase Order' and 'RFQ Sent' > 'Purchase Order')

An order is triggered for approval ('RFQ' > 'Approval' and 'RFQ Sent' > 'Approval')

A user locks ('Purchase order' > 'Locked') or unlocks ('Locked' > 'Purchase order') a purchase

A user prints or sends an RFQ ('RFQ' > 'RFQ Sent')

A user cancels an order (any state > 'Canceled') or re-set canceled RFQ ('Canceled' > 'Draft').
Frequently Asked Questions about
Purchase Order Approval Check Lists Odoo v.16
Odoo demonstration databases (live previews)
For this app, we might provide a free personalized demo database.
No phone number or credit card is required to contact us: only a short email sign up which does not take more than 30 seconds.
By your request, we will prepare an individual live preview database, where you would be able to apply any tests and check assumptions for 14 days.
Bug reporting
In case you have faced any bugs or inconsistent behavior, do not hesitate to contact us. We guarantee to provide fixes within 60 days after the purchase, while even after this period we are strongly interested to improve our tools.
No phone number or credit card is required to contact us: only a short email sign up which does not take more than 30 seconds.
Please include in your request as many details as possible: screenshots, Odoo server logs, a full description of how to reproduce your problem, and so on. Usually, it takes a few business days to prepare a working plan for an issue (if a bug is confirmed) or provide you with guidelines on what should be done (otherwise).
Public features requests and module ideas (free development)
We are strongly motivated to improve our tools and would be grateful for any sort of feedback. In case your requirements are of public use and might be efficiently implemented, the team would include those in our to-do list.
Such a to-do list is processed on a regular basis and does not assume extra fees. Although we cannot promise deadlines and final design, it might be a good way to get desired features without investments and risks.
No phone number or credit card is required to contact us: only a short email sign up which does not take more than 30 seconds.
You may also like the tools