Messages: Schedule Send Option

v.15
The tool to schedule Odoo messages to be delivered at a later time not immediately
---
The tool does not require extra dependencies beside standard Odoo apps.
Current version: 15.0.1.0.1
---
Enterprise
Community
Odoo.sh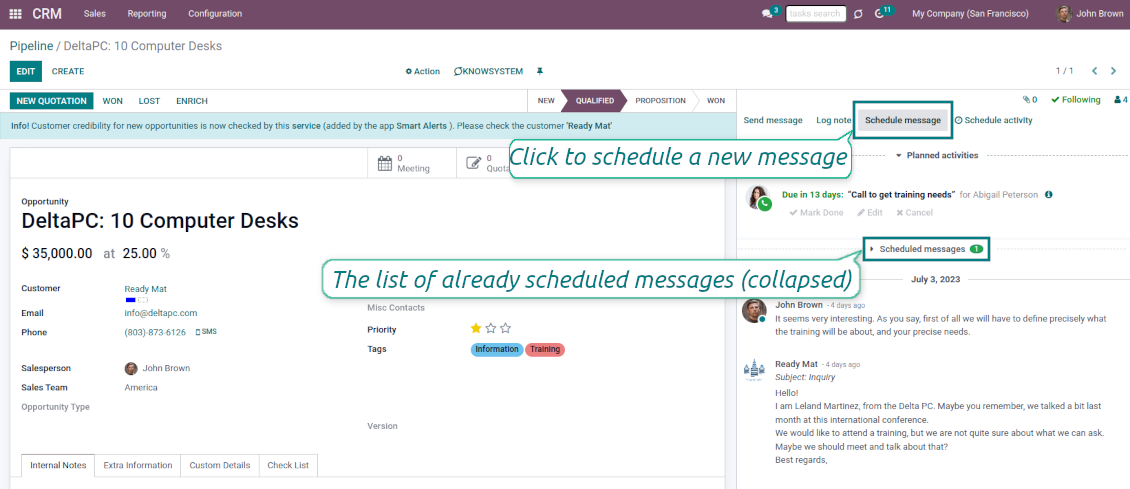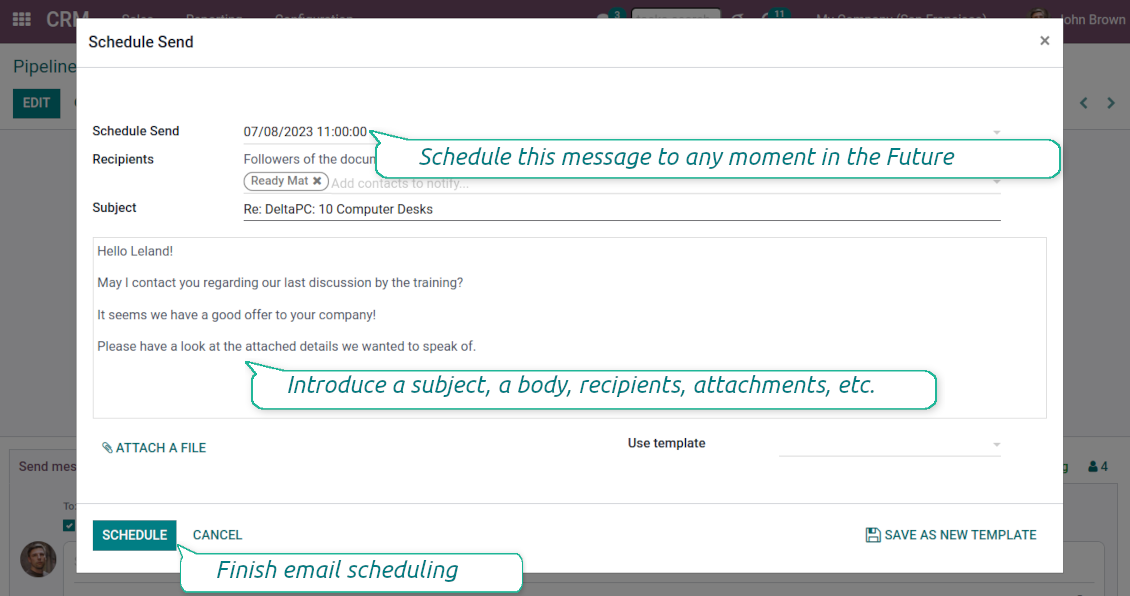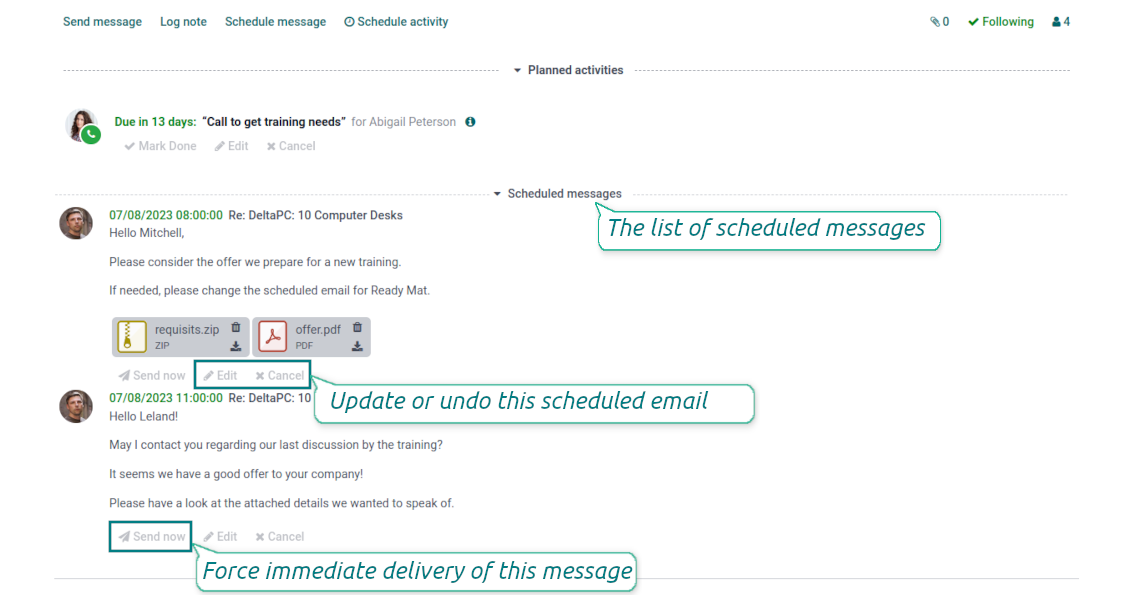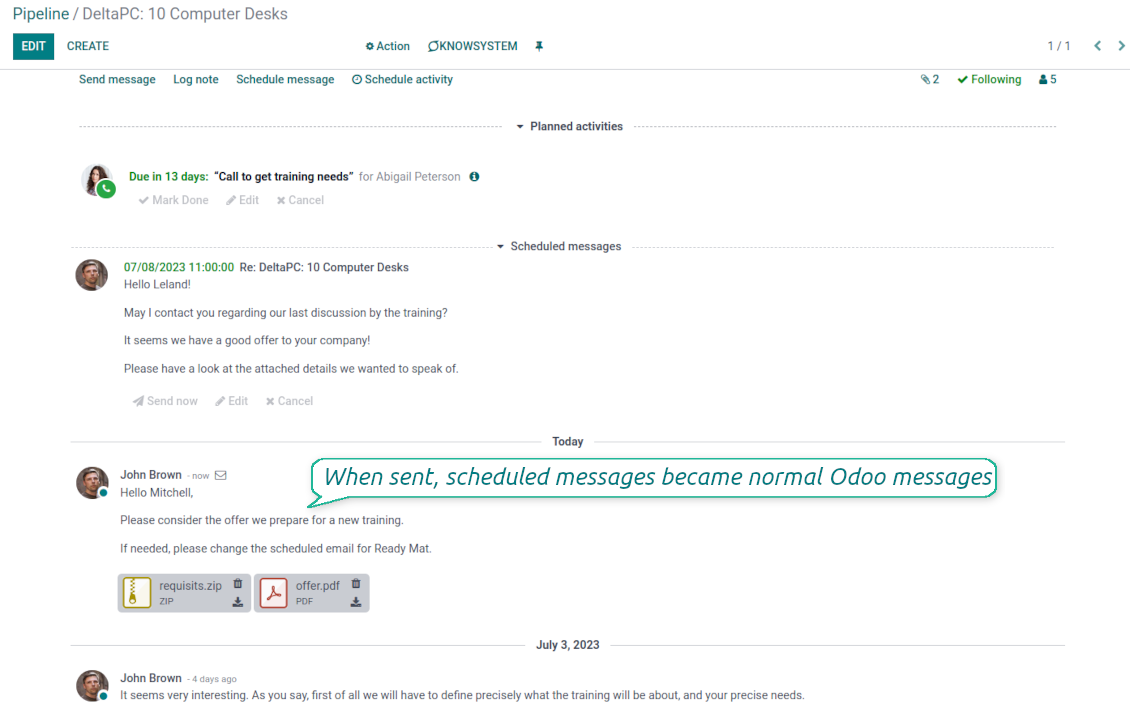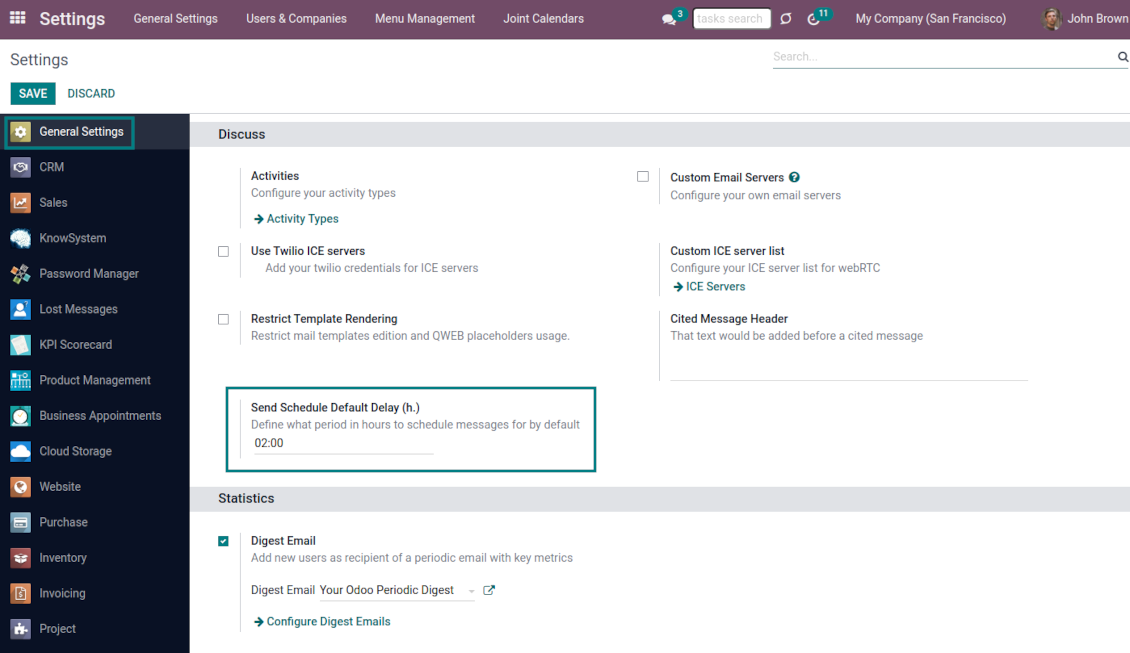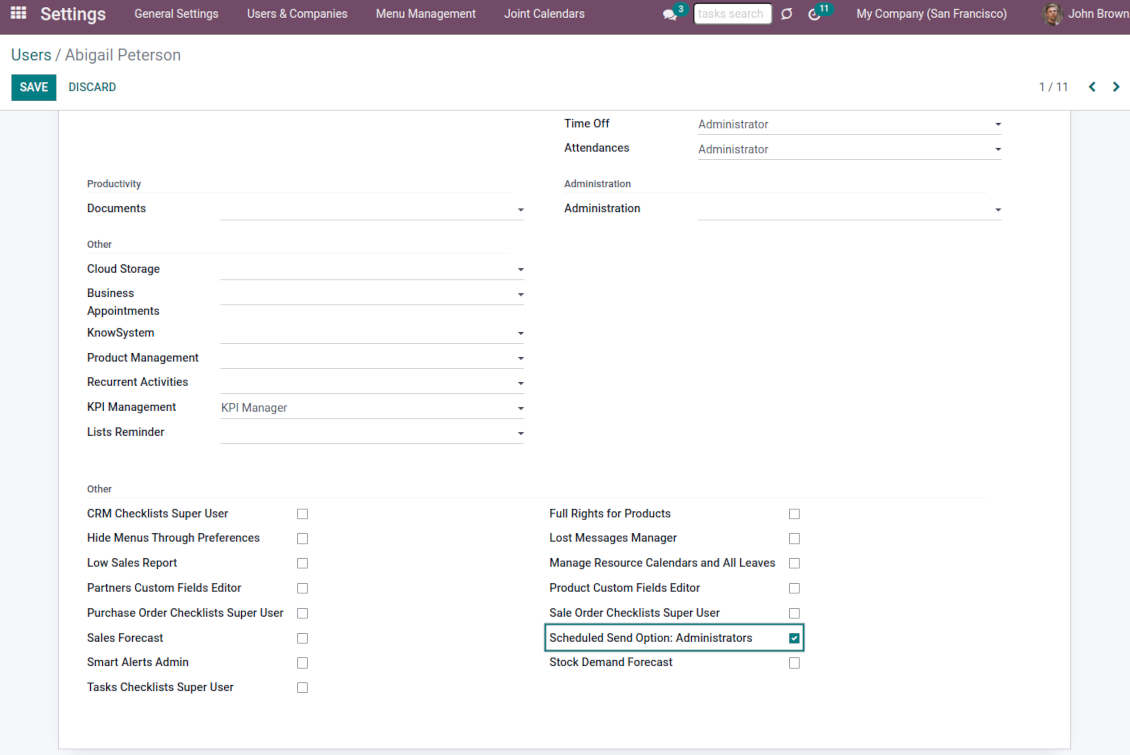 When sending a message, the timing might be crucial. Delivered out of working hours or just in inappropriate moments, your message can be lost in a pile or merely ignored. This tool lets Odoo users reclaim their time by giving them the freedom to work whenever they want. Compose an email when details are still fresh in your mind but schedule its delivery when you want. Then, forget about this task or return any time to update, undo, or replan delayed emails.
Universal scheduling
Plan messages for any Odoo documents that have a chatter: sale orders, opportunities, contacts, RFQs, etc.
Schedule any message for any recipients for any date and any time in the Future. The feature is pretty much the same as you might be used to in your favorite email clients
Comfortable planning
Add postponed messages in a similar way you compose standard Odoo mails. To start planning just push the button 'Schedule messages' and write a new email.
Define also the default delay in hours on the configuration page, so a planned time is pre-filled when a user schedules a new message
Update or undo at any moment
Update scheduled messages any time prior to actual delivery. Edit a subject, a body, attachments, and recipients.
Whenever you want, cancel sending or re-plan delivery to a more appropriate moment.
Force scheduled messages to be sent immediately if you decide so
Full control of delayed mails
Control delayed emails right in Odoo chatters. The list is fully available for managing before a planned time in a linked object thread.
All scheduled messages are also combined under the menu Settings > Technical > Discuss > Schedule Send (the developer mode and the right 'Scheduled Send Option: Administrators' are needed)
Auto sending
Delayed messages are checked regularly and sent automatically based on the Odoo cron job.
Configure delivery time and frequency through the technical settings > Automation > Scheduled Actions > 'Send scheduled messages'
Like standard Odoo messages
When sent, scheduled emails become normal Odoo messages linked to a target object thread.
Recipients will never know that a message was planned in advance and has not been just sent
Secure schedule
To add, edit, or manage a scheduled message, a user should have the right to edit a linked object.
Users with the right 'Scheduled Send Option: Administrators' might read, edit, or cancel any messages.
To see a list of document planned mails, a user should have read rights to a target Odoo document.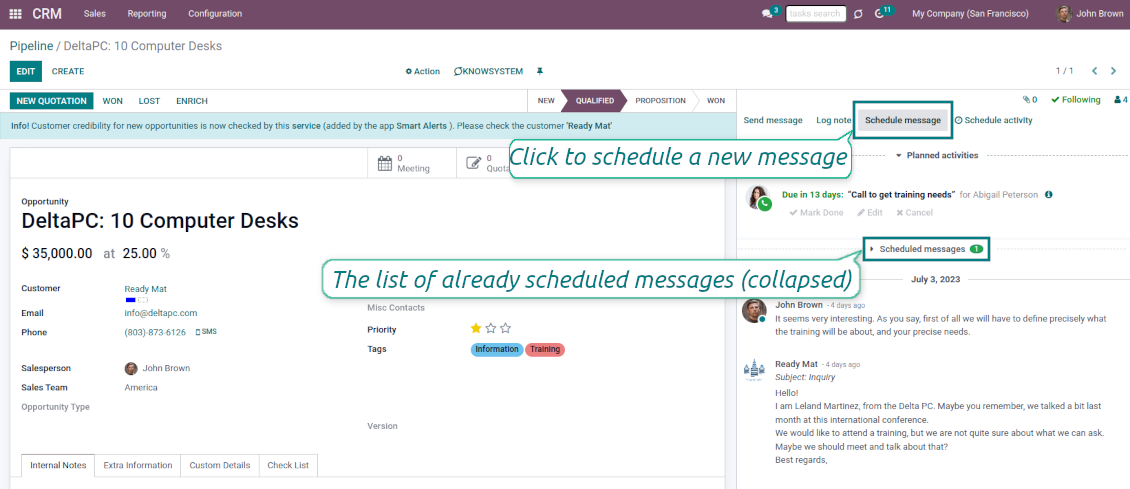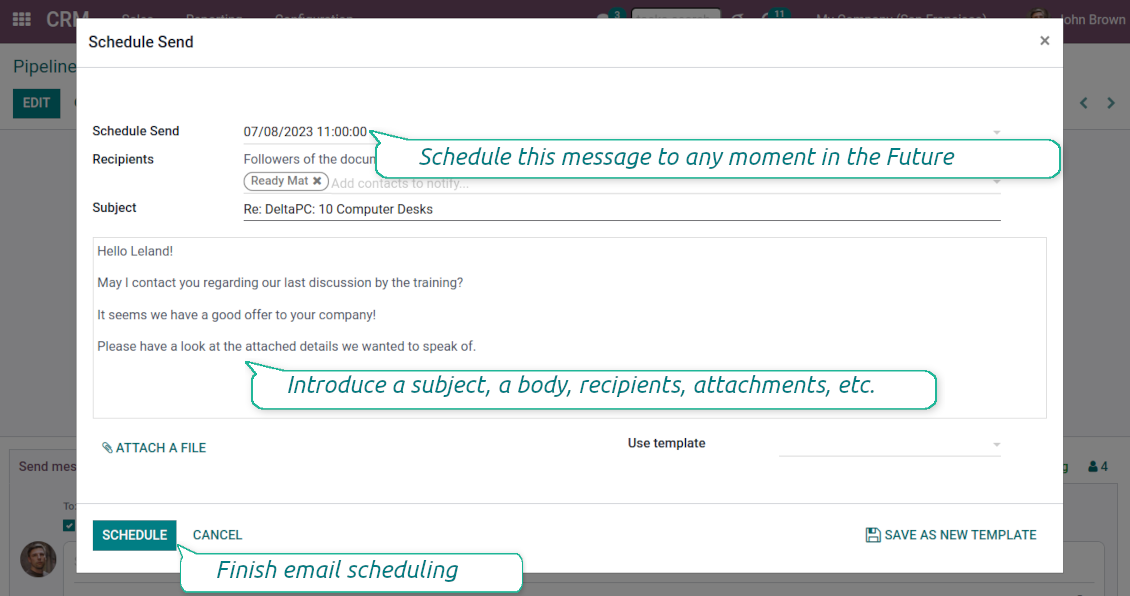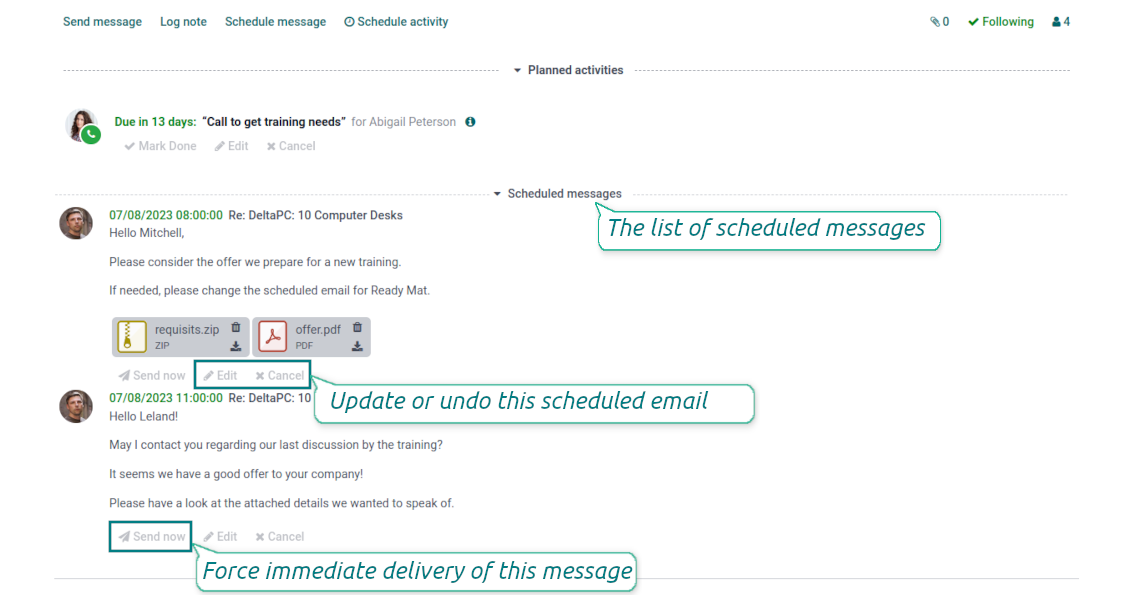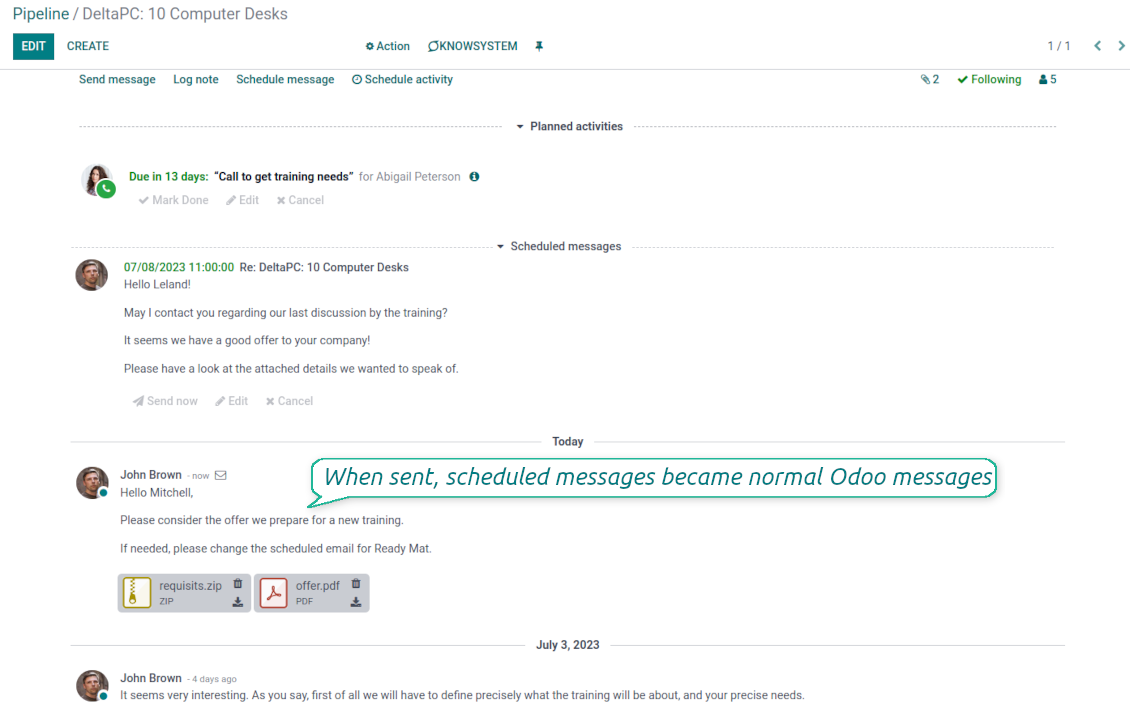 Odoo demonstration databases (live previews)
For this app, we might provide a free personalized demo database.
No phone number or credit card is required to contact us: only a short email sign up which does not take more than 30 seconds.
By your request, we will prepare an individual live preview database, where you would be able to apply any tests and check assumptions for 14 days.
Bug reporting
In case you have faced any bugs or inconsistent behavior, do not hesitate to contact us. We guarantee to provide fixes within 60 days after the purchase, while even after this period we are strongly interested to improve our tools.
No phone number or credit card is required to contact us: only a short email sign up which does not take more than 30 seconds.
Please include in your request as many details as possible: screenshots, Odoo server logs, a full description of how to reproduce your problem, and so on. Usually, it takes a few business days to prepare a working plan for an issue (if a bug is confirmed) or provide you with guidelines on what should be done (otherwise).
Public features requests and module ideas (free development)
We are strongly motivated to improve our tools and would be grateful for any sort of feedback. In case your requirements are of public use and might be efficiently implemented, the team would include those in our to-do list.
Such a to-do list is processed on a regular basis and does not assume extra fees. Although we cannot promise deadlines and final design, it might be a good way to get desired features without investments and risks.
No phone number or credit card is required to contact us: only a short email sign up which does not take more than 30 seconds.
You may also like the tools