MRP: Bills of Material Duplicates Search

v.13
The tool to manage duplicates of bills of materials in real time
---
The tool does not require extra dependencies beside standard Odoo apps.
Current version: 13.0.1.0.1
---
Enterprise
Community
Odoo.sh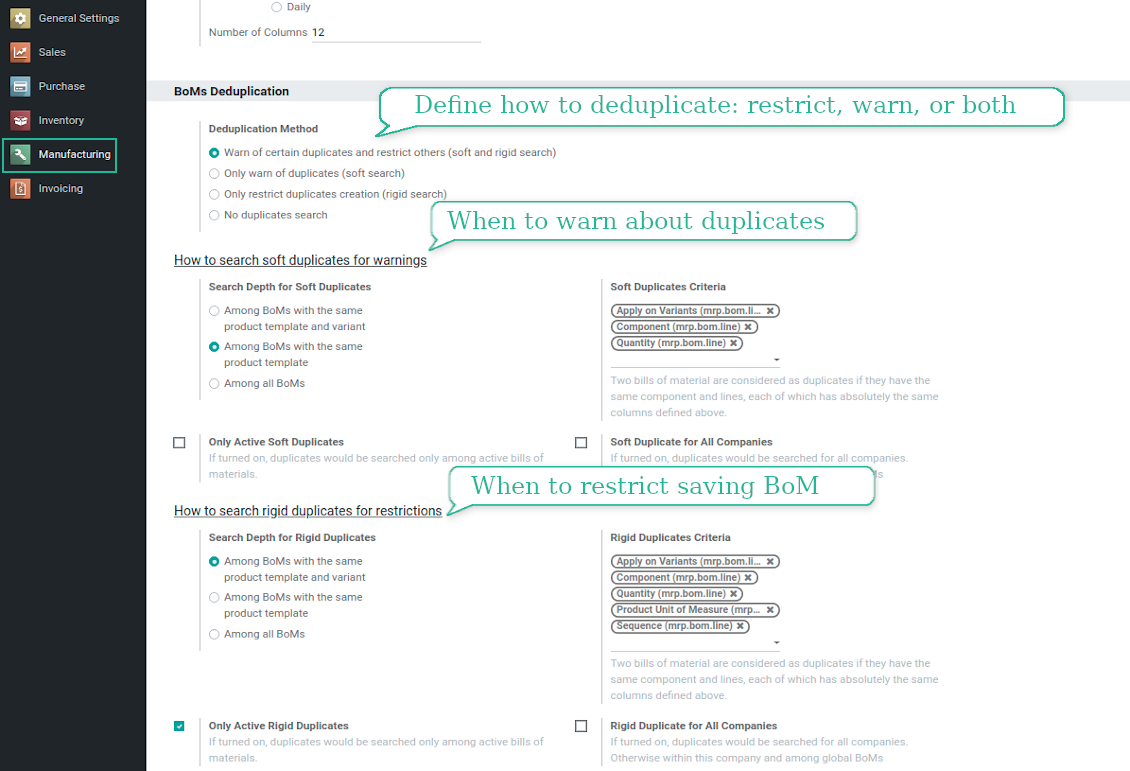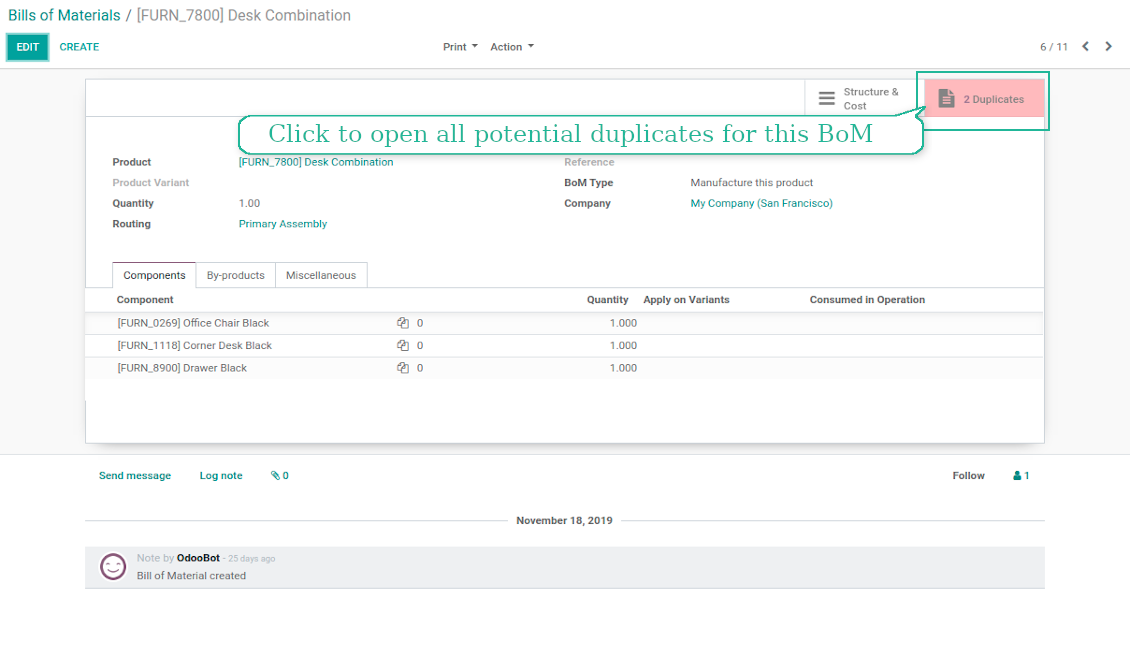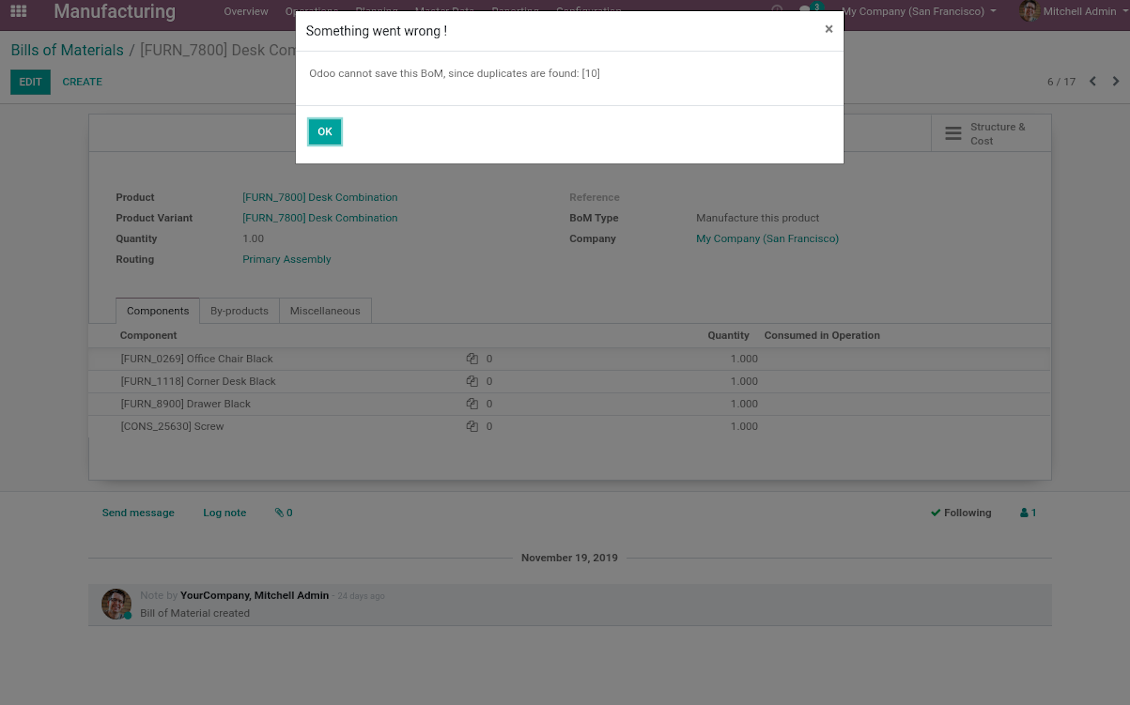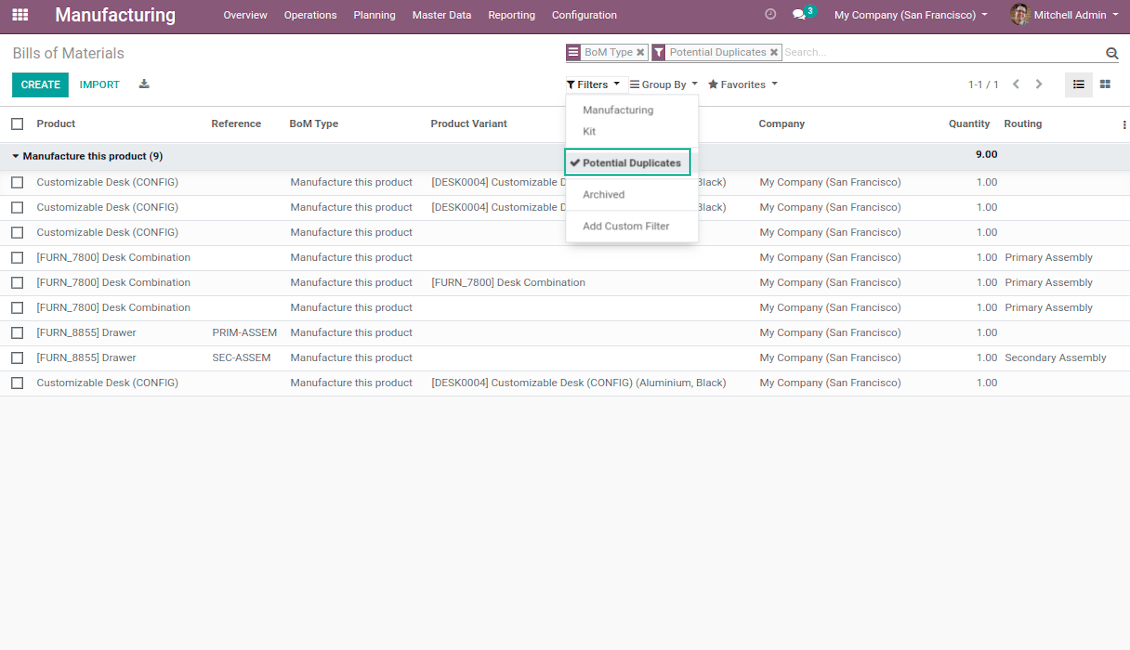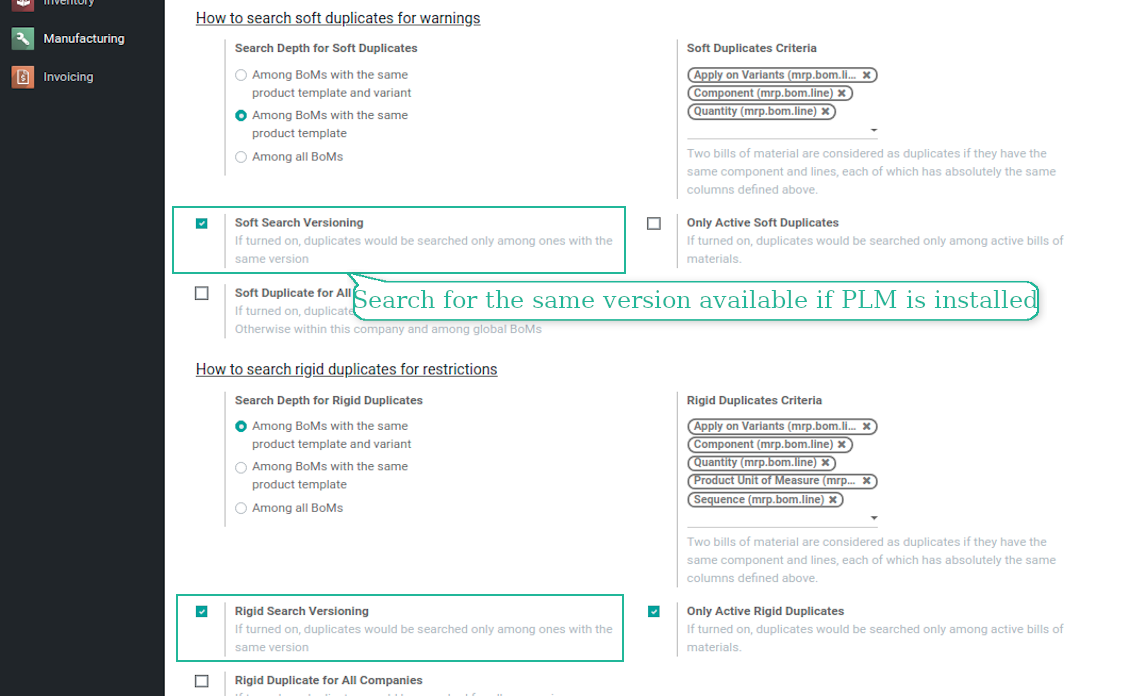 When you manufacture products to order or when you have advanced product life cycle management, you probably face the problem of dozens of duplicated specifications. It might lead to chaos in managing engineering changes. This tool aims to solve this problem by fore-handed exposure of copies.
Configurable rules to search duplicates
Define by your own how duplicates for bills of materials should be examined.
Search depth let you configure among which BoMs to explore copies. It is possible to apply by specifications with the same product variant or product template, or just by all specifications.
Search criteria allow to define when BoM lines are considered as equal. In addition to component, you can select such attributes as quantity, finished variant, or even order of lines.
Besides, it might be also efficient to restrict search by only active BoMs or, in case PLM module is installed, - by-the-same-version BoMs.
You are welcome to search within a single a company or for the whole multi-company environment.
Screenshots
Screenshots
Define how MRP BoM duplicates are searched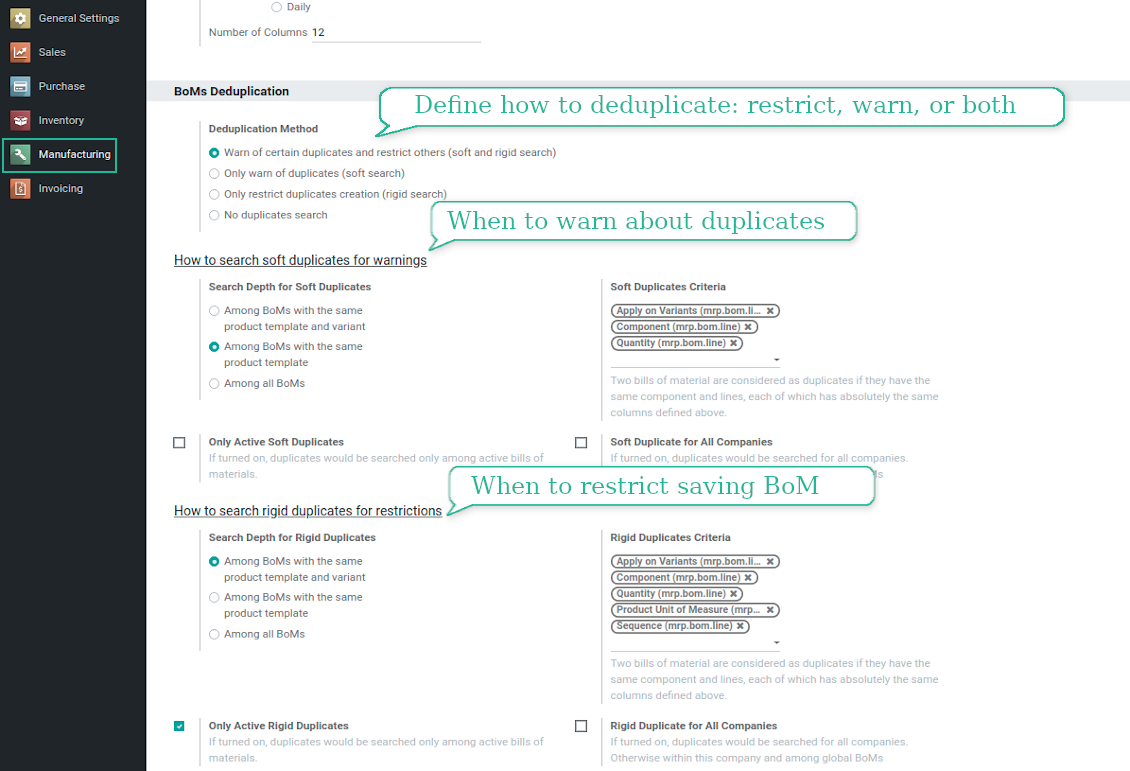 Search duplicates only among the same PLM version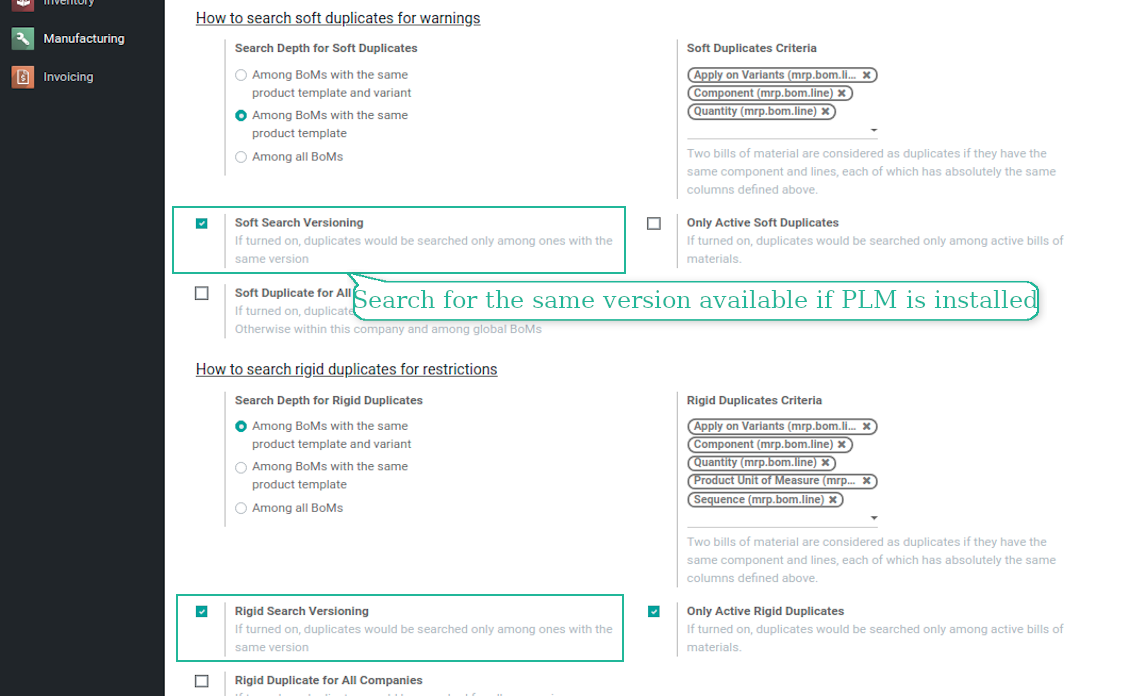 Real-time duplicates search
The apps check possible duplicates each time a user opens or saves BoM. It means that the search is done in real time and takes into account all recent changes.
Duplicates are shown on a form view as a red indicative button. Pushing that you can open candidates to check whether those are actual duplicates. Besides, users may select possible copies by applying the filter 'Potential Duplicates' on the tree view.
Screenshots
Screenshots
Instant access to possible BoMs duplicates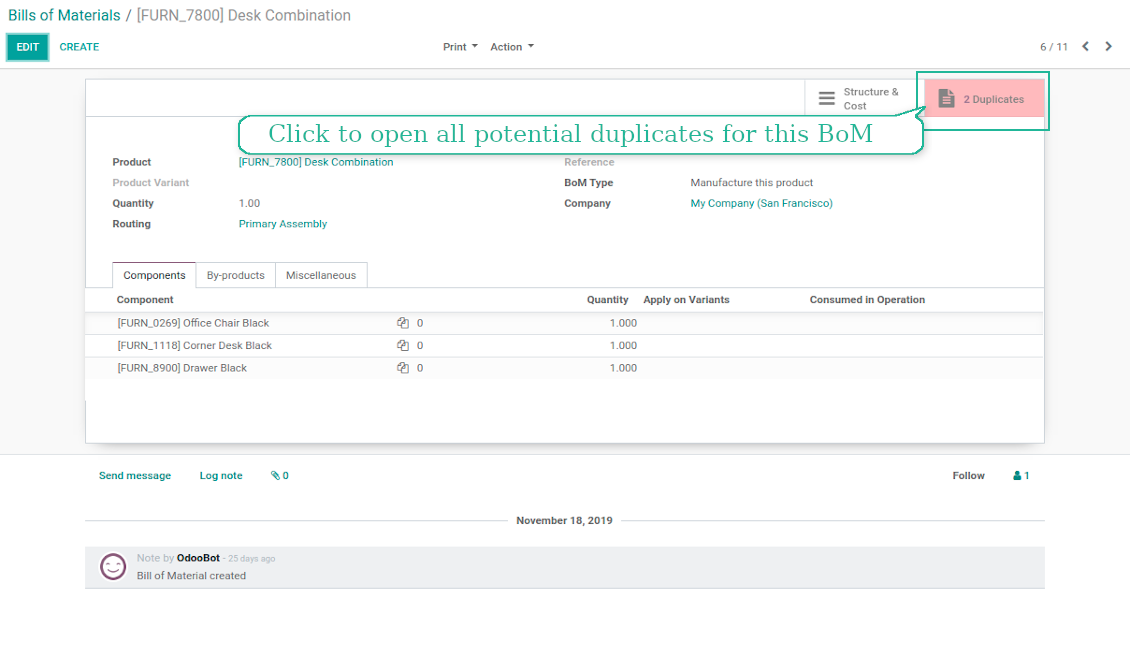 Simple control of duplicates among bills of materials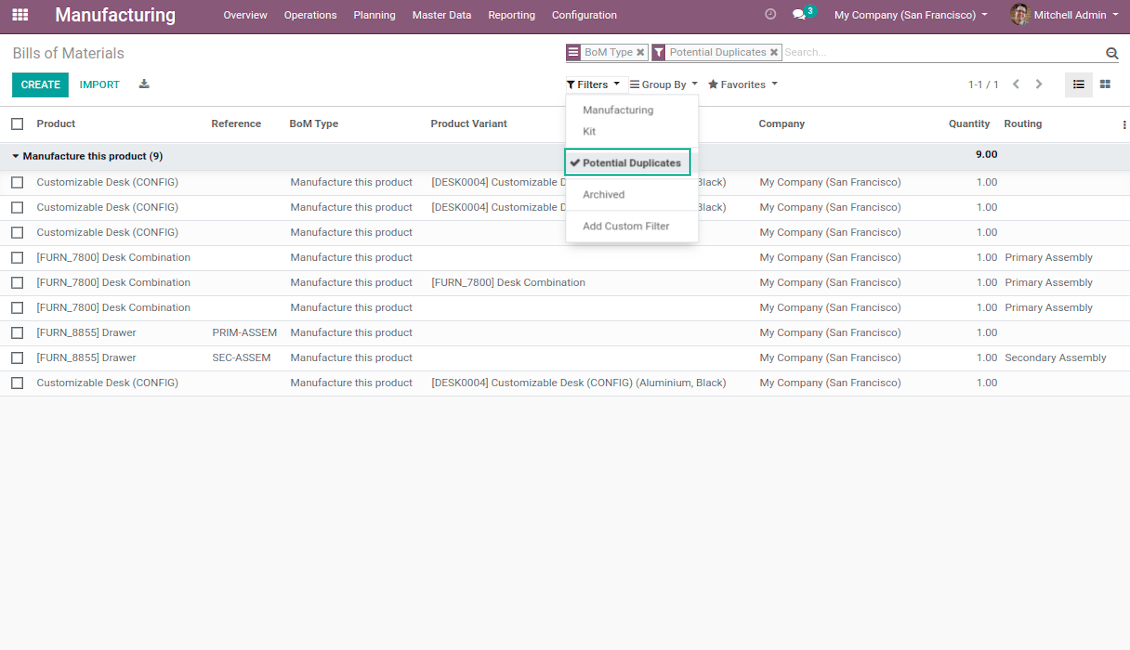 Rigid or soft duplicates
The tool let you both strictly avoid BoM duplicates and/or just warn of those. Use rigid criteria to fully exclude duplicates creation. Odoo would not allow engineers to save such a specification, if any duplicates were found by rigid rules.
Use soft criteria to warn users of possible duplicates but not restrict them in such duplicates creation. Observe potential duplicates of this specification in a single click.
Professional service with outstanding products

Odoo Tools listens to customer needs and understand well. They had respond my enquiry fast and making bug fix and feature request smooth. Highly recommend their service, with confident the team able to standard behind their products.
Frequently Asked Questions about
MRP: Bills of Material Duplicates Search Odoo v.13
Odoo demonstration databases (live previews)
For this app, we might provide a free personalized demo database.
No phone number or credit card is required to contact us: only a short email sign up which does not take more than 30 seconds.
By your request, we will prepare an individual live preview database, where you would be able to apply any tests and check assumptions for 14 days.
Bug reporting
In case you have faced any bugs or inconsistent behavior, do not hesitate to contact us. We guarantee to provide fixes within 60 days after the purchase, while even after this period we are strongly interested to improve our tools.
No phone number or credit card is required to contact us: only a short email sign up which does not take more than 30 seconds.
Please include in your request as many details as possible: screenshots, Odoo server logs, a full description of how to reproduce your problem, and so on. Usually, it takes a few business days to prepare a working plan for an issue (if a bug is confirmed) or provide you with guidelines on what should be done (otherwise).
Public features requests and module ideas (free development)
We are strongly motivated to improve our tools and would be grateful for any sort of feedback. In case your requirements are of public use and might be efficiently implemented, the team would include those in our to-do list.
Such a to-do list is processed on a regular basis and does not assume extra fees. Although we cannot promise deadlines and final design, it might be a good way to get desired features without investments and risks.
No phone number or credit card is required to contact us: only a short email sign up which does not take more than 30 seconds.
You may also like the tools