When you have a lot of products, especially generic ones, it becomes a challenge to generate and keep topical re-ordering rules. This tool solves the issue. The app let you assign minimum stock rules per product categories. Batch and accurate updates save your time and diminish risks of human factors.
Stocks by product category not per each individual item
The app introduces a new warehouse concept - a reordering rule per product categories. This rule let inventory managers configure Odoo to automatically create product variants' minimum stock rules with the same setting within a current category.
In such a way you may set up inventory levels for thousand types of screws and hundreds kinds of nails within a minute.
How reordering rules per categories work
How reordering rules per categories work
Categories' rules are not themselves involved in the Odoo procurement process, but they serve as a configuration object to prepare standard rules in a batch. In such a way warehouse work flows are not interrupted by extra checks.
All you need is to create a new rule for this product category, and each of its storable items would have a stock rule with the same minimum and maximum quantities, a quantity multiple factor, a warehouse and a location, a procurement group and a company. The process is the same as when you prepare standard re-ordering levels, but it is hundreds times faster from a user perspective.
Take into that rules per categories do not consider hierarchy of categories. Rules should be set up for each category to make sure that there are no conflicts between various guidelines. For example, if a chair belongs to 'All / Office Furniture' its minimum stock rule is taken from this category rule, but it is not taken from rules for the 'All' category.
Screenshots
Screenshots
Minimum stock rules per product category and location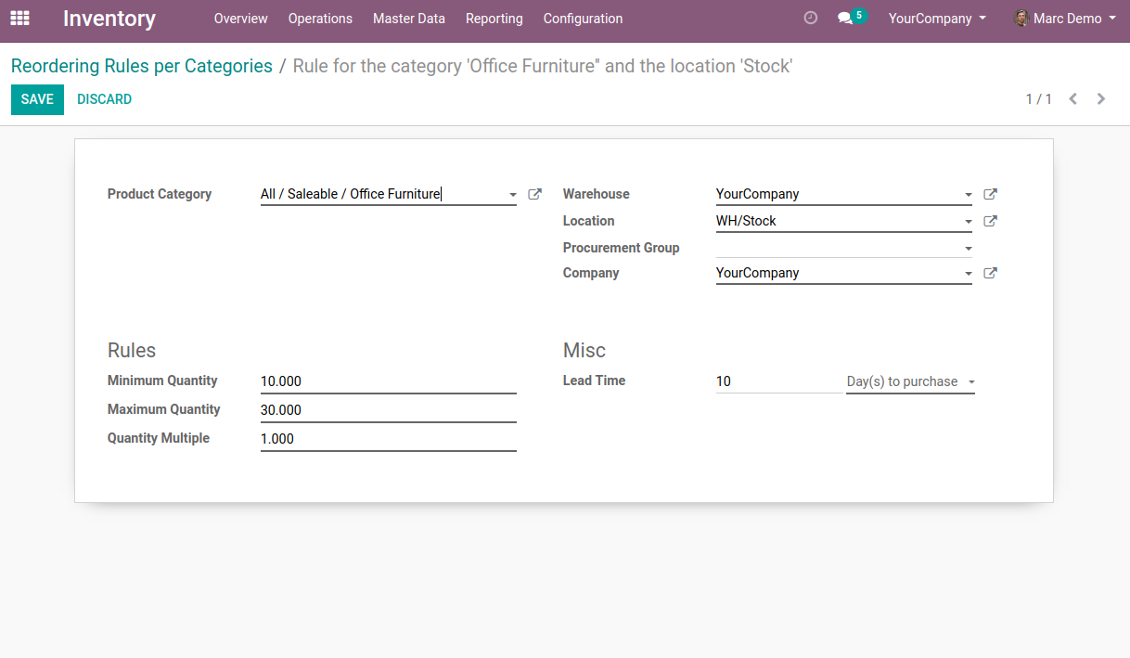 Assign a rule per each category-location combination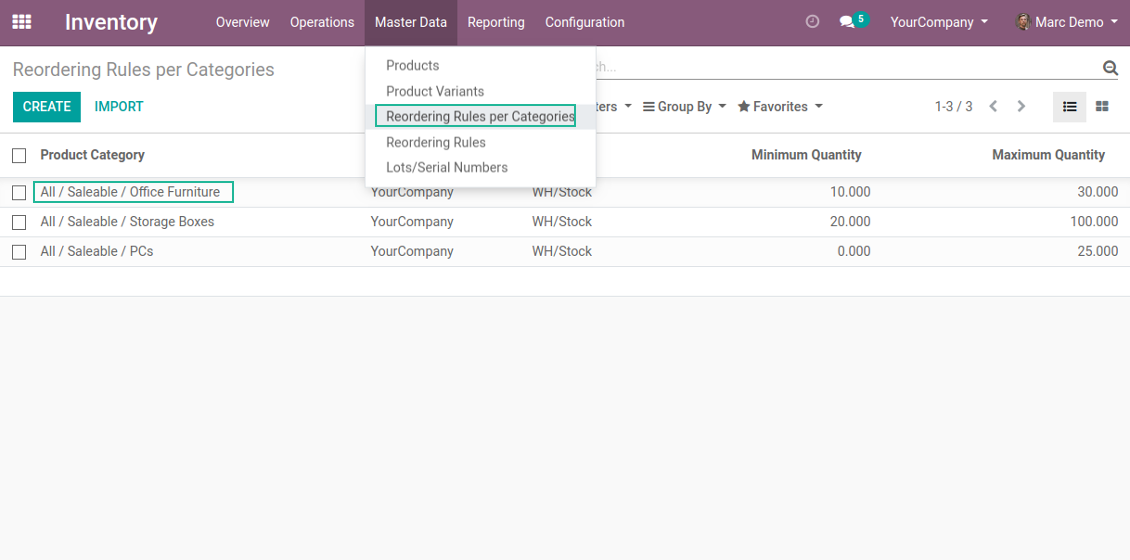 Auto variant rules according to its category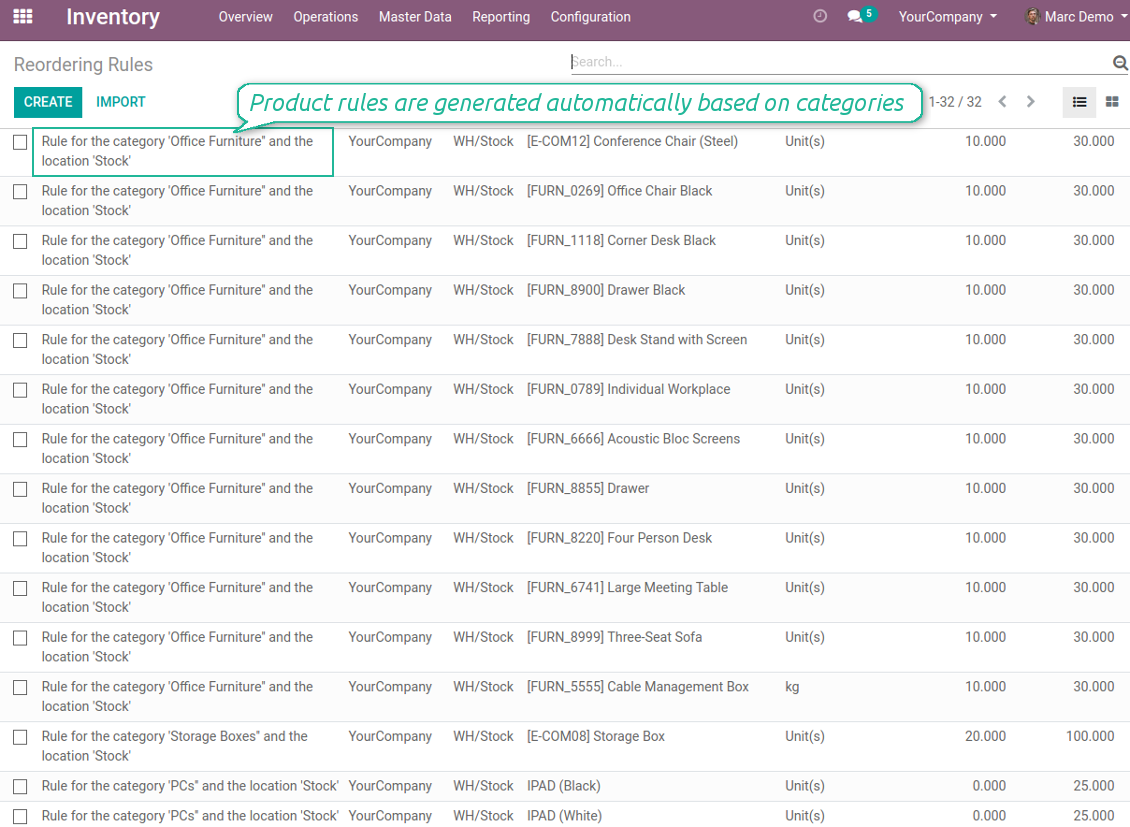 Super fast batch creation of minimum stock rules
The tool relies upon SQL direct queries optimized to create and update thousands of items in seconds. For example, preparation of rules per 10,000 SKUs takes less than 5 seconds during the tests.
Reordering rules as soon as you create or update a product
The app takes into account various scenarios depending on when a rule should be prepared or updated. It aims to simplify stock manager work by forehanded and automatic assignment of reordering rules.
Scenarios when minimum stock rules are updated
Scenarios when minimum stock rules are updated
A user creates a new product or add a new attribute. As soon as a new storable variant is generated, the tool would consider its category rules. If any of those exist, Odoo would prepare a new reordering level for this variant.
A user updates product category of a variant. In such a case Odoo would deactivate rules linked to a previous category, and prepare new rules based on an updated one. It is really super fast to change minimum stock levels for all variants of this template by mere changing its category!
A user deactivates manual minimum stock rule. Manual rules have higher priority than categories' rules. Since manual rule does not exist any more, there is a need to switch to an auto rule. Odoo would do that without any user interaction.
A user prepares a new category rule for this location. Then, Odoo would update all variants within this category beside ones which have manual rules. Take into account there might be only one rule per a combination of a product category and a stock location.
You decide to cancel all rules for this product category. No problem! Just delete a related rule, and all items' rules would be also deactivated.
Screenshots
Screenshots
Different scenarios to update product re-ordering rules fast and accurate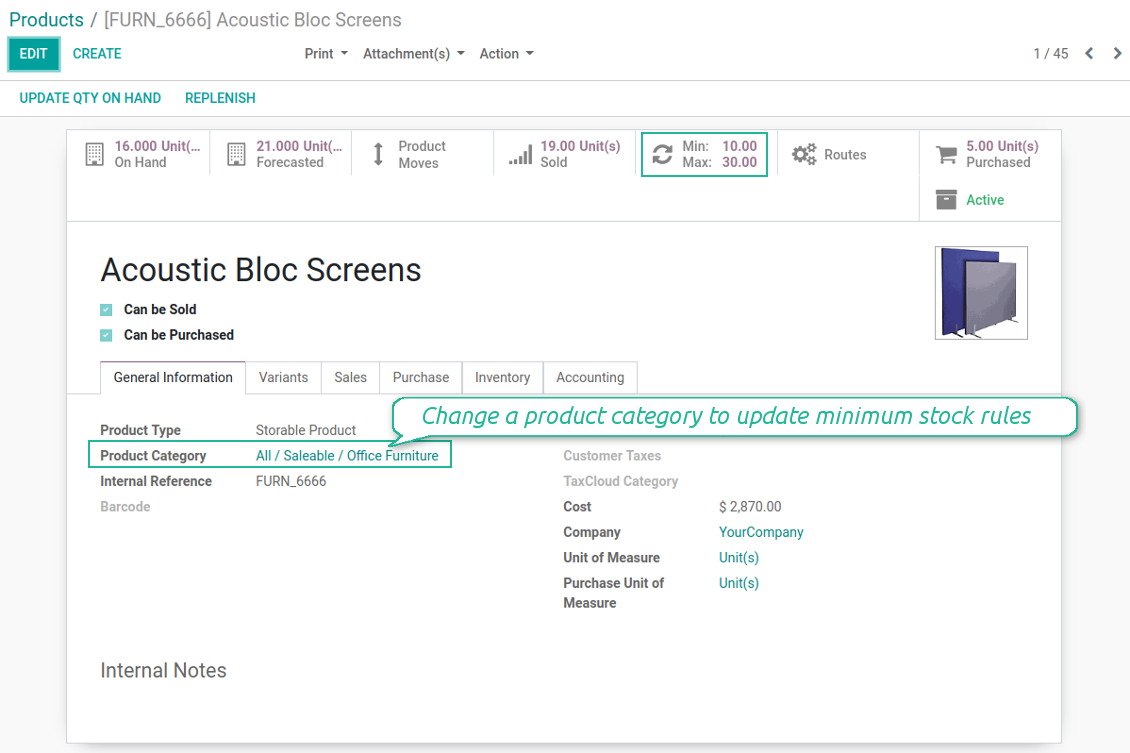 Manual re-ordering rules are still possible
Although rules per categories are really efficient, sometimes you want to manually assign a re-ordering rule per a very specific item. This tool let you achieve that goal as well.
To that end just go an item rule and unlink it from a category rule. Manual rule is prime to automatic ones, so the app would not any more update its settings.
It also relates to existing rules: no one of those would be changed after you installed the app. If you want to fully update manual rules, you should firstly delete or archive those.
Frequently Asked Questions about
Reordering Rules Per Categories Odoo v.11
Bug reporting
In case you have faced any bugs or inconsistent behavior, do not hesitate to contact us. We guarantee to provide fixes within 60 days after the purchase, while even after this period we are strongly interested to improve our tools.
No phone number or credit card is required to contact us: only a short email sign up which does not take more than 30 seconds.
Please include in your request as many details as possible: screenshots, Odoo server logs, a full description of how to reproduce your problem, and so on. Usually, it takes a few business days to prepare a working plan for an issue (if a bug is confirmed) or provide you with guidelines on what should be done (otherwise).
Public features requests and module ideas (free development)
We are strongly motivated to improve our tools and would be grateful for any sort of feedback. In case your requirements are of public use and might be efficiently implemented, the team would include those in our to-do list.
Such a to-do list is processed on a regular basis and does not assume extra fees. Although we cannot promise deadlines and final design, it might be a good way to get desired features without investments and risks.
No phone number or credit card is required to contact us: only a short email sign up which does not take more than 30 seconds.
You may also like the tools